Citylink celebrates five years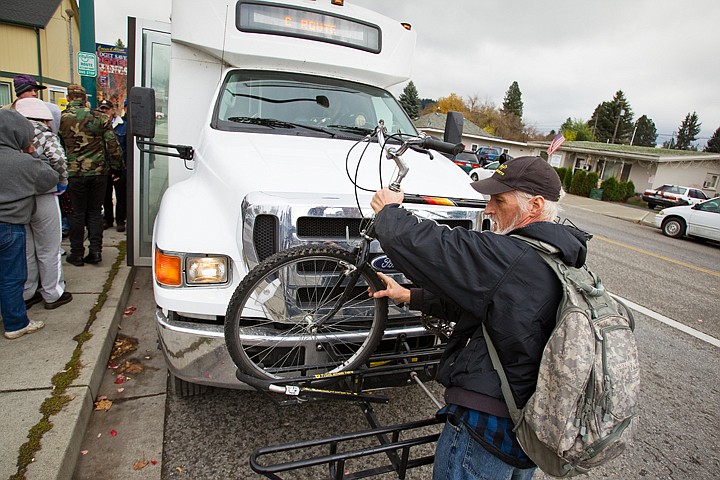 <p>Robert Parkinson loads up his bicycle onto a bike rack on a Citylink bus stop Monday before boarding the bus. Citylink is celebrating its fifth anniversary this month.</p>
COEUR d'ALENE - In November of 2005, back when Citylink was just getting off the ground, 8,638 passengers rode the free buses around town.
Almost five years later, Citylink has exceeded 600,000 riders per year - close to 50,000 commuters every month. Boasting a fleet of 13 buses and a multitude of routes, the Citylink bus service is available seven days a week, 20 hours per day.
"It is an absolutely fantastic asset to the area," said County Commissioner Rick Currie. "I can't say enough about what it means to county residents. It continues to grow. We have seasonal change, but overall growth continues, and we can be proud of that."
In celebration of Citylink's fifth anniversary, the county will welcome five new buses on Friday at the Coeur d'Alene Casino in Worley, where Citylink is headquartered. Using federal stimulus money totaling $1.3 million, Kootenai County recently purchased 13 buses to replace Citylink's aging vehicles - seven that hold 33 passengers, and six that carry 16 people.
Friday's five will be the final buses added to the fleet.
"We couldn't have done what we did without (the stimulus funding)," Currie noted.
Five years of constant travel wore down the original Citylink vehicles. New buses were definitely needed, Currie said.
"We literally drove the wheels off of 'em," he added.
Every new bus complies with the Americans with Disabilities Act, and each vehicle includes a bike rack.
Citylink is operated primarily by the Coeur d'Alene Tribe, which contributes more than $1.1 million every year. The bus system is a partnership between various entities, including the Tribe, Kootenai County, the cities of Coeur d'Alene, Post Falls, Hayden, Rathdrum, Dalton Gardens and Huetter, the Kootenai Area Transit System and Kootenai Health.
The buses are free to all passengers.
"Citylink brings people together," Coeur d'Alene Tribe Chairman Chief Allan said via e-mail. "It serves businesses and the economy. It serves employees of those businesses. It serves students going to and from public school or college. It is essential for people on fixed incomes and workers who can't afford to drive their own vehicle."
Last month, 47,200 passengers rode Citylink buses.
"Their routes are really good," said 20-year-old Victoria DeLoney, of Coeur d'Alene. "I think the timing's great."
The North Idaho College student takes the Citylink bus to school, often riding with fellow classmates. She said the Citylink service is convenient, but she has noticed the upsurge in passengers - sometimes her bus is standing-room-only.
"Right now, the whole world is talking about 'keeping it green,' and the economy is also bad," DeLoney said, explaining why more people seem to be taking the bus. "The green aspect is a big thing."
Citylink's routes service the Coeur d'Alene metro area, Worley and the rural regions of the Coeur d'Alene Reservation.
"The ridership numbers show that the majority of the people use the routes between Hayden, Coeur d'Alene and Post Falls," he said. "This means fewer cars and trucks on the roads, which helps alleviate traffic and damage to the already cash-strapped road system in the largest population center of northern Idaho."
The hub of the bus system is the Riverstone transfer stop, where several routes converge and overlap. Planning is under way for a permanent transit center at Riverstone, a county release said, a parking site that will hold 160 private vehicles. Funds are available for engineering and design, but construction funds are still being sought, the release added.
Nancy Carter of Coeur d'Alene was at Riverstone on Monday afternoon. The 76-year-old works at the Coeur d'Alene Casino, traveling back and forth three days a week on the Citylink bus. During the winter especially, Carter said, it's nice to relax on the bus as she rolls to work.
She was a fan of the new Citylink vehicles.
"Oh, I love them," Carter said. "They're larger, they're more comfortable. I just like 'em."
Citylink bus schedules and route maps can be found at www.idahocitylink.com.
Recent Headlines
---