Aware of nonprofits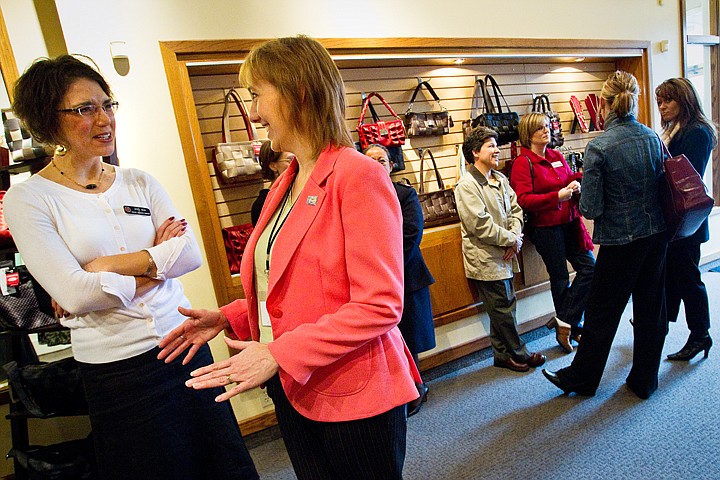 <p>April Near, social services manager with the Salvation Army Kroc Center, far left, chats with Cindy Wood, executive director for Family Promise of North Idaho, following a proclamation signing Monday by Mayor Sandi Bloem in support of non-profit awareness week.</p>
by
Tom Hasslinger
|
November 9, 2010 8:00 PM
COEUR d'ALENE - Substituting for the governor, but the mission is still the same: Recognition and awareness for the state's nonprofits.
Mayor Sandi Bloem penned her John Hancock Monday to declare Coeur d'Alene is still taking part in the third annual nonprofit awareness week in Idaho, even though Gov. Butch Otter was too tied down with election season to do it himself.
Otter did the honors for the whole state last year, but mayors have to pinch hit one-by-one this year to keep their towns taking part.
"This community would not be what it is today without you," Bloem told a room full of around 20 local nonprofit supporters before inking her autograph to make Coeur d'Alene's part official. "We're probably as rich as anyone I know, there is no better place to live because of the people."
Bloem's autograph was one of 10 for state mayors signing on so far.
About 2,481 IRS-filed nonprofits were registered in Idaho in 2010. The awareness week, running through Saturday, precedes next week's Homeless Awareness Week.
Many of them service homeless people or people on the verge of becoming homeless.
Last year, 700 people were homeless in the five counties. But Jeff Conroy, director of the area's largest homeless provider, St. Vincent de Paul, said those numbers could be surpassed at this January's count.
"It's good to see that look and smile on their face when they've been helped," he said.
Recent Headlines
---