Alive at 25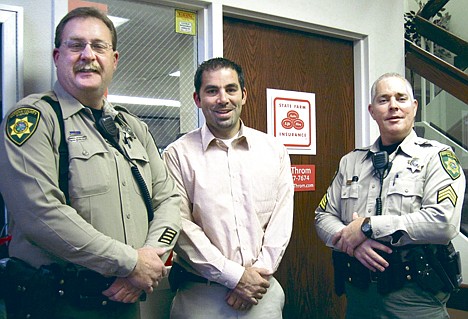 <p>Tavis Throm's State Farm office in Post Falls is teaming up with the Kootenai County Sheriff's Department to promote a free Alive at 25 drivers' safety program for drivers ages 15 to 24. The class is open to all drivers those ages. From left are Deputy Jack McAvoy, Throm and Sgt. Kevin Smart.</p>
by
Brian Walker
|
November 9, 2010 8:00 PM
The Kootenai County Sheriff's Department is out to cut the number of crashes involving society's highest-risk population.
The agency has started offering a free class called Alive at 25 to drivers ages 15 to 24.
"It's a defensive driving course to reduce crashes for this age group," said Sheriff's Sgt. Kevin Smart. "They make up 14 percent of the driving population, but make up 28 percent of crashes with serious injuries or fatalities."
The interactive, four-and-a-half-hour classes are open to anyone in the age group.
The next class is Saturday from 9 a.m. to 1:30 p.m. at the Kootenai County Fire and Rescue station near Pleasant View Road and Seltice Way in Post Falls.
Another is Saturday, Nov. 20, from 8 a.m. to 12:30 p.m. at the same location.
The classes are funded with a grant through the state's Office of Highway Safety.
Smart and Deputy Jack McAvoy are certified to teach the class in the five northern counties.
"At this time, we're getting kids sent by their parents for educational purposes," Smart said. "However, we've been in contact with the prosecutor's office to also get court-ordered cases or to have violators take the class to have their tickets reduced."
Tavis Throm's State Farm office is on board with the program and is helping promote Saturday's class.
Several of the insurance office's young drivers are voluntarily taking the class, but you don't have to be a State Farm client to attend.
"The biggest reason we are getting involved is to raise awareness of young drivers about how dangerous getting behind the wheel and turning the key really is," Throm said.
The class, backed by the National Safety Council, covers hazards both inside and outside the vehicle, how to be a defensive driver and making good decisions. Several videos are shown, including one interviewing young drivers about poor choices they've made. Participants earn a certificate of completion.
"We stress a variety of risky driving behaviors caused by texting, speeding, following too close, sleep deprivation and peer pressure," Smart said. "The students provide answers to the questions we pose. That allows them to identify the poor driving choices they make."
The class size is limited to 20, but there are still openings for both classes.
Attendees can register at www.aliveat25.us or visit the site for more information.
Recent Headlines
---