A team at .500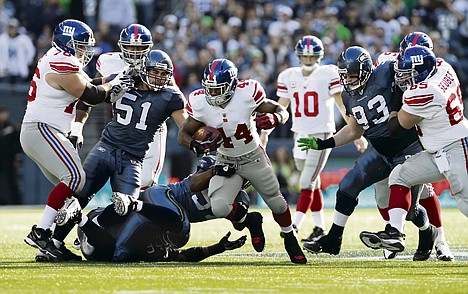 <p>New York running back Ahmad Bradshaw (44) breaks through the middle against the Seahawks in the first half Sunday in Seattle.</p>
by
Tim Booth
|
November 9, 2010 8:00 PM
RENTON, Wash. - After consecutive blowout losses, Pete Carroll knows his reeling Seattle Seahawks are lucky to be at .500.
And in the NFC West, 4-4 at the midway point is good enough for a first-place tie.
But Carroll sounded realistic about where his team stood on Monday, a day after the Seahawks were thrashed 41-7 by the New York Giants, the second straight blowout Seattle's endured.
The always positive coach even said his team is "fortunate to be where we're at," halfway through his first season back in the NFL.
"With the hits that we took in the last couple weeks, we're fortunate to be where we are right now. That's really important to notice and recognize," Carroll said. "We have a chance to keep going here with our division, which is the goal of our program, is to own this division. That's there for us."
But the concerns for Carroll outweigh any positives right now. Seattle was barely competitive the last two weeks, getting outscored 74-10 by the Giants and Raiders, while being exposed for yielding too many big plays, an inability to stop the run and an anemic offense that has regressed from its high point a month ago.
There could be a little hope for the Seahawks, who head to Arizona on Sunday. Two key players - quarterback Matt Hasselbeck and defensive tackle Brandon Mebane - could return from injuries this week.
Hasselbeck worked out on Monday, but has yet to be cleared after suffering a concussion against Oakland on Oct. 31. He was not cleared through the league-mandated concussion testing to play on Sunday against the Giants.
Charlie Whitehurst made his first regular season start in Hasselbeck's place and made many young mistakes. Whitehurst was late on two throws that resulted in interceptions, missed a number of open targets and was unable to loosen up the Giants defense until a meaningless fourth-quarter touchdown when the Seahawks already trailed 41-0.
Whitehurst finished just 12 of 23 passing for 113 yards.
"I think that's what stands out to me about his game: One, that he was clear and he was comfortable with playing, and two, that there were opportunities out there that we know he can convert on," Carroll said. "So I think the upside is all there. It happened to be a very difficult loss in his first start."
If Mebane can return, that would help on a defensive line that early in the season was among the best in the league at plugging the run, but has gotten progressively worse as injuries have mounted. Mebane missed his fourth straight game Sunday with a calf injury, while Colin Cole is out for a few more weeks after suffering a high-ankle sprain against Oakland. Defensive end Red Bryant is already done for the season, on injured reserve following knee surgery.
Seattle didn't allow a team 100 yards rushing until Arizona ran for 113 three weeks ago. Oakland followed up with 239 yards on the ground and the Giants rushed for 197 on Sunday.
"We've been trying too hard and stuff," Carroll said. "That's one of the big issues that I'm always trying to keep these guys from getting to that point because once you start pressing to try to make things happen, knowing that's how we do well, by making things happen, then you get outside of the discipline of the defense and you can try too hard."
Cornerback Marcus Trufant, who was targeted by Eli Manning and the Giants on Sunday and nearly led the Seahawks in tackles for a second straight week, agreed there might be guys getting away from their assignments to try and make a big play.
"You try so hard to make plays ... but you still have to stay within the framework of the defense," Trufant said. "We have to try and find that happy medium (and) I think we can do that."
Recent Headlines
---