'Hawks routed in Whitehurst's first start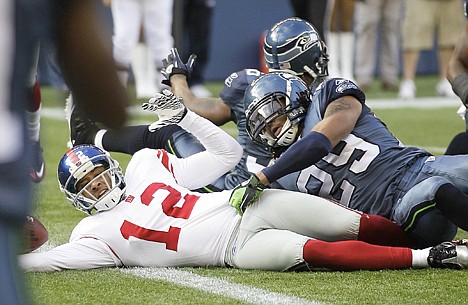 <p>Steve Smith of the New York Giants scores a touchdown despite a tackle from Seattle's Earl Thomas (29) in the first half Sunday in Seattle.</p>
by
Tim Booth
|
November 8, 2010 8:00 PM
SEATTLE - Eli Manning isn't ready to hear all the accolades the New York Giants might be getting as one of the NFL's top teams at the midway point, no matter how dominating they looked Sunday.
"Don't starting thinking we're good right now," Manning cautioned.
Manning picked apart Seattle's secondary for 232 yards and three touchdowns and Ahmad Bradshaw added two TDs - all in the opening half - and the Giants routed the Seahawks 41-7 on Sunday.
Coming off its bye, New York (6-2) needed just one half to win its fifth straight, put away any memories of past flubs in Seattle and stake claim at the top of the NFC East.
"Things are going well right now," Manning said. "But we've just got to make sure we stay committed to getting better."
New York's statement was swift and efficient, not allowing the undermanned Seahawks hope of pulling the upset or letting their notoriously loud home crowd get rocking.
The Giants still had fresh memories of five years ago when they were penalized 14 times - including 11 false starts - in a 24-21 overtime loss. A year later, after the Giants made claims that artificial crowd noise was being piped into the stadium, the
Seahawks jumped to a 42-3 lead in another win over New York.
Other than the Giants first drive, Seattle's fans were left sitting on their hands or booing the home team. The Giants were called for just two false start penalties and handed Seattle its worst home loss since moving into Qwest Field. It was the Giants biggest road win since a 41-7 win at Washington in 1993.
"I wouldn't want to say we are the best team. But, we are playing the way need to be as a team," Giants safety Antrel Rolle said. "I think we are establishing ourselves as a great unit. As long as we keep playing team ball, I can just see us climbing and climbing and climbing."
Manning's passer rating was a nearly perfect 152.3 in the first half. He finished 21 of 32 for 290 yards and TD passes of 46, 6, and 5 yards. Bradshaw, Brandon Jacobs and D.J. Ware combined for 201 yards rushing, while Hakeem Nicks had six catches for 128 yards.
It was the second straight 41-point outburst by the Giants offense. New York finished with 490 yards of offense, the third time topping 400 yards during its win streak.
"What didn't they do?" Seattle linebacker Aaron Curry wondered.
Manning's blistering first half included a 46-yard strike to Nicks, when rookie safety Earl Thomas bit on a crossing route and one play after Thomas was called for illegal contact to keep the Giants drive alive.
Seattle's Leon Washington fumbled the ensuing kickoff that Jonathan Goff recovered and returned it to the Seattle 4. Bradshaw piled in on the next play and in 15 seconds, the Giants were up 21-0.
Manning also found Steve Smith on a 6-yard TD pass in the second quarter and his 5-yarder to Kevin Boss in the final minute of the first half gave the Giants a 35-0 halftime lead.
Manning and most of the Giants starters watched the fourth quarter from the bench.
"We have a lot of confidence. We know that we can go out and (stop) any team we want to when we play a good game," Bradshaw said. "That is just what we did today. We played great."
About the only positive for Seattle was keeping quarterback Charlie Whitehurst upright and in the game after the Giants had knocked out five quarterbacks already this season.
But Whitehurst's performance, in his first NFL start, should silence those calling for the end of Matt Hasselbeck's tenure in Seattle. With Hasselbeck out with a concussion, Whitehurst completed 12 of 23 passes for 113 yards and two interceptions.
Whitehurst did complete the first regular season pass of his career - for a 3-yard loss - and he threw a 36-yard TD pass to Ben Obomanu early in the fourth quarter.
"It made it a little better, I guess," Whitehurst said of his first TD pass. "But it was a disappointing day for us. I was disappointed in the way that I played and I have to get better."
It didn't help Whitehurst that two starting offensive linemen were out, along with three-fourths of Seattle's starting defensive line. And Seattle's run game never got started against the Giants defense with Marshawn Lynch held to 48 yards on 11 carries, 26 yards coming on one run.
Offensive coordinator Jeremy Bates also called a puzzling double pass on third-and-1 in the first quarter that fell incomplete when Whitehurst overthrew tight end Chris Baker by 10 yards.
Lynch later was called for a false start when he fell on his face getting off balance before the ball was snapped. On the next play, Whitehurst's throw for Mike Williams was bobbled and intercepted by Terrell Thomas in the end zone.
"Nothing feels right, right now," Seattle coach Pete Carroll said.
Notes: Obomanu's TD catch was Seattle's first touchdown since the second quarter against Arizona two weeks ago. ... Nicks rolled his ankle but didn't believe he would miss any time. ... The Giants dominated time of possession, 42:34 to 17:26.
Recent Headlines
---