NIC prevails in five again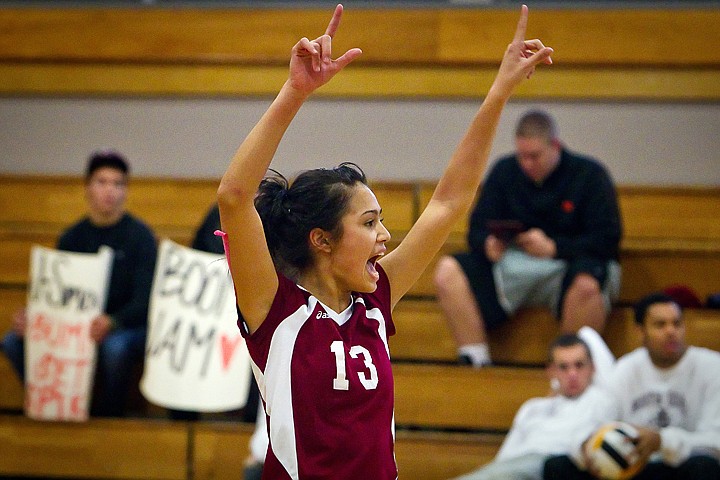 <p>North Idaho College's Kaylee Ponce cheers on her team after the Cardinals earned a point against Salt Lake Community College in the Region 18 tournament championship match Saturday.</p>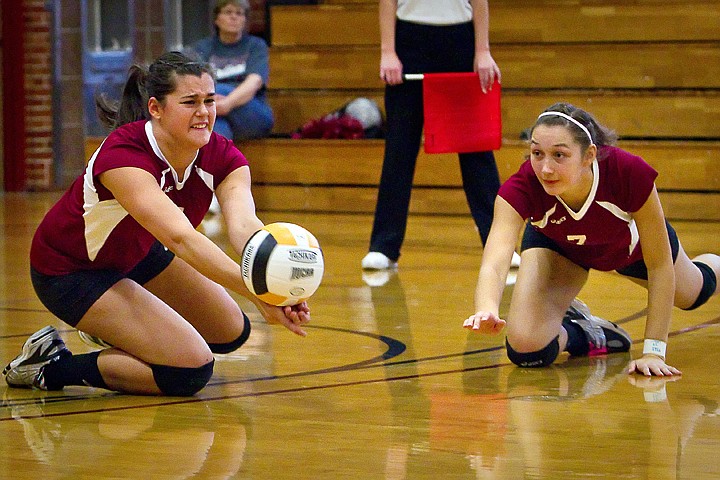 <p>North Idaho College's Tina Strahinic, left, goes for a dig as her teammate Esther Timofeyev leans in to assist during the first set against Salt Lake Community College in the Region 18 tournament championship match Saturday.</p>
Previous
Next
by
JASON ELLIOTT
Sports Writer
|
November 7, 2010 8:00 PM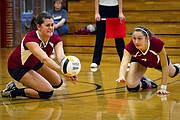 COEUR d'ALENE - In a game of momentum, the wave hit the school by the lake at the right time on Saturday afternoon.
North Idaho College, ranked sixth in the latest NJCAA volleyball poll, held on in the fifth game of the Region 18 championship match for a 25-21, 25-16, 19-25, 19-25, 15-11 win over the 17th-ranked Salt Lake Community College Bruins at Christianson Gymnasium.
"We had a good game plan today, but Salt Lake made some good adjustments," NIC coach Colleen Frohlich said. "We just had to gut it out today. This was a good match for us to prepare for nationals. It makes both teams better."
Both NIC and Salt Lake had already qualified for the NJCAA tournament, starting Nov. 18 in Council Bluffs, Iowa, after winning semifinal matches Friday night.
Region 18 tournament MVP Tina Strahinic had 25 kills and two aces for NIC (26-6).
"For us sophomores, we knew this was our last game at home," Strahinic said. "We wanted to play as hard as we could and say good-bye to our fans the right way."
After taking the first two games, NIC dropped the next two to set up a fifth game, both teams' second five-game match in as many days.
Salt Lake took an 9-8 lead in the fifth game on back-to-back kills from Sheila Uluave. The teams exchanged points before the Cardinals took the momentum for good on kills from Strahinic and Kaylee Ponce.
"That's the nature of this game," Frohlich said of going five games. "It's how you respond to those situations. We just keep trying to find the one that works."
NIC finished off the match on a 5-1 run, keyed by a dig by freshman setter Gabriella Rifilato, which led to a kill by Ponce for an 11-10 lead. Fei Gao blocked a kill attempt from Kellie Turner to close out the match.
"Gabby did a great job for us today," Strahinic said. "That play got everyone up. We're still a young team and weren't as good in the third and fourth game."
Ponce finished with 17 kills and 17 digs for NIC, which finishes the season unbeaten at home.
"It feels awesome," Ponce said. "We knew we all had to play well. We played with a lot of heart today."
Seedings to nationals will be announced later this week.
"We're going to send two great representatives to nationals from this league," Salt Lake coach Sue Delaney said. "It's tough to beat a team on their home court in this league."
Salt Lake briefly lost starting setter Catalina Cherry to a knee injury midway through the second game, after which the Bruins fell behind two games to none. Cherry returned early in the third game to finish with 45 assists and 11 digs.
"I asked them if they were doing everything they could," Delaney said. "The girls didn't want to be done. Our defense was huge the rest of the day."
Uluave had 16 kills and 11 digs for Salt Lake (26-6).
"She's really pulled it out for us," Delaney said. "She's one of those players we've relied on. When we had to make some changes midseason; we moved Kellie (Turner) to the middle and Sheila's played well on the right side."
Delaney doesn't think the Bruins have seen the last of the Region 18 champions.
"Last year when we played CSI at nationals, it was like a national title match," Delaney said. "I'm sure we'll see them at the tournament. I'm glad they are going. They'll be a great representative for our league."
ALL REGION 18 TOURNAMENT
Most Valuable Player - Tina Strahinic, North Idaho.
NORTH IDAHO - Fei Gao, Kyona Hunt. SALT LAKE - Kellie Turner. SOUTHERN IDAHO - Barbara Alcantara. SNOW - Niuka Toribio.
Recent Headlines
---