Jon Hippler to retire from bank he founded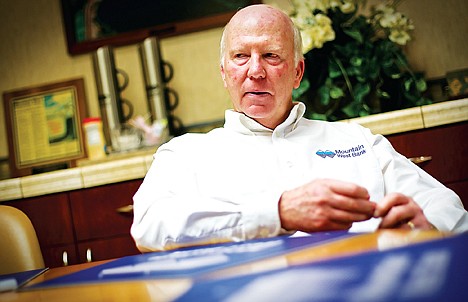 <p>After helping start and leading Mountain West Bank for the past 17 years, Jon Hippler is retiring from his position as chief executive officer at the end of the year.</p>
by
David Cole
|
November 7, 2010 8:00 PM
COEUR d'ALENE - Seventeen years ago last month, the doors opened for the first time at Mountain West Bank.
Now, Jon Hippler, Mountain West's chief executive officer and primary founder, is retiring at the end of this year.
The bank had seven employees when it opened. By the end of 1993, the bank had $9 million in assets.
"I felt there was room for a community bank in Coeur d'Alene," said Hippler, 66, who was born and raised in Coeur d'Alene. There were no community banks in Coeur d'Alene at the time of its founding, because of mergers and acquisitions, he said.
"The market was really ripe for such an organization," Hippler said.
Today, Mountain West is the largest state-chartered bank in Idaho, by assets. The bank has $827 million in deposits and retail repurchase agreements, and $865 million in loans. The bank has grown to 23 branches operating in Idaho, Washington and Utah, with 400 employees.
"We've had good fortune along the way," he said. "I like to say one of Mountain West Bank's greatest strengths is where we do business. They're places where people want to live," own a home, work and operate businesses.
Mountain West joined holding company Glacier Bancorp Inc. in 2000, giving it greater strength to raise needed capital. Glacier has 10 other subsidiary banks.
For Hippler and Mountain West, his retirement has been in the works for a while, he said.
In 2008, Hippler gave up his position as bank president while remaining its CEO. Mountain West made Russ Porter president and chief operating officer at that time.
It was then that Hippler planned to spend more time with strategic planning and bank growth, while Porter took on more of the day-to-day bank operations.
In 2008, Hippler planned to retire in the next year, but it will now come at the end of this year.
The bank's succession plan calls for Porter to become Hippler's replacement as CEO. Rod Colwell, who arrived at Mountain West from Idaho Independent Bank this summer, is going to be the chief operating officer and president.
"We've got two really good people to come in behind me," Hippler said.
Before Mountain West, Hippler spent 15 years working in banking in Portland. He joined First Federal Savings and Loan, in Coeur d'Alene, in 1982. He became president there four years later.
He said he has remained in the banking industry for many years, in part, because he enjoys making people's financial dreams come true. Mountain West does a lot of small business loans and home loans, he said.
Now, looking forward for Mountain West, Hippler said, "I'm feeling pretty good about the bank's future."
He said he'll stay on the bank's board of directors, if it works out with his life in retirement.
Outside of banking, Hippler contributed for several years on the Coeur d'Alene Public Library Foundation, helping raise money for the Coeur d'Alene Public Library, at 702 E. Front Ave., which opened in September 2007. The building cost nearly $7 million to open.
The foundation raised about $3-4 million of the needed building costs, he said.
"That's probably one of my more rewarding community services," Hippler said. He's no longer on the library foundation.
Also, he has served on the North Idaho College Foundation Board of Directors for 20 years, he said. He said he has stayed on the board for years because he has enjoyed helping raise money for scholarships and building projects at the college.
He's currently serving on a campaign committee that's raising money for the Hospice House on Prairie Avenue, where ground has already been broken.
The committee has raised about $2.2 million of the $3 million needed to complete the project, he said. The Hospice House should open next summer, he said.
In retirement, he said he plans to start by taking a long vacation to New Zealand with his wife, Cyndi. The couple plan to spend winters at their Tucson, Ariz. home to avoid the cold weather and snow of the Northwest.
But, he said, he'll always return to the place he learned to love growing up in the 1950s and '60s.
"It's the people here in North Idaho, and the quality of life" that makes it a great home, he said.
Recent Headlines
---