Automakers report stronger U.S. sales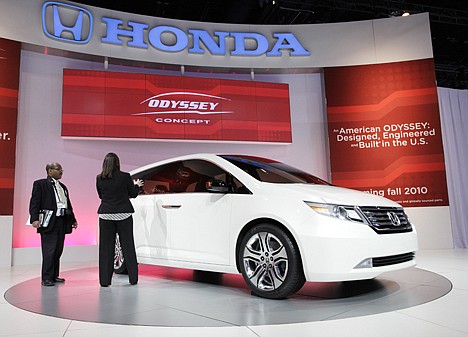 <p>In this Feb. 10 file photo, the 2011 Honda Odyssey is seen on display at the 2010 Chicago Auto Show in Chicago.</p>
|
November 7, 2010 8:00 PM
DETROIT (AP) - U.S. auto sales put in their strongest performance of the year in October as buyers grew more confident in the economy and new models lured them into dealerships.
Every major automaker but Toyota chalked up better results last month. Overall industry sales climbed 13.4 percent to 950,165.
October's seasonally adjusted annual sales rate - which shows what sales would be if they stayed at the same rate all year - was 12.26 million vehicles. That's the best monthly rate since August 2009, when Cash for Clunkers spurred Americans to buy more cars and trucks.
"The trends are positive, and we are going in the right direction," said Jesse Toprak, vice president of industry trends at car pricing tracker TrueCar.com. Sales aren't increasing as fast as the industry would like, he said, but "we are seeing more confidence by consumers to make big-ticket purchases in an uncertain economic environment."
Chrysler, Ford, Honda and Nissan all saw double-digit jumps in sales compared with last October. General Motors Co., which is preparing for an initial stock offering later this month, saw sales rise 3.5 percent.
Toyota Motor Corp., which has been struggling with safety recalls and an aging lineup, saw sales drop 4 percent. Sales of its Camry sedan, which hasn't been updated in three years, fell 14 percent in October. The rival Hyundai Sonata saw sales double.
The Japanese automaker also has been pulling back on incentives, which rose significantly in the spring after the company recalled millions of car and trucks over safety problems. TrueCar.com said Toyota's incentive spending dropped 1 percent between September and October, while most other manufacturers increased incentive spending.
GM's sales were driven by its SUVs and wagons, which posted increases of 36 percent for October. Sales of GM's most popular wagons - the Chevrolet Equinox, GMC Terrain and Cadillac SRX - were up 58 percent compared with last October. Truck sales were also up.
"There is generally less bad news out there. The consumers are starting to believe that the worst is over," said Don Johnson, GM's vice president of U.S. sales.
Consumer confidence rose slightly in October, according to a report released last week by the Conference Board. Automakers said small businesses are also deciding to invest in new vehicles instead of repairing old ones.
Ford Motor Co.'s sales rose 19 percent. Among the winners was the F-Series pickup, which saw sales rise 24 percent thanks in part to a month-long Ford promotion. The redesigned Edge wagon, which recently went on sale, also saw a 24 percent jump.
Chrysler Group LLC's sales rose 37 percent from last October, partly on the strength of the new Jeep Grand Cherokee, which saw sales more than triple. Ram pickup sales rose 41 percent.
New products gave a boost to Honda Motor Co., whose sales climbed 16 percent.
October was the first full month on the market for the redesigned Odyssey minivan, which saw October sales increase 52 percent. Wagons were also hot at Honda, where CR-V sales climbed 19 percent.
Nissan Motor Co. said its sales rose 16 percent for the month, thanks to a 38 percent jump in sales of SUVs, trucks and crossovers.
Most automakers were reporting U.S. auto sales Wednesday, but several reported results Tuesday. Among them:
- Hyundai said its October sales jumped 38 percent as sales of the new Sonata midsize sedan more than doubled.
- Subaru sales rose 25 percent for the month on strong sales of the Outback and Forester wagons.
- Volkswagen sales rose 18 percent with a boost from sales of the new Jetta. Jetta sales were up 32 percent over last October.
Recent Headlines
---