Rematch runaway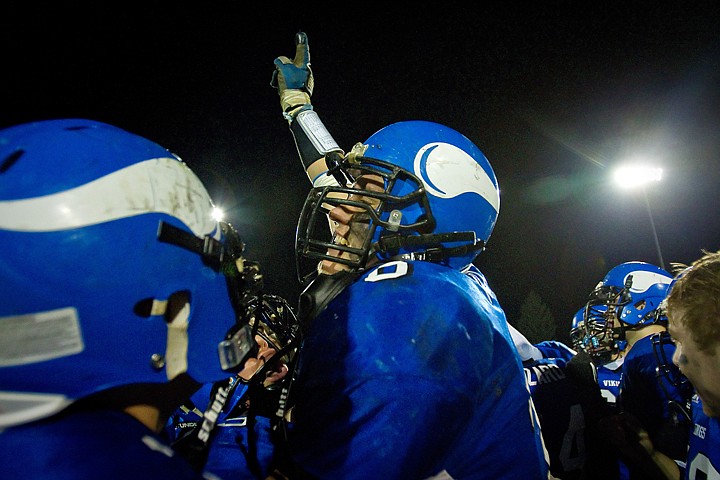 <p>Coeur d'Alene High lineman Max Noll celebrates with his team Friday after the Vikings defeated Lake City High 45-13.</p>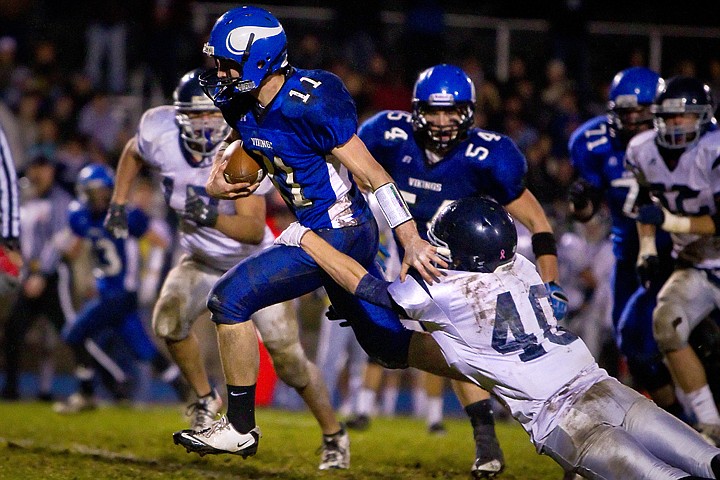 <p>Coeur d'Alene High quarterback Chad Chalich makes a break up the middle of the field as Beau Martz from Lake City High attempts to drag him down from behind during the second half of the Vikings 45-13 win Friday over the Timberwolves.</p>
<p>Lake City High's Colton Carlson is dragged down by his jersey by Carlos Martinez from Coeur d'Alene High during the first half. Dylan Eastin from Lake City, right, comes in to break up the tackle.</p>
Previous
Next
by
MARK NELKE
Sports Editor
|
November 6, 2010 9:00 PM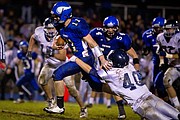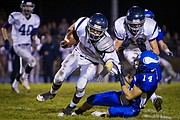 COEUR d'ALENE — Sequels are never the same as the original, though on Friday night, the second time around was much better for Coeur d'Alene, much worse for Lake City.
Top-ranked Coeur d'Alene scored on three of its first four possessions, and this time kept its foot on the gas the rest of the night, rolling to a 45-13 victory over the Timberwolves in the first round of the state 5A football playoffs at Viking Stadium.
"Our kids really responded to that last game, and came with a new focus," said Coeur d'Alene coach Shawn Amos, whose Vikings had to score in the final minute last week to beat Lake City 19-14 to win the 5A Inland Empire League title and earn the right to host this week's playoff game. "It's a one-week season; you're not playing anymore if you don't show up. They did a great job against a good football team. There was no letdown, and that was key for us."
Coeur d'Alene (9-1) will play at second-ranked Capital (10-0) of Boise next Saturday at 11 a.m. PST at Boise State's Bronco Stadium in the state semifinals. Capital whipped Vallivue 42-0 on Friday night.
Lake City, making its 14th straight playoff appearance, finished 6-4.
Coeur d'Alene jumped out to a 13-0 lead in the first quarter last week, only to see Lake City fight back and take the lead early in the fourth quarter.
This time around, the Vikings scored on the second play of the game, Drew Turbin taking a short pass from Chad Chalich and scooting down the left sideline for a 68-yard touchdown. Zach Keiser took a screen pass from Chalich and ran up the middle for a 12-yard touchdown, then Keiser scored from 3 yards out for a 21-0 lead with 8:25 left in the first half.
Lake City quarterback Mark Smyly, who hadn't played the last three weeks because of a separated right (throwing) shoulder, raced 57 yards for a touchdown to cut Coeur d'Alene's lead to 21-7.
But the Vikings answered later in the half. Chalich was chased out of the pocket to his right, but before he went out of bounds he threw into the end zone, where 6-foot-4 Deon Watson leaped up and made the catch for a 13-yard TD to make it 28-7 at the half.
"We just came ready to play the whole time," said Chalich, who finished 21 of 32 for 326 yards and three touchdowns. "All four quarters, we just knew what we had to do, and we executed the whole game."
Lake City committed six turnovers, including four interceptions, two by Jake Matheson. The Timberwolves were unable to control the line of scrimmage as they did last week, and allowed the Vikings to pass for more than 300 yards for the second straight week.
"They outcoached us, they outprepared us, they outplayed us — that's the bottom line," Lake City coach Van Troxel said. "They did the things they needed to do, and took the steps forward, and we didn't. The buck falls with me. We weren't prepared well enough, I didn't do a good enough job there. They came out and established the line of scrimmage early, and that's what we did last week."
Coeur d'Alene totaled 276 yards in the first half and outgained Lake City 438-253 for the game. Lake City running back Allen Carmichael, who rushed for 165 yards on 37 carries last week, ran for 76 yards on 23 carries Friday night. The Vikings ran for 112 yards after being held to 54 last week.
"We have some pretty good players up front, and so do they," Amos said. "To win that battle is a big battle for us. (The Vikings changed) nothing, except for our kids played harder."
Watson had eight catches for 99 yards, and Turbin had six receptions for 114 yards. Keiser finished with three rushing TDs and one more through the air.
Smyly who punted, played wingback and running back, and even some quarterback when Bobby Traverse was shaken up, finished with 90 rushing yards on eight carries. Smyly's shoulder still hurt too much to throw.
"I'm so proud of him, coming back and playing, and really all of our seniors, they played hard," Troxel said. "I wish I had done a better job."
Lake City 0 7 6 0 — 13
Coeur d'Alene 14 14 7 10 — 45
Cd'A — Drew Turbin 68 pass from Chad Chalich (Parker Wilson kick)
Cd'A — Zach Keiser 12 pass from Chalich (Wilson kick)
Cd'A — Keiser 3 run (Wilson kick)
LC — Mark Smyly 57 run (Chris Wheelock kick)
Cd'A — Deon Watson 13 pass from Chalich (Wilson kick)
Cd'A — Keiser 9 run (Wilson kick)
LC — Kaleb Mitchell 7 run (pass failed)
Cd'A — Keiser 1 run (Wilson kick)
Cd'A — FG Wilson 26
INDIVIDUAL STATISTICS
RUSHING — LC, Carmichael 23-76, Mitchell 2-7, Smyly 8-90, Traverse 2-1, Quinn 1-3. Cd'A, Chalich 16-46, Keiser 13-62, Comack 2-6, Turbin 1-0, DeHaas 2-(-2).
PASSING — LC, Traverse 9-18-4-76. Cd'A, Chalich 21-32-0-326.
RECEIVING — LC, Carlson 6-55, Quinn 1-5, Turner 3-16. Cd'A, Watson 8-99, Turbin 6-114, Matheson 4-64, Keiser 3-49.
Recent Headlines
---