NIC punches ticket to nationals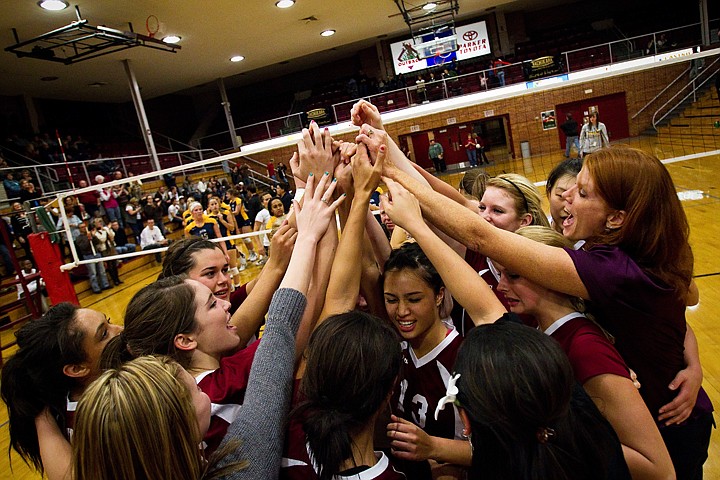 <p>The North Idaho College Cardinal volleyball team celebrates after winning the semi-final round of the 2010 Region 18 Volleyball Tournament against Snow College Friday in Coeur d'Alene.</p>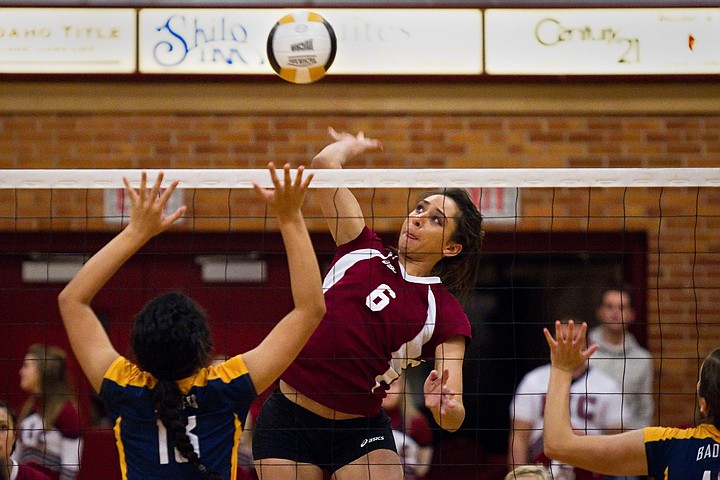 <p>Danielle Hodge (6) goes up for the kill against Snow College's Michawn Tuia in the second set.</p>
Previous
Next
by
JASON ELLIOTT
Sports Writer
|
November 6, 2010 9:00 PM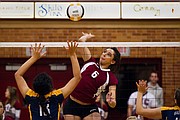 COEUR d'ALENE - When it came down to crunch time, the North Idaho College volleyball team took the fifth.
On Friday night, when the sixth-ranked North Idaho Cardinals got to a fifth game, they played their best stretch of volleyball in the match in a 25-17, 23-25, 25-21, 24-26, 15-6 win over the 18th-ranked Snow College in the Region 18 tournament semifinals on Friday to advance to the NJCAA tournament.
NIC will face second seed and 17th-ranked Salt Lake Community College in the Region 18 championship match today at 1 p.m. to determine seeding to nationals starting Nov. 18 in Council Bluffs, Iowa.
"We've been working all year on being good in a fifth game," NIC coach Colleen Frohlich said. "We don't want to get there, but we're confident in ourselves once we get there."
Frohlich, who was also named Scenic West Athletic Conference Coach of the Year, added they want to enter nationals with another strong performance today
"We want to go into the tournament as high and strong as possible," Frohlich said. "We definitely want to have a good showing tomorrow against Salt Lake."
Region 18 Player of the Year Tina Strahinic and Fei Gao combined for 36 kills on the outside for NIC, which also got 10 kills from freshman Danielle Hodge.
"When you're playing to go to nationals, you want to play harder for your teammates," Hodge said. "I was just hoping to get the ball down."
Kaylee Ponce had 10 kills and nine digs for NIC.
"We knew we'd need both of our middle blockers to step up tonight and take some pressure off Tina (Strahinic) and Fei (Gao)," Frohlich said. "It's been a part of the gameplan all year long."
Snow freshman Niurka Toribio had 30 kills and 10 digs.
"She just couldn't get her serves going," Snow coach Bryan Crawford said. "She had a few more hitting errors than in the morning. When she's hot, we're hot."
Snow (18-14) battled back to even the match at two games apiece before NIC took back the momentum for good in the fifth game.
NIC jumped out jumped out to a 10-3 lead on a kill from Strahinic and closed out the match as Snow was unable to return on match point.
"It was a hard-fought match," Crawford said. "We were putting balls away in the first four games and getting as many swings as they did in that fifth game, we just couldn't find the floor."
Snow was missing starting middle blocker Sherisse Hawkes, who was injured during practice on Wednesday.
"We hurt ourselves tonight," Crawford said. "Not having Sherisse hurt us a little bit, but we lost the momentum in the fifth game."
In earlier action: Salt Lake advanced to the NJCAA tournament by defeating defending national champion and eighth-ranked Southern Idaho 25-19, 22-25, 20-25, 25-15, 15-9 in the other semifinal
Kellie Turner had 16 kills and 15 digs and Ame White had 14 kills and 20 digs for the Bears.
"We've played well on the road this season," Salt Lake coach Sue Delaney said. "When we came up here earlier this year, we'd already had a season within a season. Since then, the girls have bought in to the system and what we've told them."
Delaney added that the Bruins' strong nonconference schedule helped prepare them for postseason sucess.
"We've seen all the top 10 teams and beaten them," Delaney said. "It definitely helped prepare for our conference. We're not afraid of anyone."
Salt Lake won the league title and regional championship for the first time in school history last season, and finished fourth at the NJCAA tournament.
Elisa Brochado had 17 kills for Southern Idaho, which finished 23-11.
"I thought we battled," CSI coach Heidi Cartisser said. "We just couldn't get the momentum after the third game. Once you get the lead, you can't give points back and we started missing serves."
Earlier Friday, Snow defeated Eastern Utah 25-13, 25-19, 25-16 to advance to the semifinals. Niurka Toribio had 12 kills, 14 digs and eight aces and Maria Moulaz had 35 assists for the Badgers. Danee Merrill had 20 assists for Eastern Utah, which finished 8-15.
In the first match of the day, Southern Idaho (23-10) eliminated Colorado Northwestern 25-10, 25-10, 25-10. Elisa Brochado had 13 kills and seven digs for the Golden Eagles. Colorado Northwestern finished 2-25.
ALL REGION 18 TEAM
Player of the Year - Tina Strahinic, North Idaho
Coach of the Year - Colleen Frohlich, North Idaho
FIRST TEAM - Barbara Alcantara, Southern Idaho; Erika Charry, Salt Lake; Niurka Toribio, Snow; Fei Gao, North Idaho; Catalina Charry, Salt Lake.
SECOND TEAM - Beth Carey, Southern Idaho; Elisa Brochado, Southern Idaho; Mirando Parkinson, Eastern Utah; Sherisse Hawkes, Snow; Ame White, Salt Lake; Kaylee Ponce, North Idaho.
HONORABLE MENTION - Barbara Jardine, Eastern Utah; Kellie Turner, Salt Lake; Kiana Niu, Southern Idaho; Casare LaGree, Colorado Northwestern; Julia Potts, Eastern Utah; Kyona Hunt, North Idaho; Stephanie Stearman, Snow.
Recent Headlines
---