Hasselbeck ruled out for Giants game with concussion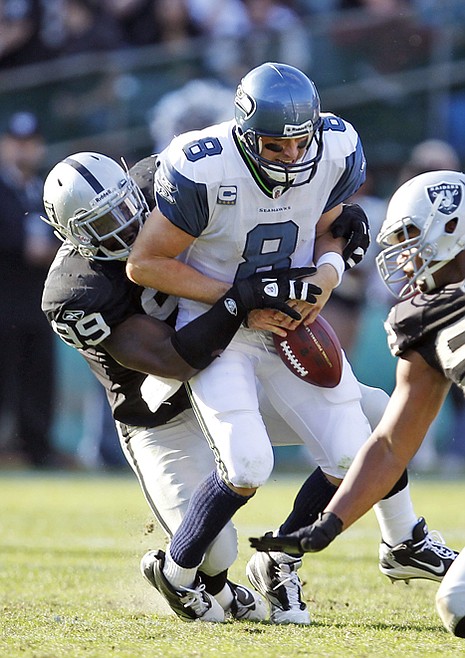 <p>Seattle quarterback Matt Hasselbeck suffered a concussion last week at Oakland and was not cleared to play this week against the New York Giants.</p>
|
November 5, 2010 9:00 PM
RENTON, Wash. (AP) - If the New York Giants are going to add to their knockout list of quarterbacks, it won't be Seattle's Matt Hasselbeck.
Hasselbeck, Seahawks starting QB, is out for Sunday's game against New York with a concussion. Seattle coach Pete Carroll made the announcement Thursday that Hasselbeck had not been cleared to play. Charlie Whitehurst will make the first start of his career.
"I think it's a little more serious than I thought. I visited with Matt after the game and stuff and I didn't realize there was anything going on. Not till Monday did we really ... there were some symptoms and stuff like that and then we took it very seriously," Carroll said. "I'm surprised a little bit, but it's real. That's good for me to understand it better, too."
Carroll said Hasselbeck would still need to be cleared under the league-mandated concussion testing in order to play next week at Arizona.
Hasselbeck suffered his concussion late in last week's 33-3 loss at Oakland. Carroll said Monday and again Wednesday he hoped Hasselbeck would be cleared and able to play against the Giants.
Instead, it'll be Whitehurst, who was brought to Seattle in a trade with San Diego in the offseason, but has never thrown a pass in a regular-season game.
"The circumstances are good," Whitehurst said. "We're playing a good team. Playing at home. It's all you can really ask for. I plan on going out there and executing and helping this team win."
Outside of three snaps in garbage time last week, Whitehurst gets his first opportunity. Whitehurst spent his first four years in San Diego as the third-stringer behind Philip Rivers and Billy Volek.
The Seahawks acquired him in March for a swap of second-round picks in the 2010 draft and an undisclosed 2011 selection.
"He's ready," Carroll said of Whitehurst. "I've talked to Charlie from the first day he got here that he's coming here to play football. Nothing else. He's not coming here to be a backup or to do anything other than to make himself a spot. He has done a fantastic job up until this point. He's done everything that we've asked of him and we're real excited to see him play now."
The Seahawks will face an imposing Giants defense that has knocked out five quarterbacks this season and had 10 sacks against Chicago in Week 4. Seattle's banged-up offensive line allowed eight sacks of Hasselbeck last week in Oakland.
"I've got a lot to worry about. I'm not going to worry about that. I'm confident in the guys up front," Whitehurst said. "They can do their jobs and I know what they've done to quarterbacks this year, but we're confident we're going to go out there and play well."
Recent Headlines
---