Confusion, fear as Haiti camps evacuate for storm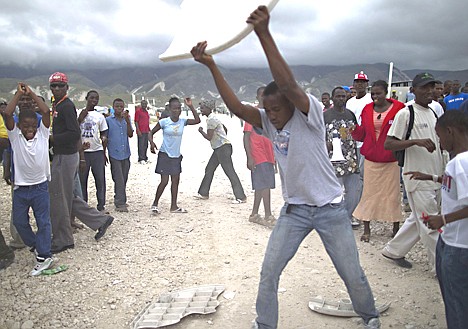 <p>A man reacts with anger, breaking a table, after receiving confusing instructions before being evacuated from the Corail-Cesselesse tent refugee camp before the arrival of tropical storm Tomas in Port-au-Prince, Haiti, Thursday, Nov. 4, 2010. Fear and confusion set in among more than 1 million Haitians advised to leave earthquake homeless camps in the country's capital.</p>
|
November 5, 2010 9:00 PM
PORT-AU-PRINCE, Haiti (AP) - For nearly 10 months, more than 1 million people in Haiti's earthquake camps have been walking a precarious line: Trying to get out and find good homes without losing their tents and the possessions they still have.
Now a potential hurricane threatens to upend that careful balance. The Haitian government has called for the voluntary evacuation of all the quake zone's camps ahead of Friday's expected arrival of Tropical Storm Tomas, telling residents to find somewhere else to go.
"People said, 'We've been displaced before. What's going to happen to us? Are we going to be able to get back?'" said Bryant Castro, an American Refugee Committee staffer who is managing the nearly 8,000 people at the Corail-Cesselesse relocation camp.
Survivors of the devastating Jan. 12 earthquake have fought forced evictions, weathered storms, organized themselves into security committees, and rallied for better services and aid. Now they are being told to leave - and few have anywhere to go.
The government says there are more than 1,000 shelters available, but the term is loose and can refer to any building expected to stand up to high winds. The U.N. Office for the Coordination of Humanitarian Affairs said there is a need to identify safe public infrastructure for use as potential storm shelters.
Painfully slow reconstruction from the quake, prior storms and the recent commitment of government resources to fight a growing cholera epidemic have left people with few options as overtaxed aid workers struggle to help.
Fear and confusion have swept through many of the camps. Tensions boiled over into scuffles Wednesday at Corail when managers tried to explain a planned voluntary evacuation of nearly 8,000 people from ShelterBox tents once promised to be hurricane-resistent.
The tentative plan there, as at several other camps, is to move some people to schools, churches, and other structures such as abandoned prisons. But most of the homeless are being told to seek out friends or family who can take them in.
As news of Tomas' predicted pass slowly filtered through Port-au-Prince via wind-up radios and megaphone announcements, unease set in among people who already lost homes and loved ones in the quake and saw their tents ripped apart in lesser storms this year.
Recent Headlines
---