Her special day in court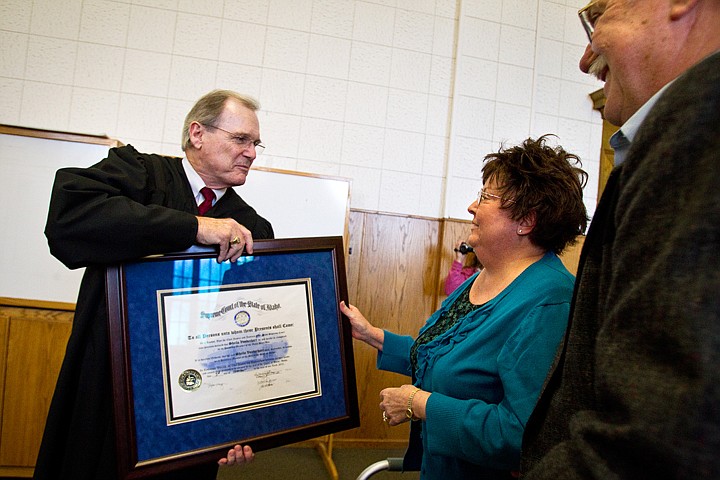 <p>Sheila Vonderharr, of Athol, is presented with a certificate recognizing her as an Honorary Member of the Idaho State Bar Wednesday by Chief Justice Daniel Eismann of the Idaho Supreme Court in Coeur d'Alene. Vonderharr was diagnosed with a brain tumor just weeks before she was scheduled to take the bar exam.</p>
by
Brian Walker
|
November 4, 2010 9:00 PM
COEUR d'ALENE - A brain tumor prevented Sheila Vonderharr from taking the Idaho State Bar exam in July.
But some of that pain was eased on Wednesday when the Idaho Supreme Court justices named the Athol-area woman an honorary member of the state bar during an emotional ceremony.
Sheila, with assistance from her husband, Eugene, and a walker, went to the front of the court to shake the hands of each of the five justices after receiving her framed certificate.
"Sheila would like to thank all the justices and friends and relatives for being a part of this important day for her," Eugene told about 40 supporters on her behalf.
Chief Justice Daniel Eismann, a cancer survivor, said there have been no other honorary bar members named since he began serving in the position in January 2001.
"(Cancer) is something that you're never ready for, but it can happen to any one of us," Eismann said. "It's a tragedy what happened to her. From everything I've heard, she'd be a good attorney."
Sheila graduated from Gonzaga with a law degree in 2006 and being able to practice law in Idaho by passing the exam has been her dream, Eugene said. Her goal was to work with children and seniors, but she learned about the tumor three weeks before the exam.
Sheila's son, Robert Hudson, said she has always been a determined hard worker.
"This speaks on so many different levels," Hudson said after the ceremony. "She had me when she was 16 and put herself through college. There's an important story to be told because this may help another cancer victim fight harder not to give up."
Hudson said his mother hasn't given up on the exam.
"She's still fighting and is very determined to achieve that goal," he said.
When neighbor Doug Murdock contacted the Idaho Supreme Court to see if Sheila could become an honorary member, the idea received a warm greeting from the court.
"At first, she didn't feel like she deserved it," Eugene said. "But when Doug told her about it, she got very excited, started to cry and said, 'This is my most special day ... except when I had my son Robert.'"
Murdock said the honor is deserving and the right thing to do.
"She's very driven by her ideals and morals and wanted to do a service to the community," he said. "I'm glad something could be done to cheer her up."
Recent Headlines
---