Nelson poised to claim commission seat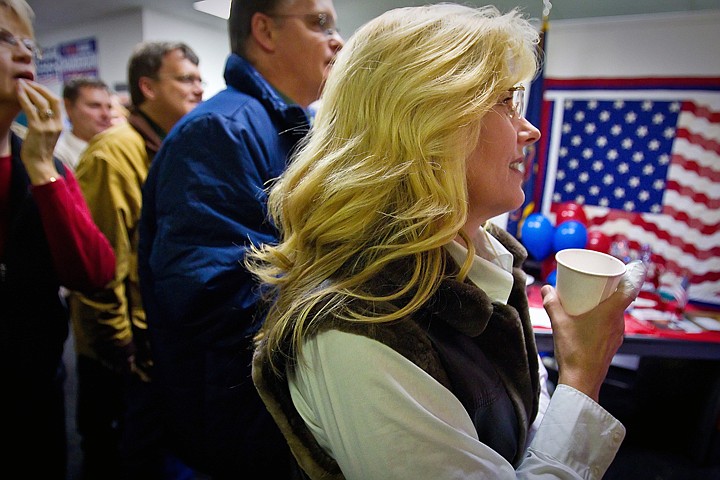 <p>Jai Nelson views the results for her race for Kootenai County commissioner against incumbent write-in candidate Rick Currie.</p>
by
Alecia Warren
|
November 3, 2010 9:00 PM
COEUR d'ALENE - Although all the ballots had not been counted by early this morning, preliminary results in Kootenai County pointed to the end of an era for a county commissioner, and an uncertain future for the longtime county clerk.
Jai Nelson looked to take the race for District 2 county commissioner after ballots had been counted from 18 of the 75 precincts.
As of midnight, 84 percent of votes - or 12,177 votes - favored Nelson, the primary winner for the commissioner seat.
The Republican businesswoman was confident at the GOP Headquarters in Coeur d'Alene as she watched the results come in.
"It looks like the voters are going to validate the decision made by the primary voters," Nelson said.
She added that she hadn't feared losing to incumbent Rick Currie, who had taken on the challenge of competing with her as a write-in candidate after losing in May's primaries.
"I campaigned pretty hard. I think I covered all my bases," said Nelson, a Coeur d'Alene resident, who also ran for commissioner in 2008 but lost in the primaries. "And there has never been a successful write-in candidate in Kootenai County that I'm aware of. It's very difficult. I felt those odds were on my side."
Currie, who has been commissioner since 2002, had garnered 16 percent of votes, or 2,341 votes.
Still out taking down his campaign signs at quarter to midnight - after starting at 5:30 p.m. - Currie said he was disappointed by the preliminary results.
"It's extremely hard to win as a write-in. We knew that going in," Currie said. "We tried to be out there as much as we could, out talking to people. We've always ran a campaign based on facts."
There was some possibility he could take the race, the Coeur d'Alene businessman added.
"There's always hope," he said.
The race was looking close for county clerk.
At midnight, incumbent Dan English had brought in 44 percent of the votes, or 7,444 votes.
English expected to gain more votes as results were counted from precincts with a stronger Democrat base.
"On the other hand, there's no question it's a Republican night," said English, a Rathdrum Democrat. "So if I come back during the regular precinct time, I certainly don't expect wide margins."
English was appointed to the clerk position in 1995, and reelected since 1996.
His Republican opponent, Cliff Hayes, former Post Falls police chief, was leading with 56 percent of the vote, or 9,387 votes.
Hayes will not make a statement until all the votes are tallied, said his campaign Treasurer, Fred Ostermeyer.
"It's up to the people," Ostermeyer said. "I would expect the voting public will make an educated decision and they'll vote based on what they believe in."
Ballot results were heavily favoring Debbie Wilkey for county coroner.
The Republican candidate, who is deputy county coroner and a registered nurse, had swept 64 percent of the vote, or 10,597 votes, as of midnight.
The Hayden resident could not be reached late Tuesday night.
Jody DeLuca Hissong, the Democrat candidate for county coroner, had garnered 36 percent of the votes, or 6,052 votes.
Hissong, chief deputy coroner for nearly 30 years, said she wasn't confident that she would catch back up.
"It's a Republican sweep across the nation," said Hissong, a Post Falls resident. "It's just all the Republicans voted straight 'R.' There's nothing I can do about that."
Dr. Robert West, who has been county coroner since 1984, is retiring this year.
County treasurer incumbent Tom Malzahn and assessor incumbent Mike McDowell ran unopposed. Dan Green, who won the primary election for county commissioner District 3 seat, also ran unopposed.
Recent Headlines
---