Bombings kill 76 across Baghdad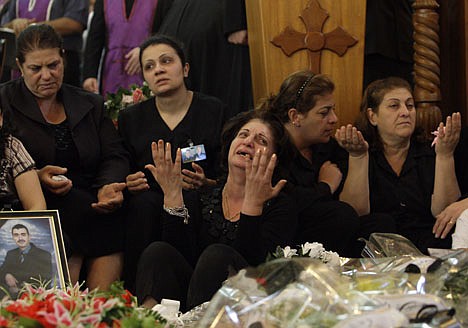 <p>Relatives grieve near the coffins of slain Christians at a funeral mass in Baghdad, Iraq, Tuesday. The victims were killed Sunday when gunmen stormed a church during mass and took the entire congregation hostage. The attack, claimed by an al-Qaida-linked organization, was the deadliest recorded against Iraq's Christians since the 2003 U.S.-led invasion unleashed a wave of violence against them.</p>
|
November 3, 2010 9:00 PM
BAGHDAD (AP) - Rapid-fire bombings and mortar strikes killed 76 people and wounded more than 200 across Baghdad's myriad neighborhoods Tuesday, demonstrating the insurgents' ability to carry out coordinated strikes from one side of the capital to the other.
The attack - blasts in at least 13 separate neighborhoods - was clearly designed to hit civilians at restaurants and cafes where many Iraqis were gathered to enjoy the warm evening. The sophistication and the targets - Shiites - suggested that al-Qaida-linked Sunni militants were responsible for the deadliest day in Iraq since May.
The strikes, two days after the bloody siege of a downtown church, were stunning in their scope - indicating a high degree of coordination and complexity from an insurgency that just a few months ago U.S. and Iraqi officials were saying was all but defeated.
"They say the situation is under the control. Where is their control?" said Hussein al-Saiedi, a 26-year-old resident of Baghdad's sprawling Sadr City slum, where 21 people were killed when a parked car blew up near a market in Tuesday's deadliest bombing.
"We were just standing on the street when we heard a loud noise, and then saw smoke and pieces of cars, falling from the sky," al-Saiedi said. People were fleeing the site in panic, frantically calling the names of their relatives and friends."
The bombings began at about 6:15 p.m. and lasted for hours. The assailants used booby-trapped cars and a motorcycle, roadside bombs and mortars. Though 10 neighborhoods targeted were home to mostly Shiites, a couple of strikes hit Sunni communities as well.
In addition to the 76 dead, 232 people were wounded, according to police and hospital officials who spoke on condition of anonymity because they were not authorized to speak to the media.
Prime Minister Nouri al-Maliki called the string of blasts and the church siege crimes by terrorists and former members of the Baath Party - which once ruled Iraq under Saddam Hussein - against innocent civilians designed to provoke sectarian strife and destablize the government.
"The criminal acts that targeted the Christians at the Lady of Salvation church and the civilians in Baghdad are political blasts intending to halt the forming of the government," he said in a statement. Iraq has been without a new government since the March 7 elections, leaving a political vacuum that many fear insurgents are trying to exploit.
The White House condemned the "vicious violence" and offered sympathy to the victims' families and all Iraqis.
"We have confidence that the people of Iraq will remain steadfast in their rejection of efforts by extremists to spark sectarian tension," said National Security Council spokesman Mike Hammer. "These attacks will not stop Iraq's progress. The United States stands with the people of Iraq and remains committed to our strong and long-term partnership."
There was no immediate claim of responsibility, but suspicion fell on al-Qaida.
"We do not have any conclusive information at this time as to the responsible parties but this seems to be typical AQI (al-Qaida in Iraq) tactics," said Lt. Col. Eric Bloom, a U.S. military spokesman.
Recent Headlines
---