Progress reported in old federal building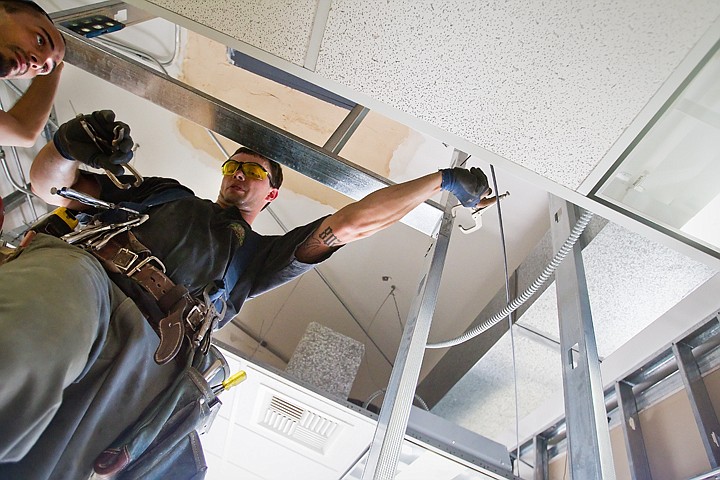 <p>Dustin Stevens finishes securing a joint while while installing steel framing Tuesday in a room that is slated to be a judge's chambers in the former Federal Courthouse in Coeur d'Alene. Matt Gilbert, far left corner, looks on.</p>
by
Alecia Warren
|
June 30, 2010 9:00 PM
Right on track, and for a discount price.
Kootenai County's transformation of the old federal building in Coeur d'Alene into a Juvenile Justice Center is on schedule to finish this summer, with construction costing half the expected amount.
"It's just a sign of the times," said county Commissioner Todd Tondee. "People (contractors) are lowering their bids to stay busy."
The commissioners signed a contract this month for Small's Construction Company in Rathdrum to remodel the historic downtown building for $233,000, substantially less than the $530,000 cost forecasted last December.
The steal was possible both because of minor improvements the county did itself, said architect Cory Trapp, as well as a compromise to install fewer offices in the building than originally planned.
Jim Small, co-owner of Small's Construction, said he was willing to ask a little less to secure the contract.
"Right now to get a job you have to bid just at the bare margins," Small said. "But the job is going well. It's on track. Hopefully we'll all make money."
The county has also paid $45,000 in architect fees for the project, paid for out of the county justice fund.
The sooner the project is finished, Commissioner Rick Currie said, the better.
The county court system should be more efficient in gaining the brick structure's two courtrooms, he said, one of which will be remodeled for juvenile court and the other slightly modified to use for adult trials.
"Our court system is extremely overcrowded," Currie said.
Also, as observable in the building's gutted interior on Tuesday, there will be ample room to house county employees.
The massive, open rooms of the building, vestiges of its initial days as a post office, are being subdivided into offices.
These will provide room for close to 45 county employees, Currie said, most of whom are scattered in rented offices right now.
"We will be able to bring those people back on campus and save some rental expense," Currie said. "The big thing is we're overcrowded, and it just gives us additional space that is very much needed."
But there are other benefits.
For instance, the building will finally provide chambers - furnished with an impressive bathroom - for a first district judge who has no office space now, said Karlene Behringer, trial court administrator.
"He's here on a regular basis and doesn't have an office. He works out of a duffle bag," she said. "We need a place to call his home."
The three-story building also includes a vault to store juvenile records currently crammed in district court offices, Behringer said. The basement boasts holding cells for men, women and juveniles.
There will even be a separate waiting room for children, she said.
"We're going to make it very children friendly, with games and books and maybe a TV," she said, adding that the current court system provides no such space. "This way they (children) don't have to be in the courtroom, seeing someone they might have had a bad relationship with."
Kootenai County inherited the building from the federal government last year.
Walking through the more than 80-year-old structure on Tuesday, Behringer pointed out its singularities: Hardwood and tile floors, hardy window frames, marble bathrooms. Stained glass on the ceiling of one of the courtrooms.
"It's just a grand old building," she said. "It has a lot of character."
Recent Headlines
---