Going the distance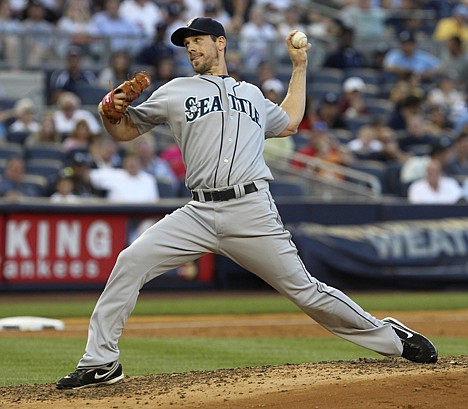 <p>Cliff Lee pitched his third straight complete game for the Seattle Mariners, beating the Yankees 7-4 on Tuesday night at Yankee Stadium in New York.</p>
by
Rick Freeman
|
June 30, 2010 9:00 PM
NEW YORK - In the Bronx, almost nothing seems to faze Cliff Lee.
The Mariners ace beat the New York Yankees in their ballpark yet again, pitching his third straight complete game to lead the Seattle Mariners to a 7-4 victory Tuesday night.
Lee (7-3) beat New York twice in last year's World Series for the Philadelphia Phillies, including Game 1 at Yankee Stadium. He also won the ballpark opener for Cleveland in April 2009.
"Yeah, I like pitching here," Lee said. "I've always enjoyed pitching here."
This time, the left-hander gave up his first walk in almost a month, and a pair of solo home runs to Nick Swisher.
"The sun shines on a dog some days," Swisher said. "Any time you go up against a tough guy like that, all you're trying to do is get the barrel on it."
Lee also allowed two runs in the ninth, but calmly worked out of trouble.
He kept his cool earlier in the day, too, when his subway sped through the stop for Yankee Stadium. Lee handled it like a local. He got off and switched to a downtown D train going the other way. No big deal.
"I'm not afraid to take the subway," Lee said.
The only thing that appeared to bother him Tuesday was the walk he gave up to Jorge Posada in the second - Lee's first since walking Nick Punto on June 2 - five starts ago.
"He's pretty much the same every time you see him," Derek Jeter said. "He's a perfect example of a guy who's going to come after you. He throws strikes, not going to hurt himself, doesn't walk anybody."
It was Lee's fifth walk - in more than 95 innings - this season.
He threw 115 pitches and became the first Mariners pitcher with three complete games in a row since Randy Johnson in 1998.
Lee's time in Seattle could be much shorter than the Big Unit's. The Mariners, last in the AL West, may try to deal Lee because he can become a free agent after the season. General manager Jack Zduriencik said before the game that he would wait to see how the Mariners responded over the next month or so before making a decision on Lee.
"I'm a Mariner until they tell me otherwise," the left-hander said. "I'm going to continue to help the Mariners win every time I take the mound."
Rob Johnson hit a two-run double in the sixth and Ichiro Suzuki drove in a pair of runs with an RBI single in the third and a sacrifice fly in the fifth. Franklin Gutierrez homered for Seattle.
"Offensively, I thought that it was one of the more efficient games that we have played this year," Mariners manager Don Wakamatsu said.
Yankees starter Phil Hughes (10-2) allowed seven runs - six earned - and 10 hits in 5 2/3 innings. His previous turn in the rotation was skipped to give him extra rest.
"He's on turn, He's going to start Sunday and Friday," Yankees manager Joe Girardi said.
Seattle also just reacquired Russell Branyan in a trade with Cleveland last weekend, and the slugger singled in his first at-bat for the Mariners this year.
Recent Headlines
---