Changes on the Verizon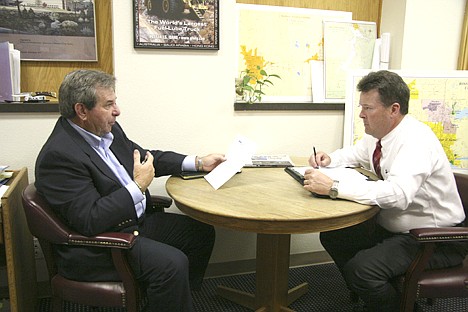 <p>Michael Towne, left, of Frontier Communications talks with Jobs Plus President Steve Griffitts.</p>
by
Rick Thomas
|
June 30, 2010 9:00 PM
COEUR d'ALENE - The dial tone will remain the same on Idaho phones on Thursday morning, but behind it will be a new company.
July 1 marks the first day of service for telephone and Internet landline provided by Frontier Communications, which is taking possession of 4.8 million access lines of Verizon Communications in Arizona, Idaho, Illinois, Indiana, Michigan, Nevada, North Carolina, Ohio, Oregon, South Carolina, Washington, West Virginia and Wisconsin.
"Our primary focus is on customers first," said Michael Towne, area general manager for Frontier, which will be moving to Kootenai County from McCall. "Frontier brings local engagement and local managers. It is a local team making decisions at the local level."
Most of the 140 Verizon employees in Kootenai County, including about 100 at a call center, and 50 others in the rest of the state will remain, and several Frontier managers will be added.
"The intent was neither to not keep or keep employees," said Melinda White, Frontier's executive vice president of new business development. In the coming months the company will assess its workforce to ensure it is able to meet the needs of the market, she said.
Christy Reap, spokeswoman for Verizon, said Frontier has worked closely with its engineers, customer service and billing departments for a smooth transition.
"It will be invisible to customers," she said. "There will be no surprises."
Verizon customers have been notified via mail and with pop-ups on Internet connections.
There will be no changes in telephone rates, but Frontier plans to introduce a wide spectrum of services with package discounts.
"We have an outstanding record of bringing broadband services," Towne said.
Verizon agreed in May 2009 to sell the lines to Frontier, to focus on wireless telephone, fiber-based wireline (FiOS) and global Internet protocol networks.
The switch will affect business and residential phone lines and Internet services now provided by Verizon.
Frontier will be the largest pure rural communications provider and the nation's fifth largest incumbent local exchange carrier with more than 7 million access lines, 8.6 million voice and broadband connections and 16,000 employees in 27 states.
Verizon replaced GTE in North Idaho and other areas in 1997, said Steve Griffitts, president of Jobs Plus, who formerly worked for GTE and is helping Towne with the transition.
"Verizon focuses on the New Yorks of the world, not on areas as little as us," Griffitts said. He expects Frontier to significantly improve broadband Internet services.
The operations Frontier will acquire include all of Verizon's local wireline operating territories. The transaction will also include a small number of Verizon's exchanges in California, including those bordering Arizona, Nevada and Oregon. Frontier already serves about 20,000 customers in counties in southern Idaho.
"We do things different from Verizon," White said. "Customer service, products, and service delivery."
The company will communicate directly with customers, at special events and possibly kiosks. No determination has yet been made on what sort of customer service offices may be opened in Coeur d'Alene.
Among the products Frontier offers are DirecTV, hard drive backups, full suites of business services and high capacity network pipes.
Initially, a "hybrid approach" will include Verizon and Frontier products, with bundles and packages not available from Verizon to be added, along with 24-hour service.
Information: (866) 718-5386, www.frontier.com
Recent Headlines
---