Never too tired to pop the question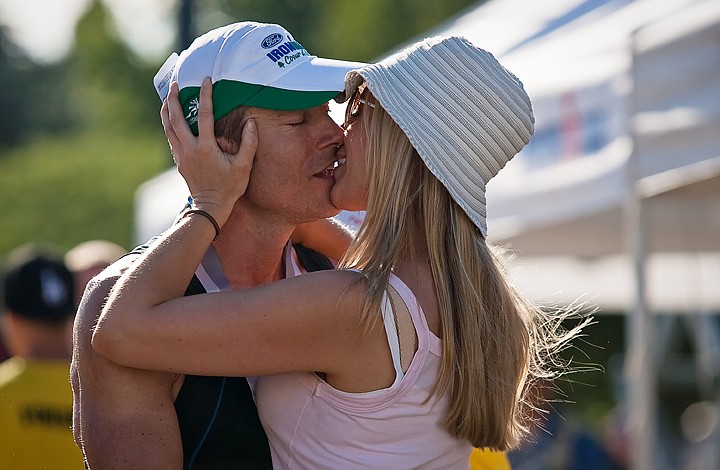 <p>Seattle residents Greg Probst and Jodi Kittelman kiss Sunday after becoming engaged following the Ironman triathlon in Coeur d'Alene. Probst proposed by displaying a banner that read "Jodi will you marry me?" as he crossed the finish line.</p>
by
Alecia Warren
|
June 28, 2010 9:00 PM
The crowd went wild as Greg Probst crossed the Ironman finish line Sunday holding a banner above his head: "Jodi will you marry me?"
From the packed bleachers of the 2010 Ford Ironman Coeur d'Alene, a slender blonde shouted "Yes!"
A few minutes later, surrounded by bustling volunteers and sweat-soaked competitors, Probst and his new fiancée Jodi Kittelman shared a long kiss.
"I love you so much," said Probst, 44, a first-time Ironman.
Both from Seattle, the couple has been together for about a year, he said.
"It's been a magical year," he said.
As the crowd watched, he untied the pink ribbon around a velvet box a friend had passed him from the sidelines.
"It's nothing fancy," he said of the ring inside. "This is a symbol."
Probst, who finished Ironman in 10 hours, 51 minutes and 4 seconds, felt the finish line was just the time to pop the question after spending so many months fixated on training.
"It's been all about me," he said. "So many Saturdays training for hours and hours and hours. It's over now, and it's time to set new goals with a family in mind."
Kittelman, 38, said she was at a loss for words.
"I had been expecting him to ask, just not here," she said with a laugh. "He's sweet and he's thoughtful and he's an amazing friend."
Her son Elijah, 8, was crying when he met them both by the finishing line.
"He's amazing," Elijah said of his new father-to-be.
Probst said his first Ironman competition was thrilling.
"I gained energy throughout the competition," he said. "The second half was awesome."
Not as awesome as what's to come, he added.
"I want to spend the rest of my life with this beautiful woman and this amazing boy," he said, hugging them both. "I love them both so much."
Recent Headlines
---