Hadley: 'This was my best race'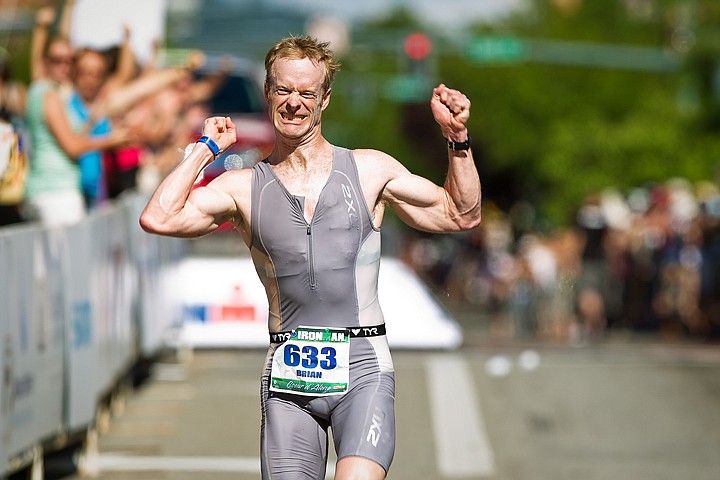 <p>Brian Hadley, of Coeur d'Alene, cheers as he leads all other local triathletes to the finish in Sunday's Ironman.</p>
by
Alecia Warren
|
June 28, 2010 9:00 PM
Brian Hadley of Coeur d'Alene swept across the finish line with a beatific grin on Sunday, the medallion slipped around his neck marking him the first Kootenai County resident to finish the 2010 Ford Ironman Coeur d'Alene.
"This was my best race," said Hadley, who now has six Ironman competitions under his belt and finished this year 18th overall in 9 hours, 24 minutes and 21 seconds. "It feels pretty good to be 35 and still get faster."
There were challenges, he admitted, among them the temperature that climbed into the 80s.
"The swim was really rough. I don't know if there were boats going by, but there were big waves," Hadley said.
And though the biking portion is usually his favorite part, he said he couldn't settle into the right rhythm this year.
The run made up for it, he said.
"It (the competition) got progressively better," he said.
Hadley plans to take a year off before competing again, he said. He keeps it up because of the support from his family and the pleasure of chasing such a goal with so many people.
"I got choked up at the start of the swim," he admitted. "I've never done that before."
Jeff Smith, sitting in the medical tent with a heaping plate of carbs after crossing the finish line, said he was elated to be the first from Sandpoint to finish the 2.4-mile swim, 112-mile bike ride and 26.2-mile run this year.
Especially since Smith is a first-time Ironman.
"Tired. So tired," the 28-year-old said of his condition after a 9-hour, 43-minute, 6-second race. "I've never ridden 112 miles."
Training on the hills of Sandpoint helped prep him for the course, though, and he said he was amazed that he kept passing people during the run.
As for whether he'd compete again, Smith said to ask him on Monday.
"It was by far the hardest thing I've ever done in my life," he said. "It's just insane."
Coeur d'Alene resident Daniel Shaw said his time of 10 hours and 2 seconds overshot his goal of finishing in 9 1/2 hours.
But he was still satisfied to finish his first Ironman.
"It was horrible," he said with a laugh as he leaned on volunteers for support. "The run (was hardest). It was hot."
The 34-year-old runner has always watched the competition from the sidelines, he said, and this year wanted to give it a shot.
"It was an awesome experience," he said, adding that he hasn't decided if he will compete in another Ironman. "I'm so glad I did it. I'm so glad it's done."
Heath Wiltse, a Coeur d'Alene man finishing his ninth Iroman, said his legs moved faster with the support from the crowds, which he estimated were 50 percent bigger than usual this year.
"It's just great," said the 35-year-old, who finished at 10 hours, 6 minutes and 48 seconds. "Just getting out there on mile 90 and there are 100 people on Ohio Match Road cheering - there were so many people out there, and that keeps you going."
Wiltse, who is general manager of Peak Health and Wellness of Post Falls, said he was a little disappointed not to finish under 10 hours. But this won't be his last attempt.
"I'm going to take a year off, then it will be back on the horse," Wiltse said.
Molly Obetz, 37, was the first Kootenai County woman across the finish line again, after accomplishing the feat last year.
The Coeur d'Alene woman was happy with her time of 11 hours, 14 minutes and 20 seconds.
"Hard. I'm tired," Obetz said with a laugh of how the course treated her. "It was definitely windy on the bike, and my run was slow."
She added that she wanted to throw in an apology to the woman she accidentally nailed in the noggin with a water bottle she threw away during the competition.
"I feel so bad," she said.
Obetz said she expects to do better next year so she can qualify for the Ford Ironman World Championship in Hawaii.
"I just want to thank the community. We have terrific community support," she said.
Recent Headlines
---