What's new with technology?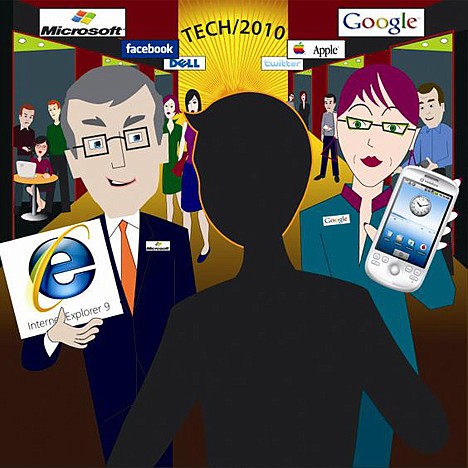 What's new with technology?
by
PropellerHeads
|
June 27, 2010 9:00 PM
Dear PropellerHeads: So... what's new?
A: OK, so we made that question up because we wanted to tell you about recent tech conferences and announcements. Sure, that might sound boring, but so does Ben Stein and he turned out to be pretty cool, right?
The March-through-June timeframe is conference season in the tech world, and several companies save their biggest announcements for this time of year. If new technology makes your propeller spin - and it does ours! - then this is the best time of year since Christmas.
In March, the South by Southwest Interactive (SXSWi) festival was held in Austin, Texas, (sxsw.com/interactive). Besides the "interactive" component, SXSW also has music and film "sub-festivals." Want to see Devo, Seth Rogen and Microsoft all at the same confab? Then go to SXSW.
This year's line-up included Ford Motor Company discussing the future of in-car technology (like integrating Facebook into the console display). Upgrade announcements came from popular link-sharing site Digg (digg.com) and rival companies FourSquare (foursquare.com) and Gowalla (gowalla.com), both "check-in" services that reward users for sharing their current location.
Twitter (twitter.com) held their first conference, called "Chirp" (chirp.twitter.com), in April. They showcased "@Anywhere," a service that enables "partner Web sites to easily integrate Twitter functionality into their site experience." Now Amazon (for example) can suggest Twitter users for you to follow right there from your shopping cart.
Also in April, Facebook's F8 conference (facebook.com/f8) stirred up controversy with the news that they'd be sharing more of their users' personal information. On the brighter side, new "Community Pages" let users create Wikipedia-style pages from within Facebook. Also, their plan to make the "Like" button ubiquitous means that CNN (among others) can show you right on their homepage which of their articles your Facebook buddies enjoyed.
May saw the Google I/O conference held in San Francisco. They demoed Google TV (google.com/tv), a service that will display a search bar at the top of your screen, allowing you to search TV listings, recorded shows on your DVR, YouTube and other websites all at once for the term "Angelina Jolie" (or "Brad Pitt," if you must).
Google also showcased updates to their Android phone software, including a faster Web browser, easy backup of data to the Internet, and the ability to use the phone as a portable Wi-Fi hotspot.
Not to be outdone, Apple's Worldwide Developers Conference (developer.apple.com/wwdc) in June unveiled a new, slimmer iPhone with a sharper display, a longer-lasting battery, front- and rear-facing cameras, and a video chat application called "FaceTime."
June also brought D: All Things Digital (allthingsd.com/d), where Dell showed off the Streak, a 5-inch "mini-tablet" device that's larger than a cell phone but smaller than Apple's iPad. Microsoft demonstrated Project Natal, a game controller that one-ups the Wii remote by using cameras and sensors to let you control games with your entire body.
Other recent conferences include Microsoft's Professional Developers Conference (microsoftpdc.com), where the latest versions of Microsoft Office and Internet Explorer were on display, and TED (ted.com), the Technology, Education and Design conference.
TED talks ran the gamut from Microsoft Bing Map updates (think "Google street view" photos, but inside buildings), to the "mosquito death star laser gun," precisely aimed lasers that can shoot mosquitos out of the sky and might prove useful in areas of the world plagued by malaria. Visit feeds.feedburner.com/tedtalks_video to subscribe to their video feed for more presentations.
So tech conferences may sound boring, but a mosquito-killing laser is just too cool not to share with our readers. Right, Bueller? Bueller? Bueller?
When the PropellerHeads at Data Directions aren't busy with their IT projects, they love to answer questions on business or consumer technology. E-mail them to questions@askthepropellerheads.com or contact us at Data Directions Inc., 8510 Bell Creek Road, Mechanicsville, VA 23116. Visit our Web site at www.askthepropellerheads.com.
Recent Headlines
---