Sweeney a success in return to bigs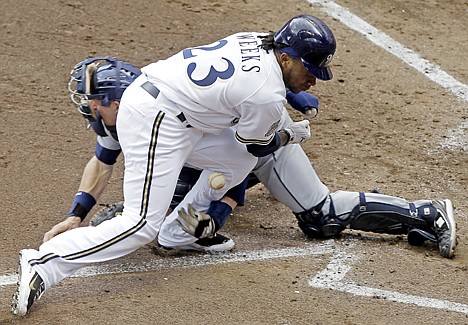 <p>Seattle catcher Rob Johnson loses control of the baseball after being drilled at home plate by Milwaukee's Rickie Weeks (23) during the third inning Saturday at Milwaukee.</p>
by
Colin Fly
|
June 27, 2010 9:00 PM
MILWAUKEE - Brian Sweeney had plenty of time to think in Japan after his family returned to the United States while he finished out a disappointing third season with the Nippon Ham Fighters.
His return to the majors seemed even further away after 49 games from 2003-06 with Seattle and San Diego. But given another chance and eventually a major league call-up, a long wait to pitch was nothing.
Sweeney returned to the majors with four scoreless innings in his first appearance since 2006 and Milton Bradley and Jose Lopez homered, rallying the Seattle Mariners to a 5-4 win over the Milwaukee Brewers on Saturday.
"It's been a while. This is what you grow up dreaming about," the 36-year-old Sweeney said. "You want to pitch in the big leagues. To get back here again, it feels just as good as the first time I got called up."
His return did wonders for the short-handed Seattle bullpen, missing two key relievers because of injuries and also without closer David Aardsma, who left to be with his wife for the birth of their first child.
"It's always satisfying, no matter what. Being here, being a part of this team was very satisfying today, just as it was in 2003 when I got that call," said Sweeney, who still believed that he could pitch and pitch confidently during his long, lonely nights thinking about his future overseas.
Sweeney (1-0) had been recalled from Triple-A Tacoma on June 15 and made his first appearance since playing with San Diego after Doug Fister finished four innings in his return from the disabled list.
"He's throwing really good. I know that guy from four, five years ago in San Diego," said Lopez, who extended his hitting streak to 10 games. "He doesn't pitch for awhile, four or five days?"
Try a lot longer. Sweeney's last appearance came in the minors on June 12.
"Brian Sweeney is the whole story of today's game to be able to not pitch in 13 days and come out there and shut that offense down," Mariners manager Don Wakamatsu said. "Just unbelievable job, poise, everything."
Sweeney retired his final 10 batters and allowed just one hit, striking out four. Brandon League converted his second save with a perfect ninth, getting George Kottaras to fly to the warning track for the final out.
Seattle has won seven of nine and came back in this one after squandering a 2-0 lead built on Rob Johnson's fielder's choice in the second and Bradley's solo shot in the third off Brewers starter Randy Wolf (5-7).
But the Mariners didn't go ahead for good until taking a 5-4 lead with three runs in the fourth.
With one out, Franklin Gutierrez hit an RBI double and came home when Lopez followed with his homer to the second deck in left field.
"It's a long game. What happens in one inning, two innings, three innings doesn't matter to us," Lopez said. "Next inning, (we) got the runs back."
Wolf continued his string of inconsistent starts and his frustration showed afterward.
"I fully panic and I go on suicide watch for about five days," Wolf said. "I've got to get over it. I've got to get out there and pitch in five days and just get better, and that's all I can do."
His assessment on the two home runs he allowed?
"They went over the fence," he said.
Milwaukee's season-long five-game winning streak ended despite a four-run third that included Prince Fielder's 15th homer and a wild play that saw Corey Hart coming around to score on an error after hitting a two-run double.
Wolf scored easily on the hit and the relay throw appeared in time to make a play on Rickie Weeks.
But Weeks clipped Johnson, and the catcher fell forward on his stomach while Weeks flew over him as the ball got away.
Fister backed up the play and fired to third with Hart advancing, but Lopez let the ball get by him and Hart came home, scoring easily on a headfirst slide.
Fielder followed, smacking a fastball deep to right field to make it 4-2, but Seattle would answer right back.
"Anytime you throw up a four-spot, you kind of obviously hope to keep that momentum. But we weren't able to do much after that. It took the air out of us," Hart said.
Recent Headlines
---