Red, white, blue: Fourth of July party tips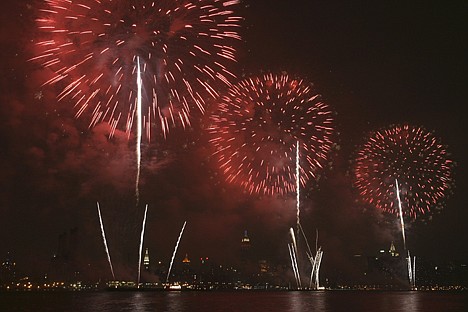 <p>This July 4, 2008 file photo shows fireworks as they explode over the Manhattan skyline during the 32nd annual Macy's Fourth of July fireworks display in New York. The Fourth of July is right around the corner and that means barbeques, picnics, and parties with a patriotic theme in addition to the annual fireworks displays.</p>
by
Colleen Long
|
June 27, 2010 9:00 PM
NEW YORK - Fireworks. Hot dogs. Small town parades and melting ice cream.
The Fourth of July is right around the corner. And that means barbecues, picnics and parties with a patriotic theme.
Whether you're planning a fancy party at your home or a picnic at the park to watch the fireworks, experts Anna Post from the Emily Post Institute, Seattle style expert Kelley Moore and Julie Fitzgerald from the Entertaining Company in Chicago offer up party tips to make your holiday sparkle.
First, decide whether you want to organize your party around an event - like a town parade or fireworks. And know the rules on whether buying and lighting fireworks are illegal in your area. The nonprofit National Council on Fireworks Safety has a handy map on state laws here: http://www.fireworksafety.com/laws.htm.
From there, chose decor. Want to make it a little fancier this year? Use red-and-white cloth liners for tables, and put the condiments in bowls instead of leaving them in their containers, Post suggests. You can add a little spice to everyday dishes. Make fancy mac'n cheese with gruyere and Swiss, Fitzgerald suggests, or skewers with Kobe beef. Or serve ice cream in dishes with red berries and blueberries for desert.
For a bohemian look, tie-dye an inexpensive white sheet with red dye. Decorate with white dishes, brass lanterns and red jeweled votive candles along with artifacts from your travels to other countries. "Remember, celebrating the Fourth of July also celebrates our freedom to explore other worlds and share new ideas," Moore says.
Make sure everyone has someplace to sit, Post says. "It seems silly, but it's hard for people to stand for several hours at a time," Post says.
• RED
You're on your way, and here are some more tips organized by the colors of the holiday.
If you live in a city like New York, where buying fireworks is illegal, you're probably headed to a rooftop or park to catch the spectacular city-run shows. Moore suggests putting two red buckets filled with ice into a little red wagon. In one bucket, place oysters right on the ice, and fill small bowls with lemon slices. The other bucket is for your favorite beverage. In between go the plates, napkins and a bottle opener. Voila! Instant party at the park for the fireworks.
Pick one drink and make it the signature drink of the day, Post suggests. Red and white sangria is an inexpensive and festive drink idea, says Fitzgerald.
For the kids table, Moore, who has a new Web show on entertaining, suggests painting wide red stripes on an inexpensive white linen. For a centerpiece, place arrangements of red licorice, Red Hots and red lollipops on the table. Place a red and white popcorn bag at each place setting so after the party each child can fill bags from the centerpiece.
• WHITE
If you can't buy fireworks and there are no city displays this year because of budget cuts (cities canceling shows include Mesa, Ariz.; Colorado Springs, Colo.; Niceville, Fla.; and Garland, Texas) buy bubbles for the kids, sparklers and string up lights.
"It's not the same, but it's better than nothing," Post says.
If your party is at a sandy white beach, use white linen, white candles and white plates. Let the stars be the fireworks.
Set up games for adults and kids to play, like croquet, Bocce or potato sack races.
• BLUE
Be it the blues, pop, or John Philip Sousa marches, music is important. Don't blare it too loud, and be sure to create mixes and playlists beforehand. Use a theme for the playlist but toss in some hip hits to keep the party moving.
If you're crafty and you have the time, Moore suggests decorating your table with blue bandanas. Buy a bunch at a craft store and stitch them together to create a tabletop linen. Or buy jeans at a local thrift store, cut out the pockets, wash them and sew them to a blue napkin to hold silverware.
"This is great for a barbecue," Moore says.
Bake a box cake and decorate it with strawberries, blueberries and white frosting. It's blueberry season, so you can use blueberries as a centerpiece and a snack: place them in bowls on the table for eating.
"Using what's in season is great because you're guaranteed to have crisp good fruit and veggies," Post says.
"July Fourth doesn't always have to be red, white and blue," says Post, who recently authored "Emily Post's Great Get-Togethers: Casual Gatherings and Elegant Parties at Home" with her sister Lizzie. "You can celebrate the country and the fact that we are becoming more and more ecologically conscious."
Designate a place to put the trash, and if you recycle, set up a station where guests can separate paper and plastic. If you're outside at the beach or at a park, find the public trash and be sure everyone knows where it is.
"Use handmade paper that is plantable as placemats or as a runner on your table," says Moore. "If you search hard enough, you can find them made with forget-me-nots which are blue and easily tie in to our patriotic colors. After the party, plant the place mats and watch them grow."
Fitzgerald, who has worked for the Chicago catering company for more than 12 years, says she uses a special type of plate from the company Verterra which is made from pressed leaves.
"They're really durable and also really nice-looking," Fitzgerald says. "And you can feel good about using them."
Decorate with potted flowers you can grow and keep all summer, or buy cut daisies, irises and roses as centerpieces and give them away as party favors.
Moore suggest buying miniature U.S. flags and placing them in pots in center of your table, and donating them to a local cemetery or nursing home after the party.
"Being 'green' also means to repurpose," she says. "This is a way to repurpose and give back to others at the same time."
Recent Headlines
---