New reason to worry in Gulf: weather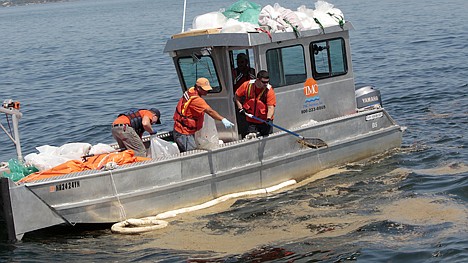 <p>Vessels of Opportunity skim oil from the water in Pensacola Bay in Pensacola, Fla., on Saturday.</p>
by
Greg Bluestein & Lisa Leff
|
June 27, 2010 9:00 PM
NEW ORLEANS - The logistics of containing the oil spewing into the Gulf of Mexico are mind-boggling even in ideal conditions. Add a tropical storm like the one swirling in the Caribbean and things get even more complicated.
Any system with winds over 46 mph could force BP to abandon efforts to contain the flow for up to two weeks and delay the drilling of two relief wells that are the best hope of stopping it, Coast Guard Admiral Thad Allen said Saturday, shortly after Alex became the first tropical storm of the Atlantic hurricane season.
Forecasts show Alex churning toward Mexico and missing the northern Gulf Coast and the spill, but officials are watching closely anyway.
"We all know the weather is unpredictable and we could have a sudden, last-minute change," Allen said.
Emergency plans call for moving workers and equipment five days before gale-force winds are forecast to arrive at the half-square mile containment operation surrounding the blown-out well. Oil has been gushing since the offshore drilling rig Deepwater Horizon exploded 50 miles off the coast of Louisiana on April 20, killing 11 workers.
Nearly 39,000 people and more than 6,000 boats are working there, in other parts of the Gulf and on land to skim and corral the oil, protect hundreds of miles of coastline and clean fouled beaches. All of those efforts would have to be suspended if a storm threatened.
At the well, the two systems that have been capturing anywhere from 840,000 to 1.2 million gallons of oil a day would be unhooked, leaving oil to gush freely into the Gulf again. No one knows exactly how much is flowing, but worst-case estimates indicate it could be as much as 2.5 million gallons a day.
Recent Headlines
---