BP shares hit 14-year-low; down more than $104B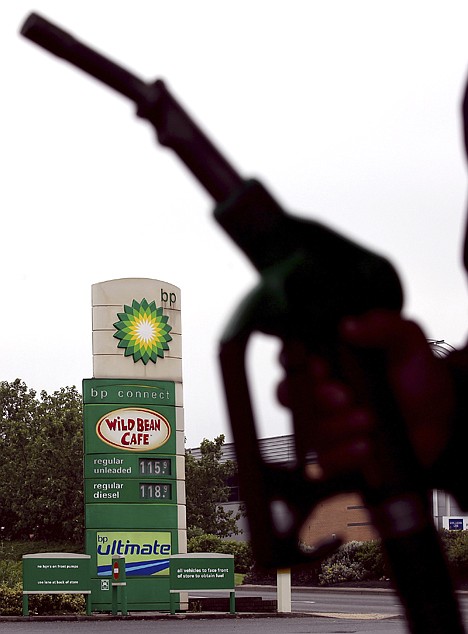 <p>A gas pump is seen in front of a BP logo at a petrol station in Birmingham, England, Thursday, June 10.</p>
BP shares fell about 6 percent in New York on Friday to a 14-year low as the costs rise for containing the oil spill in the Gulf of Mexico.
It looks like BP shares will close lower for the ninth week in a row. BP will have lost more than $100 billion in market value since a rig it operated exploded and sank in the Gulf two months ago.
The escalating costs, plus potential legal liabilities and BP's continuing struggles to contain the leak - now estimated at between 1.5 million and 2.5 million gallons per day - have eroded investor confidence.
Analyst Alastair Syme of Nomura Securities Co. said Thursday that pressure is growing on the company to assure sufficient funding to cap the well and cover the costs from the spill, which the company now says totals $2.35 billion.
Given the expensive cost of debt and the time it takes for asset sales, Syme said the company may need an investor - perhaps a sovereign wealth fund - to provide a short-term solution. Such an investment could dilute the shares further.
The company has access to about $15 billion, and that should be enough for now, Syme wrote.
"But a sharp rise in liabilities or alternatively a collapse in oil prices could leave the funding much tighter," Syme wrote.
BP's shares closed at $60.48 on April 20, the day of the rig blast. On Friday, BP shares dipped to $26.83 - their lowest level since July 1996 - before closing at $27.02, down $1.72. They dropped 14.9 percent for the week, the sharpest weekly decline since the rig blast on April 20. BP shares have now lost $104.73 billion in value since the incident.
Analysts at Collins Stewart continued to recommend BP shares as a "buy" in a research note released Friday. The company previously said that an investment in BP was "not one for the faint-hearted."
In a note to investors Friday, Raymond James analyst Pavel Molchanov said that BP's daily out-of-pocket costs have nearly doubled since the rig went down. And a potential hurricane brewing near the Gulf of Mexico could further complicate cleanup efforts.
"In the event that a storm crosses over the oil spill area, operations would almost certainly have to be suspended - both cleanup and the drilling of the two relief wells," the analyst wrote.
BP said a containment cap continued to collect some of the oil and gas flowing from the seabed, following a 10-hour interruption on Wednesday.
Even before that setback, the government's worst-case estimates suggested the cap and other equipment were capturing less than half of the oil leaking from the sea floor. And in recent days, the "spillcam" video still showed gas and oil billowing from the well.
Last week, BP bowed to President Barack Obama's demand that it set up a $20 billion escrow fund to cover damages and suspend dividend payments.
Recent Headlines
---