The smiles before the race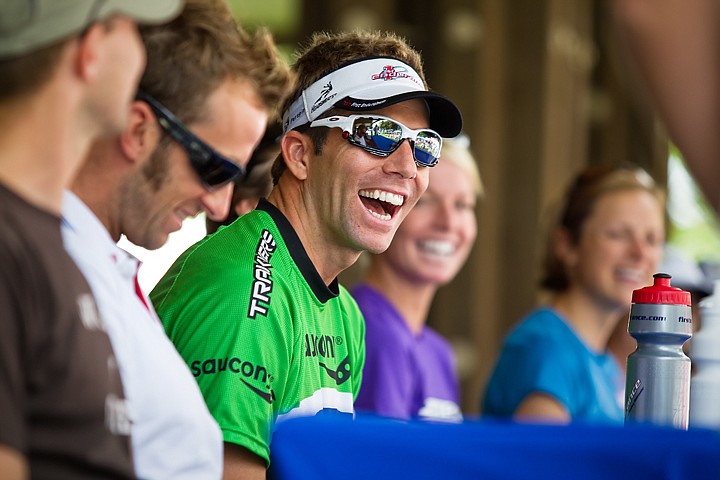 <p>Michael Lovato, of Boulder, Colorado, reacts to dialogue between triathletes on the professional panel Friday at Ironman Village in the Coeur d'Alene City Park.</p>
by
BILL BULEY
Staff Writer
|
June 26, 2010 9:00 PM
COEUR d'ALENE - So what does Michael Lovato think of his chances in Ironman Coeur d'Alene this weekend?
Not much, if you believe the professional triathlete's comments during Friday's press conference.
"I'm in awful shape," he deadpanned. "I haven't done much training to be totally honest. I just started training this week."
The 2003 Ironman Coeur d'Alene champ continued kidding around when asked about his race day strategy.
"I'm going to have to swim, bike and run faster than these guys," he said, smiling and pointing to Tom Evans and Chris McDonald seated to his right.
Lovato joined five other top pros who will be competing for $50,000 in prize money on Sunday. While the race promises a battle in both the men's and women's field, athletes were in a festive mood two days before the starting gun, with plenty of light banter flying back and forth.
Australian Chris McDonald, who placed third at May's Ford Ironman St. George and won the 2007 Ford Ironman Louisville and the 2008 Ford Ironman Wisconsin, has been training in Boise after leaving Boulder, Colo., home to Lovato.
"I was sick of Michael. I wanted to get the hell out of there," he said, laughing.
His race day strategy, he explained is "to draft Michael on the bike. Every time he looks back, just wave. Hopefully, he can drag me up to Tom."
Gina Crawford of New Zealand, a four-time Ironman champion, is a strong swimmer and solid biker. But as for running, well, it's not something she'll brag about.
"I see myself run and I look really stupid. I can't help it," she said.
American Desiree Ficker, who finished second at the Ford Ironman World Championship, was asked to explain her springy running style.
"I always wanted to be a ballerina and did toe jumps in my room every night," the longtime runner said. "I think that's where it comes from. I don't know. Actually, I have no idea."
She said she cringes when she sees films of herself running.
"It looks a little too bouncy, but I can't help it," said the blonde from Austin, Texas.
American Linsey Corbin, who lives in Missoula, Mont., knows the course well, "so that definitely is a benefit," she said.
When asked her favorite part of that course, Corbin hesitated, smiled and said, "The finish?"
But come Sunday, forget the funny quips, the smiles and the laughter. It will turn serious in the fight to the finish.
Lovato noted that with American Andy Potts and Australian Luke Bell in the field, too, it will be close.
"I'm going to have to be smart, race strong from the get-go," said Lovato. "The unique thing about these athletes we're all racing against, everyone has a different sort of way of getting to the finish line."
Some are strong swimmers, some specialize in the bike, others come from a running background.
"I think it's going to take a balanced attack, racing smart," Lovato said. "Fortunately for me, I've raced here a lot of times, I've had some good luck, I've got a lot of experience."
Tom Evans, the 2008 Ironman Coeur d'Alene winner, agreed it will take a strong effort to win. He hopes to avoid a duel in the final miles and being forced to push to the max.
"When you race that hard at the end of an Ironman, you're pretty much done for the rest of the season," he said.
The 42-year-old Evans is a dentist from Penticton, Canada, whose wife recently gave birth to twins. He said because he's a strong swimmer, he shouldn't have to push as hard as others to be near the front of the pack. He hopes to go out steady and strong on the bike course, then gain speed on the second lap.
"You have to swallow your ego on the first half of the bike knowing that it's a long day, especially on a rolling course like this one. You can make a lot of mistakes on all these short, little, punchy hills," he said.
"Most of the age groupers will bike up those hills faster than I will on the first lap, but not the second."
McDonald said he'll try to make up ground on the bike and run.
"For me, the swim is essentially limiting the damage to guys like Tom. I totally agree with him. His swim intensity will be significantly less than mine."
Lovato said when it comes to crunch time and the athletes are shoulder to shoulder on the run, it can come down to mental toughness and overcoming the physical pain.
"It gets hard for all of us, no matter if you're doing a 2:50 marathon or a 5:50 marathon," he said. "You have to push through. I think that's my specialty."
That, and joking around.
Recent Headlines
---