M's buried by Brewers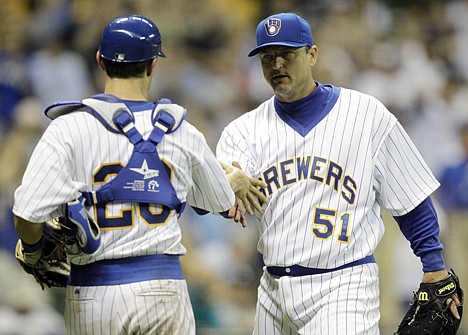 <p>Milwaukee catcher Jonathan Lucroy (20) congratulates relief pitcher Trevor Hoffman after the Brewers defeated the visiting Seattle Mariners 8-3 on Friday.</p>
MILWAUKEE (AP) — It took more than a month in the big leagues for Jonathan Lucroy to finally get that first home run he's been waiting half his life for.
The rookie catcher called up in May finally hit one out, leading the Milwaukee Brewers to an 8-3 win over the Seattle Mariners on Friday.
"It is something I've been thinking about since I was 12," Lucroy said as he stood in front of his locker, the ball resting on the shelf behind his shoulder. "I worked hard my whole life to get to this point and to have it finally happen and mean something makes it that much better."
Dave Bush (3-5), whose last turn in the rotation was skipped, pitched six innings to help Milwaukee win a season-high fifth straight. He gave up three runs on seven hits. Carlos Villanueva, Kameron Loe and Trevor Hoffman each pitched a scoreless inning in relief.
Bush allowed three runs in the first three innings.
Ryan Rowland-Smith (1-7) gave up five runs on five hits in 5 1/3 innings.
Rowland-Smith retired nine of the first 10 batters, but Corey Hart led off the fourth with a single and Ryan Braun singled before Lucroy's three-run shot. Carlos Gomez followed with a solo homer — while Lucroy was taking a curtain call.
"As soon as he hit it, I was thinking to myself, just that one pitch," Rowland-Smith said. "Those two pitches in the fourth inning, that's just what really changed the game."
Alcides Escobar's sacrifice fly in the sixth inning and Prince Fielder RBI double in the seventh upped the Brewers lead to 6-3. Gomez singled and Escobar hit another sacrifice to add two more runs in the eighth.
Mariners manager Don Wakamatsu said he was disappointed his team had lost two straight after winning six in a row to gain some momentum.
"To me, you take it back to two pitches in the fourth," he said.
Recent Headlines
---