Count down from 464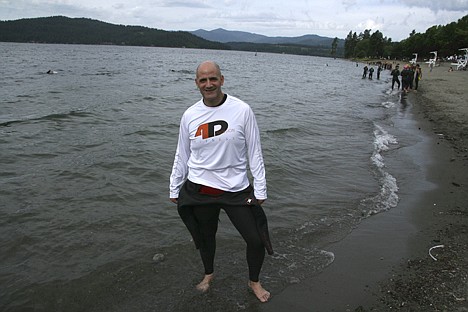 <p>Chad Soileau of Baton Rouge, La., who once weighed 464 pounds, will be competing in Ironman Coeur d'Alene on Sunday.</p>
by
BILL BULEY
Staff Writer
|
June 26, 2010 9:00 PM
COEUR d'ALENE - 464.
That will be Chad Soileau's number for Ironman Coeur d'Alene.
That also happens to be what the Baton Rouge, La., man weighed just five years ago.
So come Sunday, when the muscled, 6-1, 215-pounder reaches the finish line, when he breaks the tape, it will mean more than being another Ironman and earning a medal.
It will be at that moment he reclaims his life.
"In my mind, that is when I can unequivocally declare I have won my war against obesity," he said with a big smile. "Sunday is going to be a dream realized that I never thought would be possible."
It was in 2000 when the pounds piled up on Soileau. Gradually, as the years passed, his weight climbed. He jokes that his Italian mom liked to cook and he was more than happy to eat everything she created in the kitchen.
"Before I knew it, I was 464 pounds," he said as he recounted his story while waiting to go for a swim in Lake Coeur d'Alene on Friday morning. "The whole process to get where I am now was gradual, of course."
But the consequences were lasting.
He couldn't walk to the mailbox without feeling tired.
He couldn't bend over to tie his shoes.
He couldn't get a promotion in the Army.
He couldn't fit behind the safety bar of a roller-coaster.
"It was my own fault. I don't blame anybody other than myself for putting on that weight," he said.
That's when Soileau decided he wanted his life back.
"It was my fault that I put that weight on. It was my responsibility to get that weight off," he said.
In March 2006, he underwent gastric bypass surgery. Looking back, he would have rather avoided it.
"It was unfortunate I did have to resort to surgery, but what it did was allow me to moderate my food intake," he said.
He believes he lost about 100 pounds because of the bypass, and the rest was due to hard work and sticking to exercise, or as he puts it, "embracing the whole community of running."
But first, of course, he walked. Then ran. Soon, he was biking and swimming.
A list provided the motivation.
He wanted to bend over to tie his shoes.
He wanted to fit into size 62 pants, then 60, then 58, and keep moving down.
He wanted to get into his truck without his belly touching the steering wheel.
He wanted to get on an airplane without asking for an extender seat belt.
He did it.
Next came sports-minded goals: Run a 10K, complete a marathon, then a triathlon, including a half Ironman.
He did them all, too.
Next stands Ironman.
"I never thought I'd be able to swim 2.4 miles, bike 112 miles, run 26.2 miles," he said with a laugh. "But I wrote it down. It was a dream. Writing that dream down, the dream became a goal, and now the goal was reality.
"I still have to pinch myself sometimes to think how fortunate I've been to be able to do this now," Soileau said. "It's become reality."
Today, the 38-year-old Web designer and computer programmer says he has a new lease on life.
"You can't imagine not being able to walk for 30 feet without feeling like you ran a marathon," he said.
So come Sunday, when Soileau is weary, his legs ache and the day has turned into night, his bib number, old 464, will drive him on.
"Losing all this weight, to me, the war isn't won. This Ironman is my ultimate goal."
And after that?
"It's time to climb Mount Everest or something," he said with a laugh.
Recent Headlines
---