Recycling made easier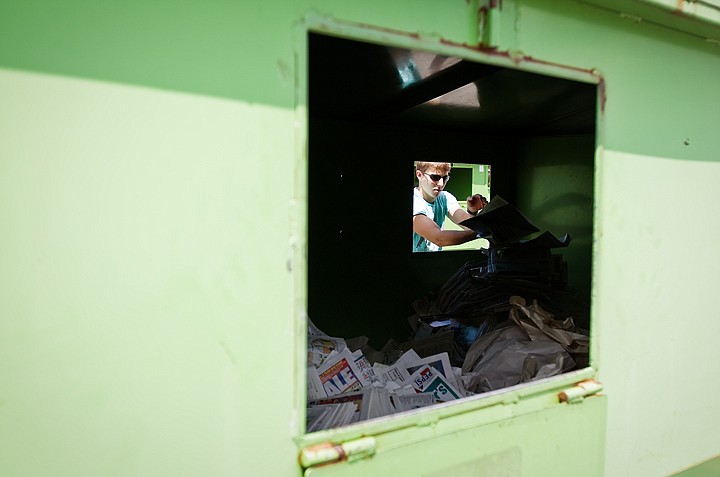 <p>Nick Johnson, 21, of Hayden, sorts household items into recycling bins at the Kootenai County Solid Waste Department's Ramsey Road transfer station Thursday in Coeur d'Alene.</p>
by
Alecia Warren
|
June 25, 2010 9:00 PM
Single stream is a go.
On Tuesday, the Kootenai County commissioners approved an amended Coeur d'Alene waste services contract that will allow the city to begin single stream recycling in October, making it the first city in the county to test the expanded recycling program.
"It's huge. This is probably one of the biggest pluses for this community in the recycling world we've seen to date," said Roger Saterfiel, director of the county Solid Waste Department that oversees the city's waste contract. "We want to make sure it's done right in Coeur d'Alene, then expand to other communities and eventually the whole county."
The contract, which also includes two 3-year extensions to Waste Management's recycling and garbage service for the city, will increase recyclable materials in Coeur d'Alene from seven to 15.
They don't have be separated, Saterfiel reminded, but placed into one recycling barrel provided like residents' garbage bins.
"It's about as easy as recycling can get," Saterfiel said. "Everything goes in there, and you don't have to cut cardboard like you currently do."
The county agreed to extend Waste Management's contract because the company offered to integrate single stream recycling into its current service. It will even pay for more than 15,000 64-gallon recycling barrels to replace the current crates, which the company estimates to cost around $650,000.
"That was probably the biggest determining factor," Saterfiel said.
Single stream is also possible because the county's recycler, Bluebird Recycling, agreed to accept the loads with multiple recyclable items.
"The big part of it was to get Bluebird to agree to accept this. They have to come up with a way to separate it now," Saterfiel said. "The key to the whole thing is someone who will accept mixed recyclables."
Troy Tymesen, Coeur d'Alene finance director, said the city leapt for single stream because it allows for more recycling without additional cost.
"It could lower people's monthly garbage, because they can go to a smaller container," Tymesen said.
He emphasized that recyclables should be washed before being placed in the bins.
Willie Lampe, president of Bluebird Recycling, said the company will be building new conveyors to sort out the recyclables it will sell.
"It's not going to be free, but it's not going to be overly burdening either," Lampe said, adding that he doesn't know how much the expansion will cost.
Lampe hopes single stream will prompt more locals to recycle and bring in more volume for Bluebird, he said.
But that's not the only reason the company agreed to the new recycling system.
"We've been in business in Coeur d'Alene since 2002. It's a natural evolution," he said. "We're the local recycler, this is what we do. It's more a matter of changing with the time, evolving as a business."
Single stream will be more efficient for Waste Management, said District Manager Steve Roberge.
Truck drivers, who will pick up recycling bins every other week, can use an automated arm to collect the larger bins. That's easier than the current system requiring employees to unload recycling boxes by hand, Roberge said.
"We should utilize one person to do what two people did before," he said. "That brings in money by being efficient in and of itself."
There will be an educational campaign in upcoming months informing city residents how to use single stream, Roberge said.
"We've been contract partners (with Coeur d'Alene) for over 20 years, and we have a good relationship and try to give good service," Roberge said.
The likely jump in recycling means the landfill will not only last longer, Saterfiel said, but it will also contain more organic garbage that is better for producing methane gas, which the county will now be selling to Kootenai Electric Cooperative.
"That is a huge plus to everybody in the county," Saterfiel said.
Recent Headlines
---