Ironman's K-Swiss connection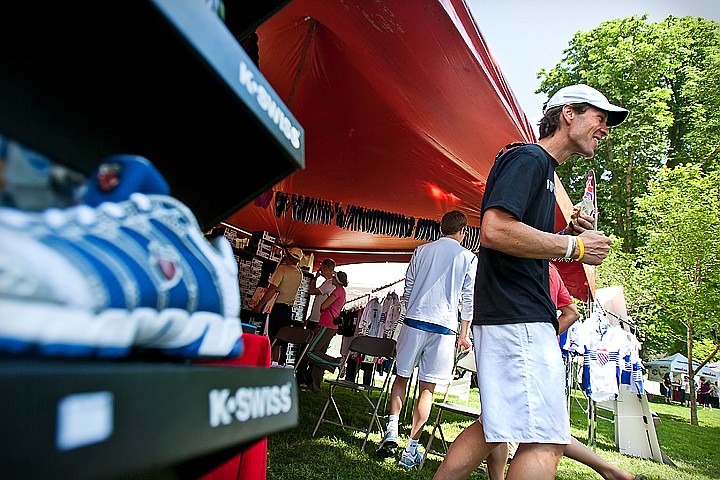 <p>Director of Business Development for K-Swiss Bryan Ogle works with enthusiastic Ironman competitors at the K-Swiss stand in the Ironman Village in City Park on Thursday.</p>
by
BILL BULEY
Staff Writer
|
June 25, 2010 9:00 PM
COEUR d'ALENE - For Bryan Ogle, it was a homecoming when he arrived Wednesday night in Coeur d'Alene.
He has three reasons for being here: Visit his former home, compete in Ironman on Sunday, and represent K-Swiss, a company that produces athletic shoes and apparel.
Ogle left Coeur d'Alene earlier this year to accept a job with K-Swiss as its director of business development. He works out of its corporate office in Westlake Village, Calif.
The sun shining overhead Thursday in the Lake City had him smiling.
"I love being back," he said.
Ogle raced last year and finished in 11 hours, 46 minutes, and is hoping for a good race Sunday as he competes in his fifth Ironman.
He arrives in his "best shape" yet, thanks to running and biking on the hills and in the warmth of California.
"My first goal is a four-hour marathon," he said.
When not training, Ogle works for K-Swiss, which is a sponsor of Ironman, is the official shoe of Ironman and brought several top athletes to compete.
"Ironman is something near to our hearts," he said. "We love it."
Ogle also loves his job with the company, which was founded in 1956 primarily as a lifestyle, tennis shoe company and has expanded in recent years with several models of running shoes.
"I'm working in the world of sports, I'm working in the world of running, I'm working in the world of triathlons," he said.
K-Swiss is working hard to establish its name in the running and triathlon worlds, and has found a good partnership with Ironman.
The goal now is to continue to promote and create a following of its shoes.
"At the end of the day, we've got to sell shoes," he said.
The University of Southern California graduate believes the K-Swiss products are "second to none."
But that's a message they have to deliver on the grassroots level, and that happens by taking the shoes where the customers are.
"Runners, as you know, getting them to change shoes is not an easy task," he said.
Ogle says the job is perfect fit for him. He gets to wear jeans and running shoes to the office, while promoting a lifestyle he strongly believes in.
"It's been fun," he said. "I'm looking forward to a lot more years."
Recent Headlines
---