Jackson's mother supports fan tribute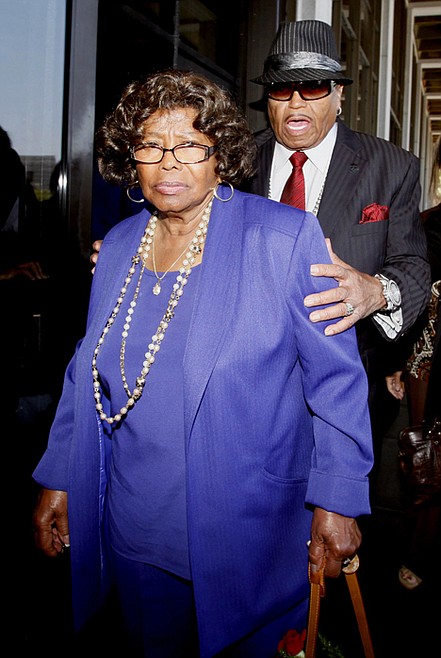 <p>In this June 14, 2010 file photo, Michael Jackson's parents, Katherine Jackson and Joe Jackson leave a Los Angeles courthouse after a preliminary hearing in the trial of Michael Jackson's personal doctor Conrad Murray. (AP Photo/Nick Ut, file)</p>
by
Nekesa Mumbi Moody
|
June 24, 2010 9:00 PM
NEW YORK - Michael Jackson's mother has given her blessing to a tribute concert that will mark the anniversary of the pop singer's death.
VoicePlate Productions is staging the "Forever Michael" fan event Saturday at the Beverly Hilton hotel in Beverly Hills, Calif., but some have wondered if it was legitimate or done with the family's approval.
In a video posted on YouTube, Katherine Jackson appeared with the tribute's organizer, Joseph Fahmy, to thank him for putting it together.
"I know that Michael would be very honored and very pleased that his fans all over the world are coming together to celebrate his life," she said.
She also thanked people for the support they have given her family since her son died June 25, 2009, at age 50.
Meanwhile, NBC said Tuesday it would feature an interview with Katherine Jackson on a "Dateline NBC" segment titled "Michael Jackson: A Mother's Story" on Friday.
The interview was conducted by Sonia Lowe, who has just co-authored a book with Jackson, NBC said. The network paid to lease the interview tapes from Lowe, but it wouldn't say how much.
For Jackson, it offers an opportunity to get on an NBC prime-time news program without having to face questions from someone who works at NBC News.
NBC will fully disclose to viewers the circumstances of the interview, which was important enough to merit the special treatment, spokeswoman Lauren Kapp said.
"It's been one year," Kapp said. "She hasn't spoken out yet, and it's a valuable part of the story."
Concert tribute organizer Fahmy told The Associated Press on Monday that Jackson "just rescued me" with her show of support.
"There was some negative press and rumors that it wasn't authorized," Fahmy explained. "But we know it was. ... The Jacksons are so private, and, really, I was going to allow the press to just say what they were going to say and take the beating from the press, just to give them (the Jacksons) their privacy."
Added Fahmy: "Towards the end here, Mrs. Jackson just said, 'I need to clear the air for you, because you're doing such a wonderful thing.' And she was just one of the sweetest ladies you could ever meet."
Fahmy, CEO of the Los Angeles-based VoicePlate, estimated the event's cost at $250,000. The event will include performances by the Chi-Lites and Genevieve Jackson, Michael Jackson's niece and the daughter of Randy Jackson. Tickets start at $150 and go up to $500.
Part of the proceeds from the event will go to the Jackson Family Foundation and to Michael Jackson's favorite charities, according to the organizers.
Associated Press writers David Bauder and Mike Cidoni contributed to this report.
Recent Headlines
---