Bidding adieu to bachelorhood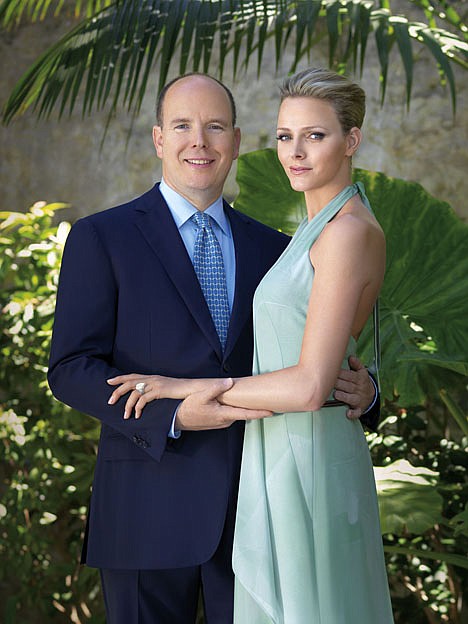 <p>This undated photo provided Wednesday June 23, 2010 by the Monaco Palace shows Prince Albert and South Africa's Charlene Wittstock. The royal palace says Prince Albert of Monaco is engaged to South African former swimmer Charlene Wittstock. The principality says in a statement that the engagement was announced Wednesday between the 52-year-old prince and 32-year-old Wittstock. (AP Photo/Amedeo M Turello/ Monaco Palace)</p>
PARIS (AP) - Prince Albert is giving Monaco a crown princess at last.
Ditching decades of bachelorhood, the boyish if balding monarch announced Wednesday he will marry South African ex-swimming champion Charlene Wittstock. Albert's betrothed has iconic shoes to fill, stepping into a role left vacant since the death of much-beloved Princess Grace in a car crash.
Royal watchers were ecstatic at the announcement and many were wondering: Is the bespectacled playboy prince manning up? And most importantly, will the 52-year-old Albert, who has acknowledged fathering two children out of wedlock, finally produce a legitimate heir?
"It's been 30 years since Grace died, 30 years they've been waiting for a first lady, a princess, a dream beauty, glam. And voila!" said Colombe Pringle, executive editor of Point de Vue magazine, which has followed Albert's amorous adventures.
The palace of the moneyed Mediterranean principality didn't say when His Serene Highness Albert II, Grace's second child and the head of the 700-year-old Grimaldi dynasty, will marry the 32-year-old Wittstock.
But the announcement put to rest months of speculation that the longtime companions would tie the knot.
Albert met the willowy blonde in 2000 when she traveled to Monaco for a swimming competition, and she has lived in the principality since 2006, said Laetitia Pierrat, a palace spokeswoman.
The couple are both Olympians - Albert was a bobsledder - and share English as one of their native tongues.
Wittstock swam for South Africa at the Sydney Olympics in 2000, though she won no medals. In the All Africa Games the year before, she won gold in the 100-meter freestyle. Before moving to Monaco, she also worked as a schoolteacher.
According to protocol, royal couples must wait at least six months between the announcement of the engagement and the wedding day, Pierrat said.
She demurred when asked whether Wittstock might be pregnant. "Honestly, I don't think so," she said, adding that she wasn't privy to such matters but, if so, a formal announcement would probably have been made.
The principality's Minister of State Michel Roger issued a statement saying the government "shares the joy of the Sovereign Prince, his finance and their families" and expressed "warmest congratulations" on behalf of the people of Monaco.
The rocky marriages of Albert's older sister, Princess Caroline, and younger sister Princess Stephanie have long been the stuff of tabloids. Monaco - a tiny territory smaller than New York's Central Park, but with grand, global allure - has hungered for a new royal wedding and fresh start.
Hollywood actress Grace Kelly married Albert's father, Prince Rainier III, to massive hoopla in 1956. Princess Grace died in a car accident in 1982, casting a pall of tragedy over the family.
Recent Headlines
---