Billings area slammed by tornado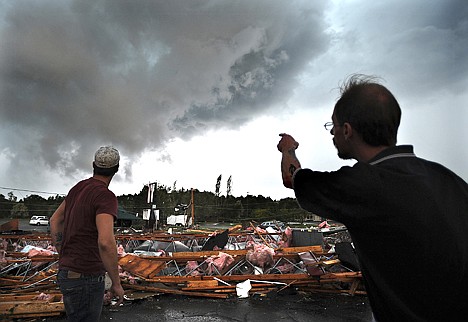 <p>Main Street Casino staff members watch a second thunderstorm approach after they just survived a tornado in Billings, Mont., on Sunday. Buildings were heavily damaged after a tornado touched down.</p>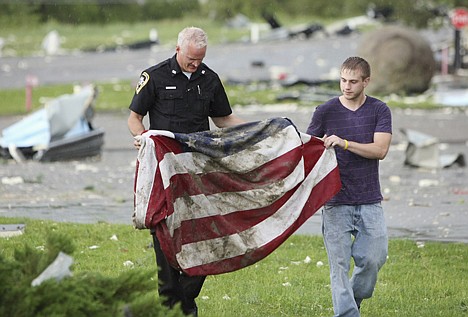 <p>Sheriff Deputy John Smith and Taylor Brown carry a flag that was found near the Rimrock Auto Arena at MetraPark in Billings, Mont., after a tornado destroyed the 12,000-seat facility on Sunday.</p>
Previous
Next
by
Matthew Brown
|
June 22, 2010 9:00 PM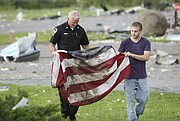 BILLINGS, Mont. - Survivors of a tornado that tore into Montana's largest indoor arena and leveled several commercial buildings returned to a scene of devastation Monday - awe-struck that a twister so destructive caused no major injuries.
Under sunny, blue skies, owners of damaged businesses in Billings picked through the rubble of their storefronts, salvaging what they could from rain-soaked piles of debris.
Local officials said a 12,000-seat arena that suffered extensive damage would have to be gutted and, if there is structural damage, possibly razed.
But residents and local leaders said Billings got off surprisingly easy given the force of Sunday's twister, which snapped trees and power lines, lifted the roof off the Rimrock Auto Arena and left debris scattered across hundreds of acres.
The only reported injury was a homeowner who was hit in the head by a large hailstone.
A day before the tornado hit, more than 7,000 people had been inside the Rimrock arena for an Indoor Football League game.
"The big guy was looking out after us," Yellowstone County Commissioner Bill Kennedy said. "If that thing had hit on a Saturday night, it would have been a disaster."
Witnesses and officials said the tornado carved through a commercial area, crossed a wide swath of unoccupied land and then stalled for 15 minutes or more over the arena before it dissipated.
It was the first large tornado to hit Billings in more than a half-century.
At the Bear Aces Casino, bartender Tracy Restad said she was out on the bar's front deck Sunday evening when she saw the funnel cloud start reaching for the ground
"Someone came running and said, 'Run, the tornado's coming,'" said Restad, 54.
She and four patrons ran inside and huddled in the bathroom, where they were soon joined by five or six others from a nearby laundromat. Restad said she could not hear much as the storm passed over because a friend was praying in her ear.
After the building finally stopped shaking, they emerged to a landscape littered with broken telephone poles, merchandise from a nearby motorcycle shop and jagged shards of torn metal siding.
Officials said damage would certainly total millions of dollars. Once the assessment is completed, Gov. Brian Schweitzer will decide whether to issue a disaster declaration that could open up the door to federal funding and small business administration loans.
Recent Headlines
---