Rowland-Smith tosses six shutout innings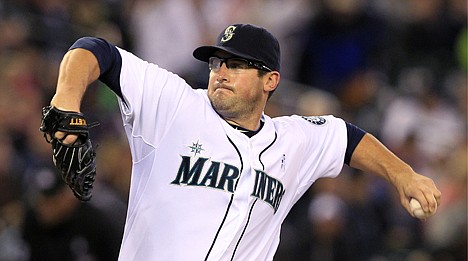 <p>With his mom and sister in attendance, Seattle's Ryan Rowland-Smith produced his best start since returning to the starting rotation on June 5, beating Cincinnati 1-0 in Seattle.</p>
SEATTLE (AP) - Ryan Rowland-Smith had a little extra motivation in looking for his first victory of the season.
Rowland-Smith's sister and mother both were in the stands Sunday when he pitched against Cincinnati. It was the first time his sister, who lives in Hong Kong, had ever seen a major league game and the first time his mother had seen him start.
"You know what? Today's my day," Rowland-Smith said, describing his pregame mindset. "I've got family in town. My sister's first big league game today ... my mom's first start she's got to see. My girlfriend was here. I was like I'm just going to come out and enjoy this process and just get deep into the game and have some fun and get a win."
Rowland-Smith earned that elusive first win, holding the Reds to three hits over six innings and leading the Seattle Mariners to a 1-0 victory that completed a sweep.
It was the best start for Rowland-Smith (1-6) since returning to the starting rotation on June 5. Franklin Gutierrez hit a sacrifice fly in the fourth off Aaron Harang (5-7) for the only run.
"She might have to permanently move from Hong Kong over here," Rowland-Smith joked. "I'm going to have to hook her up with a job or something."
Rowland-Smith made the starting rotation out of spring training and looked to build on a strong conclusion to the 2009 season. He struggled to find the consistency of last season, however, and lost his job in the rotation after allowing seven runs in just 2 2-3 innings in Oakland on May 17.
Rowland-Smith had struggled to keep the ball down and his mistakes were getting punished by opposing hitters. Mariners manager Don Wakamatsu said Rowland-Smith has been working on some mechanical changes that included shortening his stride to the plate, which has helped him keep the ball down in the zone.
"I think you saw (the adjustments) today," Wakamatsu said. "Talking about missing down in the zone. You could see the confidence grow in him. Just a tremendous job."
Rowland-Smith was able to keep the Reds lineup from causing any damage. He worked out of a jam in the sixth to preserve the one-run cushion. Joey Votto drew a one-out walk and Scott Rolen singled, but Jonny Gomes flied out and Jay Bruce struck swinging on a full count.
"It was a good feeling just to execute and make it happen," Rowland-Smith said.
Rowland-Smith came out to begin the seventh inning, but promptly walked Drew Stubbs and Chris Heisey. Brandon League relieved and after Corky Miller sacrificed, Orlando Cabrera and Brandon Phillips struck out.
David Aardsma pitched the ninth for his 15th save.
The Reds scored only one run in the three-game series and have lost six of their last seven games.
"It was a nightmare weekend as far as scoring runs," Reds manager Dusty Baker said. "It was like we couldn't buy a run and it didn't look like they were for sale."
"It was a tough weekend."
Harang allowed three hits and struck out four in sixth innings in the loss.
"They are a scrappy team and they got some good pitching," Harang said. "We just got out-pitched."
The Mariners scored the only run when Chone Figgins singled, took third on a hit-and-run single by Jose Lopez and scored on the fly by Gutierrez.
NOTES: Mariners SS Jack Wilson was activated from the 15-day disabled list before the game. He had been on the DL since May 6 with a strained right hamstring. INF Matt Tuiasosopo was optioned to Triple-A Tacoma to make room for Wilson. ... Seattle RHP Ian Snell cleared waivers and was outrighted to Triple-A Tacoma. Snell was designated for assignment on June 15. ... The Mariners are now 8-1 against the Reds all-time in interleague play and have allowed two or fewer runs in every victory over Cincinnati. ... It's the first time in team history the Mariners have had two 1-0 games in the same series. ... Seattle has allowed 1 run or less in four consecutive games. ... Arthur Rhodes extended his career-high scoreless innings streak to 28 2-3 innings.
Recent Headlines
---