The bikes are back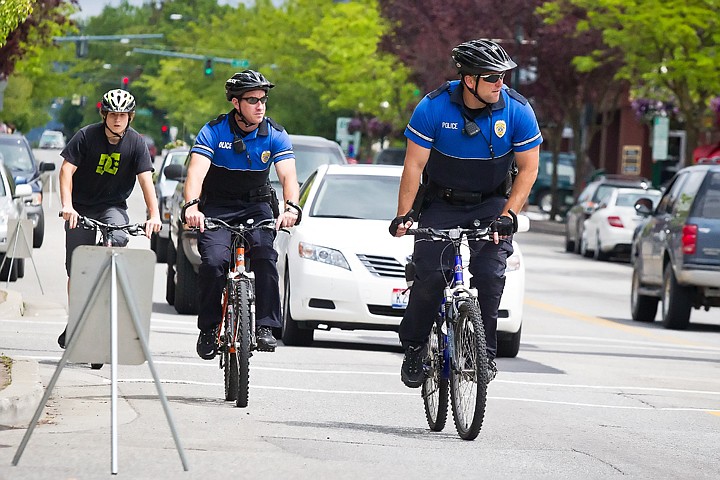 <p>Officers Carroll, left, and Wilhelm, with the Coeur d'Alene Police Department, patrol Sherman Avenue Friday on police issue bicycles.</p>
by
Tom Hasslinger
|
June 20, 2010 9:00 PM
COEUR d'ALENE — They have the full authority of regular patrol, they just roll on two wheels is all.
The Coeur d'Alene Police Department's bicycle patrol is back on its bikes, cruising downtown's pedestrian-filled streets, parks and shorelines.
The five-year-old program is geared to keep downtown safe by shortening response time to calls that come from the city's core.
"They're not hard boundaries, but they'll only go so far outside them to assist other officers," said Sgt. Lee Brainard, in charge of the patrol units.
The concentrated routes focus on the blocks around Sherman Avenue, City Park, Independence Point and Tubbs Hill. The patrol teams ride in tandem. The three and half teams will use the Christie Wood safety building in City Park as their parking point.
"It's better access for the citizens," Brainard said of the short ride for officers needing to help people downtown in the crowded parks or lake. "I think it provides a sense of safety."
Because downtown is largely a hospitality zone, with a lot of activity, calls tend to come from there more often in the summer. So stationing bicycle patrols there is a sure fire way for cut down response times as well as a proactive preventive measure.
Around 6 percent of police calls for service in 2009 occurred downtown.
From Foster Avenue to Lake Coeur d'Alene, and from City Park to Eighth Street, 2,692 of the 39,543 incidents occurred in that area.
Rest assured, bike blue has the same power as every other officer, too.
Fully armed, and fully badged, bicycle patrols can pull over drivers just as easily as police cars can.
The patrol, which began at the end of May, will cruise the downtown through the Labor Day weekend, after which they'll focus for a few weeks on patrolling the North Idaho College campus as the semester starts back up.
Recent Headlines
---