Mac Cavasar: Ironman in action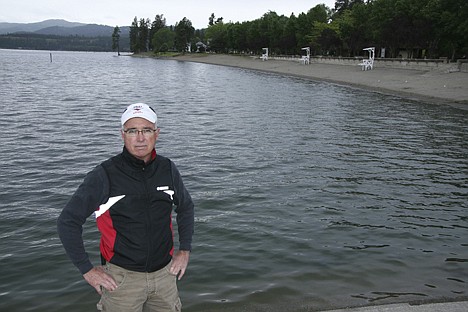 <p>Mac Cavasar, director of Ironman Coeur d'Alene, stands at Independence Point near the start of next Sunday's 2.4 mile swim that is the first leg of the race.</p>
by
BILL BULEY
Staff Writer
|
June 20, 2010 9:00 PM
COEUR d'ALENE - Mac Cavasar is race director of this year's Ironman Coeur d'Alene. But don't ask him names of the top pros who will be competing on June 27. Don't ask about any pre-race favorites.
Doesn't know. Doesn't really care, either.
That's not his job.
"My job is to get this thing started, and make sure every athlete is out there and gets off the road," the first-time Ironman race director said. "We want to get them all to the finish line."
A record field of 2,699 men and women is registered for next weekend's 140.6-mile race of swimming, biking and running, and the 59-year-old Cavasar won't rest easy until they're all done.
And that's no easy feat.
It takes hundreds of hours and thousands of staff and volunteers, being sure aid stations are where they're supposed to be, the light towers are on, the transition areas are manned, the doctors and nurses are ready and the finish line and bleachers are set up.
Here's where you can rest easy. The Texas native knows how to get things done.
Cavasar, who worked for USDA Rural Development for 30 years before retiring three years ago, has been director of the Coeur d'Alene Marathon and Coeur d'Alene Triathlon. He's also the run course director for Ironmans in Canada, Arizona, Utah and Wisconsin. He's been involved in organizing races since 1981.
"It's just been building over the years," he said.
And he knows what it takes on the side of the athletes, too. He's completed four Ironmans, with a best of 11 hours, 13 minutes at the age of 54. He understands the perseverance, the commitment, the drive it takes to cross that finish line before midnight.
That lesson, though, didn't come in a race. It came early in life, courtesy of his father, Mac Cavasar Sr., and his mother, Winona Montgomery.
"My dad had a quality of ethics. He was a hard-working individual, he was honest. He kept life upbeat and positive," he said. "Both my parents were very positive people. Because of that, they influenced me to the point of saying, no matter how tough it gets, no matter how bad it goes, you deal with life. You've always got to say 'I can do better, I can work harder.'
Sounds just like an Ironman.
•••
So what's it like being race director of Ironman Coeur d'Alene?
Can you imagine being a ringmaster in a circus? That's pretty much what it's like. It is logistics, logistics, logistics. Since before the first of the year I've been putting pieces together, and now, the closer it gets, all the pieces are starting to stack up and the puzzle is starting to come together. And next Monday, everybody starts hitting the ground and those pieces are handed off to different individuals. The course guys will take their stuff, registration guys will take their stuff, all the pieces of ordering light towers, ordering water, ordering Gatorade, all that stuff is starting to stack up.
What's the key to pulling it off?
First of all, Andy Emberton was the biggest asset I ever had. He left me a legacy and a lot of information. I've taken that and added some things to it. We have a checklist we go through on a weekly basis. It has everything we do. There are hundreds of items I have to check off as this thing builds. Organization has a tremendous role in it. Communication is probably the second most important aspect. You have to be able to deal with the city's needs, the park guy's needs, your volunteers' needs. All those kind of things come together. You need to learn where all your assets are and who's capable of handling different things.
It's been a real learning process for me. I'm the race director for the marathon and race director for the triathlon, it's the same thing, only smaller pieces. This is on a bigger, more grandiose scale.
Why did you want to do this?
I wanted to retire, to be honest with you. Andy was moving up in the company and he came to me and said, 'We want you to take a look at this for us. Will you do it?' I said, 'Let me think about it.'
It's not a goal, it's not a job for me. I enjoy it. I enjoy the sport. I enjoy the people I work with. If it wasn't for the crew we've got, it would be a nightmare.
What's your favorite part of the race?
I've been a run guy for years. The run has always been my favorite part. But when the gun goes off on the swim, and when all the athletes come back in, we account for everybody on the swim, my stress level goes like this (raises hand up, then drops it down). The downtown aura as far as the finish line, you can't beat it. On the other side of the coin, one of the things the athletes don't see, one of the things the public doesn't see, is what we as course guys see out on the course, the trauma, the success, those athletes really stressing themselves trying to make that cutoff time.
Do you recall a story along those lines?
A few years back, we had some girls, one of them had been in the medical tent right after the swim, she was a diabetic. Her friend was still way out on the course. At that point in time at that race, we did not have cutoffs. We stayed with those girls all the way into town. We left up the finish line over here. They didn't get in until almost 1 o'clock. There were a dozen of us applauding these girls across the finish line. We made sure they had their medals. They were in tears because we were out there for them.
When did you first get involved with Ironman?
The first year here (2003), they talked about having a kids run, and the mayor asked me if I'd go over and talk to Lyle Harris, who was the race director, and I did. I said, 'I could put together a group and put together a kids run for you guys.'
Did you consider then you might be race director of Ironman Coeur d'Alene?
It wasn't even a thought. Not even the desire. I was just doing it to help out the race itself. And all the money that was generated from that race went to the high school cross country teams.
After eight years, does Coeur d'Alene still embrace Ironman?
Every race is going to go through a transition, and it's going to hit its lows and highs. You've seen the marathon do that over the years, you've seen races drop off and come back. I don't think Coeur d'Alene is ever going to hit its low point with the athletes because of the lake, because of what we have here. There are a lot of people who want to race here.
I think the community still embraces it. I think it's a real asset to our community. I don't think the community really realizes how many dollars it's generating back into our community. It's a huge impact ($7 million plus).
What makes this work so well?
We've basically put together a system that is probably the best atmosphere for athletes to participate under as far as fluids, aid station location, support. How you put all this stuff together is amazing to get 2,500 people out of the water and to the finish line.
Are there a lot
of first-timers giving Ironman a try?
Some of them have never swam the distance, never ridden that far, never run that far. Some of them have never been with that many people. That's been one of our critical concerns putting these events on. Are we putting out a bone here that is too hard for them to chew on, so to speak. We haven't filtered them. We haven't said 'You have to do this to get to here.' But people want to try.
Take a look at some of those athletes out there until midnight. Those guys are the athletes. They've been out there longer than anybody hammering that pavement. There are some people saying this is a life goal, some people say it's a lifestyle. It's those life goal people that really make this race for us.
What will you do when it's over?
I'll probably go out and clean up the streets.
Do you ever think you'll compete in another Ironman?
I have it in my mind to do another one next year. I better get my butt in gear.
SNAPSHOT
Mac Cavasar
Date of birth: Jan. 10, 1951
Education: Southwest Texas State University, 1975, degree in agriculture
Family: Two daughters, five grandchildren
Number of hours on average you work in a week getting ready for Ironman: Race week, 80-90
Number of hours on average you sleep in a night: 7
Hobbies: Cycling, backpacking
Favorite movie: "Oh Brother, Where Art Thou?"
Favorite book: "The Worst Hard Time: The Untold Story of Those Who Survived the Great American Dust Bowl" by Timothy Egan
Favorite type of music: Rock and roll
Favorite spectator sport: It has to be Ironman
Quality you admire most in a person: Honesty
Best advice you ever received: My mom, Winona Montgomery. She told me to be a part of the community I lived in in order to make the quality of that community better.
One thing you consider your greatest accomplishment: The investment I made in my two kids.
One person who most influenced your life: My father, Mac Cavasar.
Recent Headlines
---