Hayward relieved of day-to-day spill duties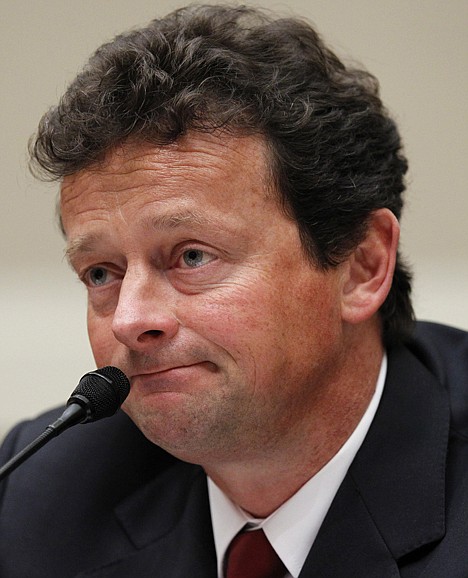 <p>BP CEO Tony Hayward testifies during a House Oversight and Investigations subcommittee hearing on the role of BP in the Deepwater Horizon Explosion and oil spill, on Capitol Hill in Washington, Thursday, June 17, 2010.</p>
LONDON (AP) - The chairman of BP says embattled chief executive Tony Hayward is being relieved of day-to-day responsibility for managing the Gulf of Mexico oil spill, a day after he angered U.S. lawmakers with his refusal to answer many of their questions.
Company chairman Carl-Henric Svanberg said Hayward "is now handing over the operations, the daily operations to (BP Managing Director) Bob Dudley," according to the transcript of an interview with Sky News television released Friday.
The company had already announced June 4 that Dudley would lead the long-term response to the oil spill once the leak had been stopped. Svanberg's statement appeared to accelerate that timeline, as millions of gallons of crude continue to gush into the Gulf.
" ... Now (Hayward) has been out there for eight weeks and he is now handing over the operations, the daily operations to Bob Dudley and he will be more home and be there and be here, but I think it has been a difficult period and as long as we don't close the well and take care of this, there will be criticisms about many things," Svanberg told Sky News. "Right now that is our focus to make that happen."
On Thursday, Hayward told lawmakers on a U.S. House investigations panel that he was out of the loop on decisions at the well. Both Democrats and Republicans were infuriated when he asserted, "I'm not stonewalling."
It also follows a string of gaffes from the BP chief that made him appear tone-deaf. He was quoted by the Times of London suggesting that Americans were particularly likely to file bogus claims, and later shocked residents in slick-hit Louisiana by saying that "no one wants this over more than I do. I would like my life back."
A BP spokesman in Houston, Tristan Vanhegan, said he had not heard Svanberg's comments, but the "board still has confidence in Tony."
Svanberg said "it is clear that Tony has made remarks that have upset people," but he also defended the chief executive.
"Here is also a man who has (been through) a 100 hours of TV time and maybe 500 interviews," he told the broadcaster. He added that Hayward's grilling in Washington was "a very, very difficult hearing to go through."
Recent Headlines
---