'A part of it again'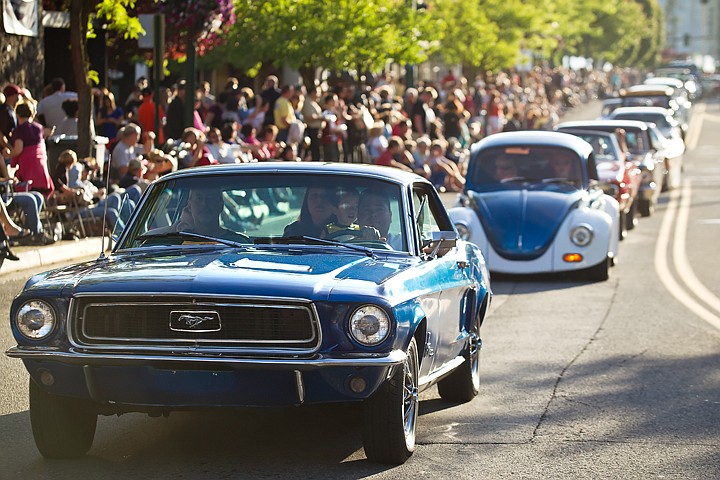 <p>A 1968 Ford Mustang, driven by owner Arnold Garza, joins more than 1,000 classic cars and thousands of spectators Friday while cruising Sherman Avenue during Car D'Lane.</p>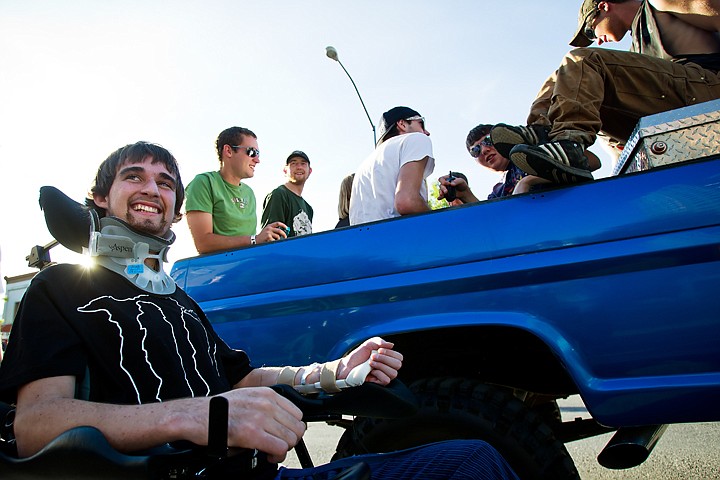 <p>Jimmy Johnston, 20, joins his friends curbside as riders climb into the back of his 1969 Ford F250 pickup Friday during the 20th Annual Car D'Lane Classic Car Cruise and Show on Sherman Avenue.</p>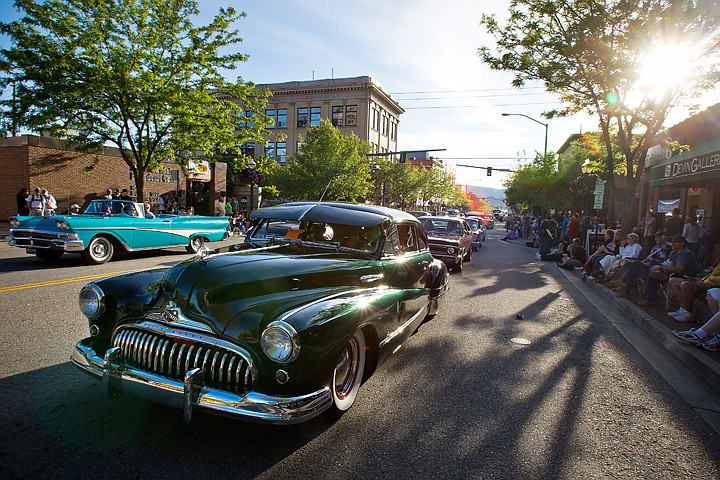 <p>A 1948 Buick Super leads a group of classic cars up Sherman Avenue during Car D'Lane on Friday/</p>
Previous
Next
by
Alecia Warren
|
June 19, 2010 9:00 PM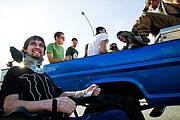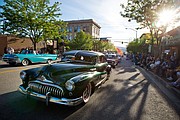 COEUR d'ALENE - Strange that two months after a rollover accident that left him with a broken vertebrae, one of the things Jimmy Johnston longs for most is driving.
"My friends, the town, my truck," the 20-year-old listed Friday of what he missed most during his recovery.
"Not in that order," a friend joked.
"My truck, my friends, the town," Johnston corrected with a laugh.
But that evening, seated in his wheelchair and surrounded by his well wishers on Sherman Avenue, the Coeur d'Alene youth had a taste of all three at the 20th annual Car d'Lane Classic Car Cruise and Show, where he watched a trusted friend drive the gleaming blue '69 Ford he had restored all through high school.
"This is the fourth year I've been in Car d'Lane. I really wanted to be a part of it again," Johnston said, adding that he spent roughly $15,000 on restoration and new parts for the truck his dad's friend originally nabbed for $1,000. "When I first got it, my friends would call it junk. It was a horrible color, everyone would diss it. Now there isn't anyone who would make fun of it."
Watching the blue truck rumble down Sherman as the parade of cars began, he smiled.
"Awesome," he said of how he felt, even with the neck brace.
Memories and obsession for things gasoline-fueled were prevalent as ever at the kickoff parade of Car d'Lane, where classics, customs and muscle cars roared through downtown Coeur d'Alene.
Of the more than 1,000 entries, some were a little rusty, some had explosive revs that thundered from blocks away. Others hummed quietly, saying enough with their sleek paint jobs.
"It's something we look forward to, especially in the winter, because it's always gorgeous (the day of the event) every year," said Jennie Esh, who was attending Car d'Lane for the 19th year with her family.
Half the fun is hearing the comments from onlookers as she and her parents cruise by in their '69 Camaro and '54 Oldsmobile.
"With the Camaro, it's like, 'Rev the engine! Spin the tires!' With the Olds, it's like, 'Oh my God, look at that beautiful car!'" Esh said with a laugh. "They're cars from two completely different eras."
Driving them brings back a lot of memories, added her father, Dean Carriveau, 60, who purchased the Oldsmobile with his wife, Janice, when they were 23.
"We're 23 again when we drive it," Dean said, and touched his daughter's cheek. "And she came home from the hospital as a baby in the Camaro."
Tony Johnson estimated he invested about $17,000 restoring the glistening red '70 Chevelle he has rolled through Car d'Lane the past few years.
He's in it for the cruising, Johnson admitted, which he used to do all the time as a kid on Sherman Avenue.
"That was a long time ago," he admitted with a chuckle. "It was all dirt back then."
Coeur d'Alene resident Trevor Reynolds tried to shrug off the polished black '69 GTO he had spent three years restoring.
"I thought I would throw money into the wind," the 41-year-old said of the $45,000 he invested in it. "I'm taking care of my manhood because I have nothing else to show off."
But the car also brings back memories of the GTO he had as a kid, Reynolds said.
And when he brings it to Car d'Lane, it usually sparks some heavy duty reminiscing between him and other car owners.
"What I like is I've got a piece of history that I can pass on to my kids," he said.
Jim Drechsel, who used to own a used car shop in Coeur d'Alene, smiled as he summed up his attraction to Car d'Lane in one word.
"Chevys," the 65-year-old said with a grin.
Besides bringing his own '78 Chevy pickup to try to sell, Drechsel had ventured to Car d'Lane to hopefully catch a glimpse of his favorite, the '58 Chevy Impala, he said.
"It was the neatest car they ever made," he said. "Classic cars, that's what it's all about. They all had character. New cars today, they all look alike."
Edie Cutting, 67, who admired the passing machines with her daughter, Caitie, 24, said they had come out to catch more than just her son driving his '69 Ranchero.
"We really enjoy all the interesting cars. There's a lot of work that people put into these," Edie said.
She was excited to spy an old Ford Falcon like the one she had when she was young, she added.
"I enjoyed that car when I had it. It made me smile," she said. "It's just good it (this event) is in Coeur d'Alene. We're happy to have it here."
Recent Headlines
---