Create your own relaxing outdoor oasis this summer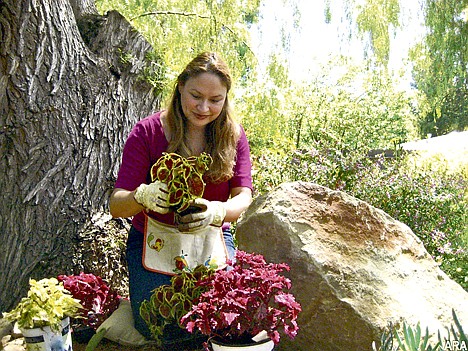 <p>Keep mosquitoes at bay in your yard.</p>
by
Courtesy of ARA content
|
June 18, 2010 9:00 PM
It's summer time again and the living is easy - at least it's supposed to be. But when mosquitos invade your yard, it's tough to enjoy fun in the sun.
Lasting summer memories often begin with a pleasant environment in your own backyard. But the first step is keeping the mosquitoes at bay. TV home and garden expert Shirley Bovshow, in partnership with OFF! Clip-On Mosquito Repellent, wants to help make your backyard an ideal place to relax or entertain guests by creating your own personal outdoor oasis this summer.
Bovshow suggests these tips to help you make the most of your outdoor time and space this summer:
Define your space: Use potted plants to identify space and create intimate areas in your patio or yard. Certain plants are perfect for screening an unappealing view, dividing large spaces into smaller ones and directing foot traffic.
Make it private: Hang inexpensive, colorful or patterned rugs between simple wood posts for a fast and cheerful screen.
Repel unwanted guests: Keep mosquitoes from spoiling your time outdoors. OFF! Clip-On Mosquito Repellent provides head-to-toe protection without spraying anything on your skin and lasts for up to 12 hours. It features a quiet, battery-powered fan that circulates repellent and can clip to a belt, purse or chair. More information about helping to keep away mosquitoes can be found at www.off.com.
Be creative: Create a festive focal point with your pool at night by adding floating candles and glass orbs. If you are not swimming, these festive additions will make your pool look magical at night.
Keep it cozy: Create an impromptu side table with a large flower pot capped with a round paver or flagstone. You can add built-in seating by capping your raised vegetable garden beds with stone, wood or tile at a finished height of 14 to 16 inches and add cushions for entertaining guests.
Light up the night: Solar-powered path lights gather energy during the day and can be used as soft, ambient lighting at night. Gather and stick them into potted plants in your patio near sitting areas. Solar lights are safer than candles and require no electricity.
- Courtesy of ARAcontent
Recent Headlines
---