Billboards outrage parents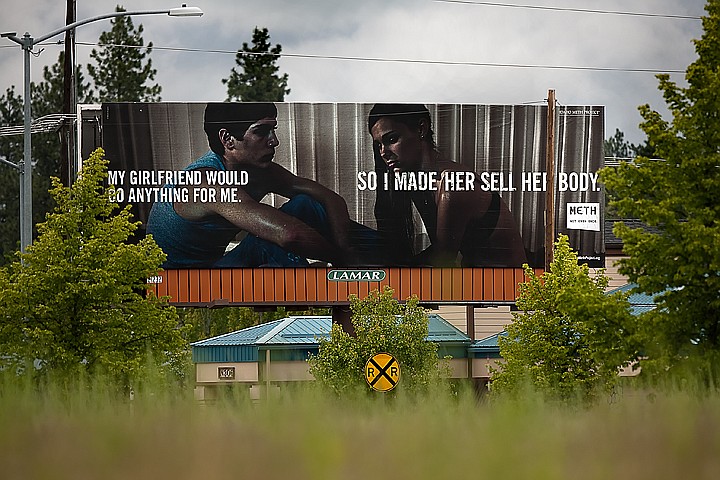 <p>A new anti-meth campaign advertisement along South Spokane Street in Post Falls has come under criticism recently due to its linkage of methamphetamine usage and prostitution.</p>
by
Brian Walker
|
June 18, 2010 9:00 PM
POST FALLS - Pitted faces and rotted teeth are one thing.
But the latest billboard ads in the Idaho Meth Project's drive to curb teen use of the drug cross the lines of morality and should be taken down, say some area parents outraged over the messages.
One controversial ad that went up this week and seen from northbound Spokane Street between the Spokane River and Interstate 90 shows a boyfriend and girlfriend in their teens stating, "My girlfriend will do anything for me ... so I made her sell her body."
"I have two children who can read and the other is learning and now I have to explain to my young, innocent children what selling your body means," said Tim Gardner, a Post Falls parent who lives south of the river. "I am tired of these disturbing images being forced upon my family and I."
Gardner said he realizes meth is a serious issue and believes it needs to be stopped even if it takes graphic ads, "but the latest to be erected is an offense against public morality."
The other ad, formerly at the Spokane Street site, and also along eastbound Seltice Way between Post Falls and Coeur d'Alene, shows two teen girls stating, "My friends and I share everything ... now we share hepatitis and HIV."
Some people say their first impression was that the girls are lesbians since they "share everything," but they later realized that the full ad online shows one of them holding lipstick, making the ad clearer. However, the lipstick is cropped out of the billboard ad and just shows two girls side by side.
Megan Ronk, executive director of the meth project supported by first lady Lori Otter, said the ads over the past two years showing the bodily effects meth can cause have run their course and the latest wave takes the campaign to the next level of educating how the drug leads to risky behavior.
"We know this isn't easy for many people to accept, but this is unfortunately the reality of this drug," Ronk said, adding that firsthand accounts from meth users are more explicit than the ads.
"The longer you use meth, the more willing you are to do desperate things that you wouldn't in your wildest imaginations before."
Ronk said there's no plans to change the ads. She said the ad on Spokane Street was changed this week due to a planned rotation, not as a result of complaints.
Ronk believes the ads are doing what they're intended to - sparking family conversations about life and dangers of meth.
"We certainly acknowledge their concerns and it's a tough conversation to have with children," she said. "But, frankly, the purpose of the campaign is a catalyst for conversation and an opportunity to talk to kids. The focus is on teens and young adults, but it's never too early to have conversations at the younger level to understand why drugs are bad."
The ads appear to be effective.
A survey released this week by the Centers for Disease Control and Prevention shows that meth use among Idaho teens declined by 52 percent between 2007 and 2009, the largest decline of any state during that time.
"It shows that we're doing something right as a state and, when you're having success, it doesn't make sense to change your strategy at the midpoint," Ronk said.
The latest ads are on display across the state and Ronk said the only complaints have been from Kootenai County. She said the organization has received "six or seven" complaints.
Ronk said the campaign continually needs fresh ways to get messages across and the ads undergo reviews for accuracy and content before they are made public.
"We're not just creating these ads in a vacuum," she said.
However, parents and city and school officials say outcry from the ads has been a reoccurring topic over the past month. Gardner said he has spoken with at least 25 citizens who have been offended.
Gardner has asked the city to take the ads down, citing a local nuisance ordinance on morality.
However, despite hearing the complaints, the city has its hands tied due to the First Amendment, city administrator Eric Keck said.
"Billboards are controlled by state statutes, so we don't have control over the content," Keck said. "We wish we could do more, but the only thing we can recommend is that people contact the Idaho Meth Project if they have concerns. We certainly encourage parents to teach their kids values."
The city has forwarded complaints to state and elected officials and the meth project.
Concerned parents say they can control exposure to TV, radio and newspaper ads, but driving by billboards along main routes is more difficult.
Post Falls' Tom Latham, who owns an ad business, agrees advertising is an effective way to reduce drug use, but believes the organization has gone about it the wrong way lately.
"The choice of media and the message they're putting out is completely inappropriate for a civilized society," Latham said. "A billboard showing an underage girl in her underwear saying that she's selling her body is way out of line.
"We wouldn't ever think of displaying that same image with a message stating how child sex abuse is wrong, even though we would all agree that it is."
Recent Headlines
---