Kobe gets some help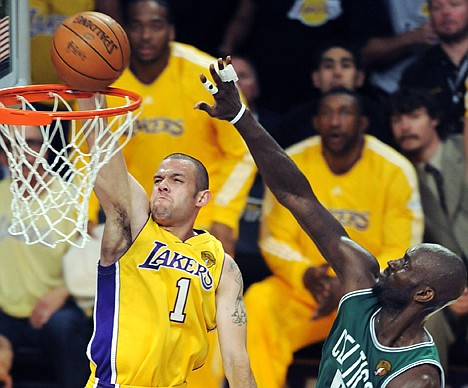 <p>Los Angeles Lakers guard Jordan Farmar dunks as Boston Celtics forward Kevin Garnett pursues during the first half of Game 6 of the NBA finals Tuesday in Los Angeles.</p>
by
Greg Beacham
|
June 16, 2010 9:00 PM
Lakers force Game 7
LOS ANGELES - Buckle up, Boston and L.A. These epic NBA finals are going to Game 7.
Kobe Bryant made sure of it, with plenty of help from the rest of the revitalized Los Angeles Lakers.
Bryant scored 26 points, Pau Gasol added 17 points and 13 rebounds, and the Lakers emphatically extended the NBA finals to a decisive seventh game with a 89-67 victory over the Boston Celtics in Game 6 on Tuesday night.
Ron Artest added 15 points for the Lakers, who stared down elimination by jumping to a 22-point lead during a dazzling first half. While limiting Boston to the second lowest-scoring performance in NBA finals history, the defending champions stretched the finals to the limit for the first time since 2005.
A champion will be crowned Thursday night at Staples Center.
Ray Allen scored 19 points for the Celtics, who took an ugly pratfall on the verge of winning their unprecedented 18th title. It turns out their longtime rivals are still quite serious about earning their 16th championship.
Two years after the Celtics ended the finals with a 39-point blowout of the Lakers in Game 6, Los Angeles turned Game 6 into a long nightmare for Boston. Only Utah's infamous 54-point performance against Chicago in 1998 was worse than this offensive disaster, which included 33 percent shooting and a 52-39 rebounding advantage for the Lakers.
"We did a great job," Bryant said. "We have to come with the same energy, the same dedication to defense (in Game 7)."
Bryant grabbed 11 rebounds, and Gasol led the Lakers with nine assists in a remarkable bounce-back game for Los Angeles, which dominated from the opening minutes by vacuuming up rebounds and playing relentless defense. The Lakers' bench largely took care of the rest, outscoring Boston's reserves while the Celtics failed to make a run.
"Our defense was good, our rebounding was better," Lakers coach Phil Jackson said.
"It's really a high-tension situation," added Jackson, a 10-time champion who has never coached a Game 7 in the finals. "Players have come down to putting a lot on the line at this particular point. It's not about the coaching at that point. They've already got it in them. It's about who comes out and provides the energy on the floor."
These rivals have played a Game 7 four times in their 12 previous finals meetings, with Boston winning all four. But it hasn't happened since 1984 - and it hasn't happened to Bryant, who looks determined to stake his claim among the NBA's greats in pursuit of his fifth championship.
Bryant was a one-man band for much of the Lakers' three-game stay in Boston, but Los Angeles was a symphony in Game 6. Gasol was a constant low-post presence and playmaker after disappearing for long stretches of the series, while Artest harnessed his wildly inconsistent jumper and hit three 3-pointers.
"We want to carry everything we did tonight to (Game 7), and then I think we'll be in a very good place to win," Gasol said. "When you bring the intensity we did tonight, good things are going to happen."
With first lady Michelle Obama watching from a luxury box, the Lakers were on their best behavior - and the Celtics responded terribly to the chance to clinch a title.
Paul Pierce scored 13 points and Kevin Garnett added 12, but the Celtics' offense was a jumbled, stand-around mess. Rajon Rondo, the late-game hero in Boston's last appearance in Los Angeles, got off to a 1-for-8 shooting start before finishing with 10 points and six assists.
"I thought we'd play better, obviously," Boston coach Doc Rivers said. "I thought we were ready. ... We played an individual game tonight on both ends. We never gave ourselves an opportunity offensively, because we never trusted each other. Everybody was out to make their own place."
After earning the NBA's second-best road record during the regular season, the Celtics must win on the road again to avoid becoming just the third team to blow a 3-2 series lead in the 2-3-2 finals format.
The Celtics lost starting center Kendrick Perkins in the first quarter to a sprained right knee when he landed awkwardly under the hoop, but his absence couldn't explain the Lakers' utter domination of the first half - a 30-13 rebounding edge while holding Boston to 34 percent shooting and frustrating Rondo.
"We didn't get in any rhythm early, and it affects our chemistry," said Allen, whose two 3-pointers were his first since hitting a finals-record eight in Game 2. "We each tried to make the home run play early. As a starting unit, we take responsibility. We have to do a better job next game."
There hasn't been a winner-take-all finals game since San Antonio finished off Detroit five years ago, and Thursday's Game 7 will be the 17th in NBA history. The Spurs' victory over the Pistons was the first Game 7 since 1994, when the Houston Rockets capped a comeback with two home victories over the New York Knicks and their point guard - Rivers.
The Celtics were on the verge of finishing off the Lakers after winning three of the last four games, including Game 2 in Los Angeles and the last two back in Boston. With their fluid offense purring and their sturdy defense holding the Lakers to meager scoring totals, the Celtics needed just one win in the final two games to clinch another title.
But facing their first series deficit and elimination game of the postseason, the Lakers kept their championship cool. The Lakers improved to 10-1 in the postseason at Staples Center, using the homecourt advantage they earned by finishing ahead of the Celtics, the East's fourth-place team before their remarkable playoff run.
The Celtics dropped to 3-4 in closeout playoff games this season, including 0-3 on the road. Boston had nine chances to finish a playoff series away from home in the past three postseasons, but has been successful only once.
Los Angeles' 49-27 lead in the second quarter was the biggest for either team in the series. Even after going 3 1/2 minutes without a point shortly before halftime, the Lakers led 51-31 at the break before stretching the lead to 25 points in the third quarter and 27 in the fourth.
Recent Headlines
---