Demographics report goes online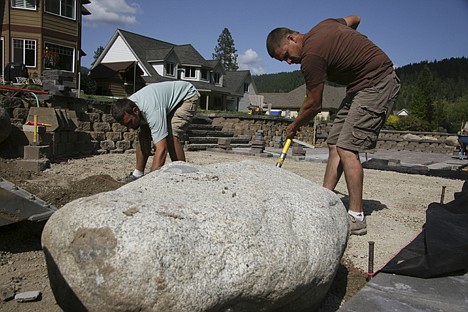 <p>Jason Brownlee, right, and Jason Mucciaccio of Allwest Hardscapes, Post Falls, work on a retaining wall and patio in Coeur d'Alene on Tuesday.</p>
by
Rick Thomas
|
June 16, 2010 9:00 PM
COEUR d'ALENE - The end may be near, but that is probably a good thing.
Data that will be released in about two weeks may indicate the decline in the economy has seen its worst, at least for this cycle.
"We are pretty well convinced it has bottomed out, at least in our area," said Jim Stravens of JP Stravens Planning Associates. For more than two decades he has published the annual Inland Northwest Demographics report that includes basic information on population growth and shifts, along with wage and other information.
A condensed version has been available to the general public for free, and that will continue, while customized reports were printed for clients.
"We decided after talking to all our sponsors to join the 21st century," Stravens said. Around the first of July, the full report will be available online at http://www.jpstravens.com.
"People were using it and posting it online anyway," he said.
Stravens' specialty is detail data focused on specific areas ranging from regional to neighborhoods, and it is more timely and complete, he said.
"The 2010 Census won't be out for a while," Stravens said. "Its only real purpose is to determine legislative districts."
After decades of preparing the report, and several years of watching growth taper off, he believes the inland Northwest has too much going for it to drop off any more.
"We seem to have so many things going for us, we will never reach zero growth," he said. "We have the mountains and the lakes. We have been on the cutting edge of new growth."
The growth in population that came before the bottom fell out was unrealistic, Stravens said.
"Some cities had 14.5 percent growth," he said. "We knew that was unsustainable. We just didn't think it would come to a screaming halt."
Offering his research online will allow users to gain access to data specific to their needs, such as determining the population and traffic counts for a potential business site.
Demographic data products and services offered include:
Current Demographics (small geographic area, one square mile)
Kootenai, Spokane, Bonner counties, Idaho, Montana and Washington.
• Census Data 1990, 2000
• I.N.D. Data 2009 - 2010
• Online Data & Maps
• Estimates and Projections
• Dwelling Units (3 counties)
Business Data
• Income levels (by county)
• Housing trends
• Estimated traffic volumes
• Non-resident visitors data
Labor force characteristics (Idaho)
• Major employers (cities, counties)
• Employment trends
Recreation Activities (regional)
• Golf courses
• Hotel/motel units
• Campgrounds
• Camping sites
Custom Report Services
• Special Data Sets
• Accumulated data for specific geographic areas
• Number and type of specific businesses or industry locations
• Estimated vacancy rates for specific residential or commercial areas
The data is updated as it becomes available or as research allows a reasonable time frame to develop.
Annual access fees are $485 for sponsors, $595 for subscribers and $1,395 for full subscribers with multiple logon user names and special data sets. Stravens provides free estimates for custom reports.
Stravens said using the information to plan for business and community growth will make the economy more healthy.
"We are always going to have higher than average growth," he said, with 2 percent to 4 percent, versus less than 2 percent for the national average. "Three percent is very good, very stabilizing. We will probably be back to that within three to five years."
Information: 664-0409 or e-mail jpstravens@verizon.net
Recent Headlines
---