Sacrifices made for free bike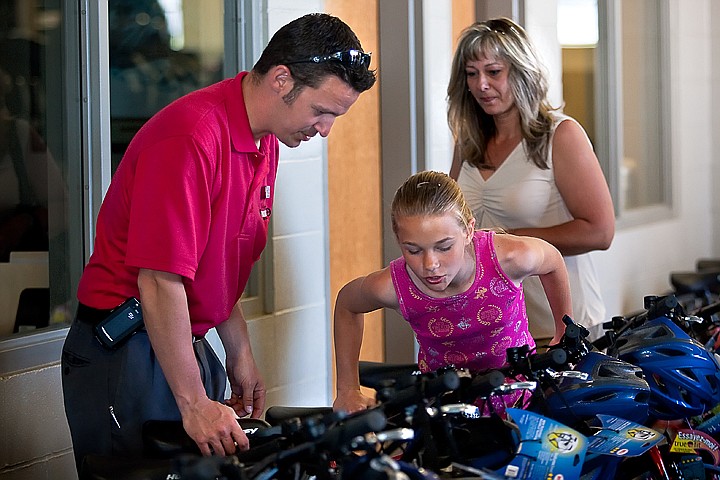 <p>BEN BREWER/Press Parker Toyota Salesman Blake Owens, left, helps excited fifth grader Kinsie Jones, right, pick out her perfect bicycle and helmet during the Perfect Attendance Spells Success (PASS) bike give-away on Sunday. This year marks the 6th year that PASS has worked with Parker Toyota and Horace Mann Insurance to provide new bikes and helmets to fifth and sixth graders with perfect attendance in the Coeur d'Alene, Post Falls and Lakeland School Districts.</p>
COEUR d'ALENE - Twelve-year-old Shawn Doran had to schedule surgery for his broken ankle over his winter break during the just-completed school year to preserve his perfect attendance.
The thing is, he broke his ankle months earlier, in May 2009. Other appointments for the ankle - which required two screws to keep it properly in place - were scheduled for days students already had off.
That kind of commitment to perfect attendance is common - at least it was among those who received new mountain bikes and helmets Sunday at Parker Toyota Scion.
"I'm going everywhere," Doran said as he sat ready to pump the pedals on his new burnt orange 15-speed Huffy mountain bike.
His mom, Nancy Doran, said, "He really earned that bike."
In a way, so did she.
During Doran's sixth-grade year at Spirit Lake Elementary, family vacations weren't scheduled as they had in the past.
Camy Popiel, of Horace Mann Insurance, said the "Perfect Attendance Spells Success" program allows fifth-graders in the Coeur d'Alene and Post Falls school districts and sixth-graders in the Lakeland School District to earn a new bike and helmet from Parker Toyota Scion and Horace Mann Insurance.
Popiel said 188 students were up to the challenge.
"It's a real incentive for the kids," she said. "It keeps a lot of them in school."
Showing up every day is something any student, of any ability, can do, so all kids have the same opportunity. Getting rewarded for showing up every day also is a good life lesson, she said.
Kiara Seward, 11, of Ponderosa Elementary, said she planned to ride her bike a lot to and from friends' houses. The perfect attendance helped maintain her good grades - she only got two B's this year.
The new bike "really motivated me."
Her mom, Vicki Seward, of Post Falls, said, "That was her goal at the beginning of the year. I'm really proud of her."
She said their family, like others, held off on family vacations during the school year.
"We did everything we could to help," she said.
Youngster Orion Dykes said, "I want to go up to Tubbs Hill" with his new bike.
"It's awesome," said the 11-year-old Winton Elementary student.
Dykes' dad, Justin, said that as a parent, "It makes you feel like you're doing something good."
It was Orion's first year of perfect attendance.
For David Wester, 11, perfect attendance each year has become just like riding a bike. He's done it each school year before, so it was no big deal this year - except he got a new bike.
The Fernan Elementary student said, "I got sick but I went anyway."
His parents, Cooper and Birgid, said they are very proud of David, who planned to ride his new bike down to the neighbor's pond to do some fishing.
Ten-year-old Jacob Conner, of Fernan Elementary, said, "I saw everyone else get one (last year), so I was like, 'I need one.'"
He and the family were headed out to Higgens Point on a bike ride after picking up his new wheels.
"We just need to tune it real quick," Conner said.
Recent Headlines
---