Bullish on pitbulls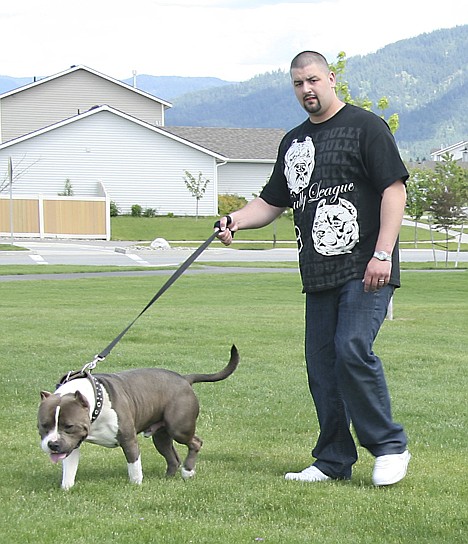 <p>Steve Parker walks Rico, his blue pitbull, recently in Coeur d'Alene. Parker is putting on a show for the pedigreed dogs at the Kootenai County Fairgrounds on June 26.</p>
by
Rick Thomas
|
June 14, 2010 9:00 PM
COEUR d'ALENE - It probably doesn't hurt to have a good attitude walking into Steve and Sarah Parker's house.
Then again, it might not matter that much to the three pit bulls that greet visitors to their Coeur d'Alene home. There are no threatening growls or bared teeth, only wagging tails and the occasional whimper of a pup looking for a little attention.
"They love people, and other dogs," Steve said.
Rico and Tiva are both 2 1/2 years old, and Tiva is due to give birth to a litter on June 12. Kimbo, five months old, still sniffs at his mother's belly now and then, but is long-since weaned, and more interested in playing than nursing.
For the Parkers, the dogs are part of the family, and they are part of a community of owners of the sometimes controversial breed. On June 26, they will hold The Summer Showdown, an American Bully Kennel Club-sanctioned show at the Kootenai County Fairgrounds.
Steve got his first pitbull several years ago, and realized he had an affinity for the breed.
"I like how they look, muscular, pretty," he said. Soon he bought Rico and Tiva and began breeding them under the name Ultimate Bully Pitbull. Their color, called blue, is rare among pitbulls, which come in brindle, fawn, black and red.
"It is a really rare color," he said." Everybody that calls wants blue."
The Parkers recognize that pitbulls, raised wrong, have gained a negative reputation after numerous incidents when the dogs harmed humans or other animals. Breeding and proper attention are vital, they said, and they and other responsible breeders of pitbulls look for good core temperament and will not raise animals who show signs of issues.
"People thing, 'Oh my god, a pitbull,'" Sarah said. "They are not horrible monsters. They are great family pets."
Their daughter Emma, only 4, takes command of Tiva on a family walk with the two parents and their offspring, and gleefully greets another member of the family, Luka, Kimbo's brother, when he stops by for a visit.
"They are attached at the hip," said Joe Ornellas, who owns Kimbo and will be a judge for the fun show at the fairgrounds.
Only American Bully Kennel Club registered pitbulls will be accepted for the main show, but a "fun show" between the two main shows will include boxers, bull mastiffs, and bulldogs, all part of the "bully" category of dogs.
The first of its kind in Idaho, the regional show with points being earned for further levels of competition will include kennels from California, Oregon, Montana, Utah, Seattle and Boise.
Judges will include ABKC representatives, along with Pam Carter of Gaff Kennels in Worley, owner of one of the top female pitbulls in the country.
Vendors and adoption and other information booths will be part of the show, and portions of the proceeds from admission will go to the Kootenai Humane Society. Raffles will also be held during the day.
Part of the goal is to increase awareness of the breed.
The Parkers' own children spend time with the pups from the time they are born, and the dogs need a significant amount of interaction with humans.
"They always want to be around you," Steve said. "They need good training. They are a big, strong dog. They love doing active things."
Pitbulls are a loyal breed, Ornellas said, that become "attached at the hip" to their owners.
"They are like people," he said. "If they are mistreated they won't be nice."
But, Steve said, they are easy to care for with their short hair.
Care and attention are vital to the raising of pitbulls, the Parkers say.
"They can't be in a kennel all day," Sarah said. "They get lonely."
While the main show will be limited to ABKC registered dogs, owners of pedigreed pitbulls registered through other organizations can get a temporary certificate for $20.
Admission to the show is $10, with $2 going to the Humane Society.
Information: 640-9478; www.xxlultimatebullypitbull.com; www.myspace.com/xxlultimatebullypitbull or www.facebook.com/xxlultimatebullypitbull
Recent Headlines
---