Layers of history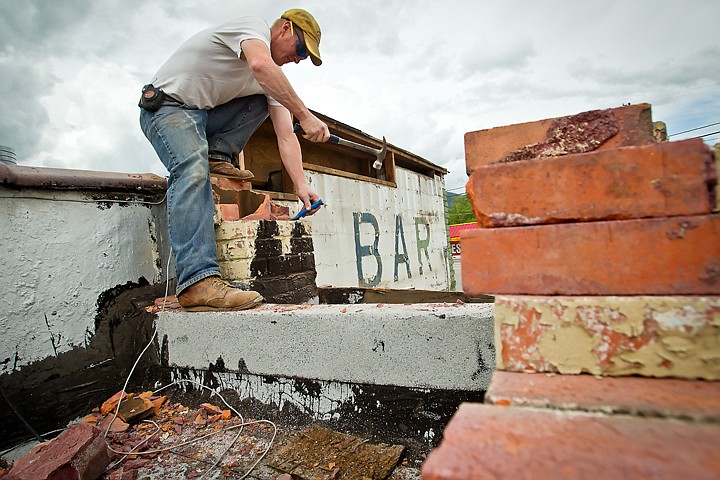 <p>JEROME A. POLLOS/Press Tony Martin separates old, red clay bricks from a chimney liner while demolishing sections of a building Wednesday that has housed a number of eateries and bars over the decades.</p>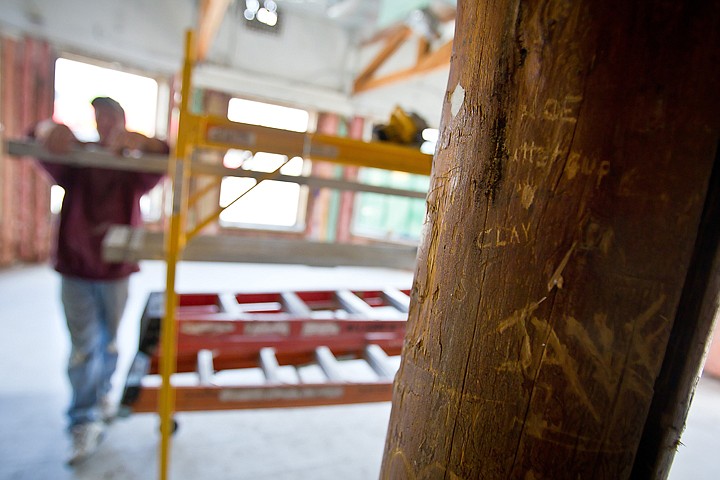 <p>Old support beams with carvings and writings from the days the building was a bar were uncovered once the dry wall was removed.</p>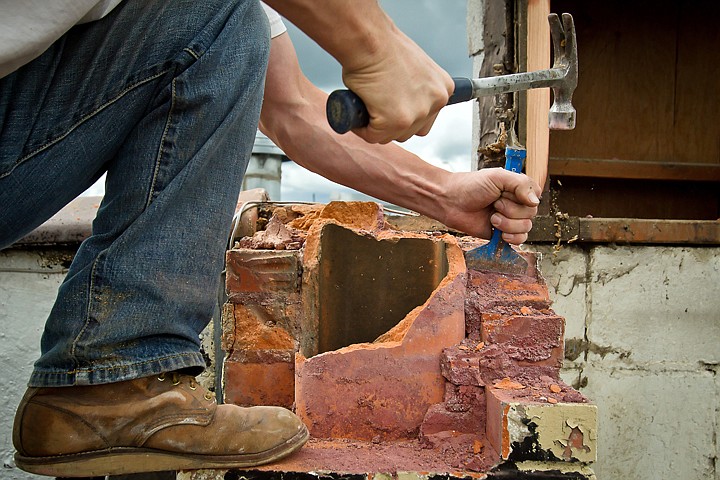 <p>Tony Martin chips away at old motor while separating bricks on a chimney Wednesday atop the old Chelsea Bar in Coeur d'Alene.</p>
Previous
Next
by
Alecia Warren
|
June 13, 2010 9:00 PM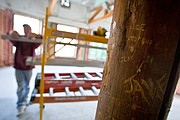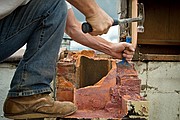 Renovating the old cheesesteak joint in Coeur d'Alene started as just another job for architect Rann Haight.
Just tear everything off until you get to the original structure, said Ron Baker, the new tenant with plans for a deli at 2501 N. Fourth St.
Let's see what we find. See if anything is worth keeping.
The crew removed the newest exterior, bright yellow stucco boards installed by the last tenant, Brycie's Cheesesteaks and Subs.
Beneath that, they found another facade.
And another behind that.
And another still.
At last they ended up with one side of dark, forest green bricks, and the other of white blocks, painted with the lackluster yet frustratingly unspecified "BAR" in faded blue and green.
As they gutted the interior — more surprises. Four ceilings built one over the other, each hinting at a different past.
One was saturated with cigarette smoke, Haight said, while another appeared to cover over traces of a fire.
And when tile was stripped off the interior columns, the crew found unvarnished tree trunks underneath, he said, covered in pocket knifed messages from old patrons making their mark on the world.
A structure with such apparent history is a rarity at fast food locations, Haight said.
Clearly there had been a bar there once, but much more besides.
"We have no idea how old this building is," Haight said. "It's kind of like finding an old bottle in the backyard. You didn't expect it, and all of a sudden there it is, and you're asking, 'How did it get here?'"
There were more questions than answers inside the 2,100-square-foot puzzle box.
"It's just one of the last original buildings (from earlier eras) that North Fourth Street has," Haight said. "It would have been out in the middle of nowhere back when it was originally there. To see this older building in the middle of that area, it seems there's a story to be told."
•••
The construction crew has gotten a few clues from passersby.
More like a lot of clues.
Since construction started last week, at least 50 people have stopped in, seeing something that sparked a memory, said contractor Tony Martin.
"We've had a dozen people a day who say, 'I remember that!'" he said.
All seem to remember the structure from its time as Chelsea's bar, which closed in the '90s.
Even though Chelsea's had a wooden facade that covered the underlying brick, Martin said, seeing the structure stripped down must trigger memories.
"Just hanging out, drinking during college," he said of some strangers' stories. "To some people, it seems like it might (be significant to them)."
He admitted the crew members have invented their own stories about the names inscribed in the building, like a heart scratched around the message "A.J. and T.K. Forever."
"One gentleman came in, he had heard a deli was going in. He didn't say much. He just stood there and said, 'A deli. I think it'll be good for a deli.' then he left," Martin remembered with a smile. "I think it might have been A.J."
•••
The only records for the building at the Kootenai County Assessor's Office are notes from past commercial appraisals.
The oldest document identified the structure as a bar in 1945, though the name of the establishment wasn't included.
"Appraisers might (sometimes) enter the kind of business or name, but that's not important because they change so often," explained Commercial Appraiser Donna Hoppe.
The collection of old Coeur d'Alene directories at the Museum of North Idaho didn't have any listings for the address in the '40s.
The earliest city listing was in 1952, when the building was a Maid Rite Drive In Restaurant, which lasted at least through 1954.
The building is listed as Leahy's 300 Club from 1962 through 1976, and then as Chelsea's from 1977 though 1992.
Brycie's moved to the location in 1993, and remained until the business relocated this April.
•••
Loretta Jones witnessed much of the building's history.
Jones, 59, was a waitress and bartender off and on at the location from the late '70s through the early '90s, during which the building passed through the hands of several owners, she said.
The establishment was still Leahy's 300 Club when she started working there, Jones said. At the time most patrons were professionals and law enforcement.
"It was mostly businessmen. I met a lot of attorneys, a lot of off-duty police and firemen," she said.
The building became a community icon when it acquired new owners and became Chelsea's, she said.
With live bands performing blues every Friday and Saturday night, the establishment was eternally packed, she said.
In the smoky wooden interior, drinks were poured, laughs shared, peanut shells and popcorn thrown on the floor. Pool teams honed their skills.
"The thing about Chelsea's that makes it so memorable is there was a core group of people, I'd guess between 50 and 100 people, who would go there every weekend — some of them every night after work," Jones said. "It was the camaraderie, just being comfortable there, everyone knowing each other. I don't think there's ever been another place like that."
Most of her favorite memories aren't printable, she said with a laugh, but she still rues the day the establishment closed because of damage from a fire.
Whoever restores the old place has a lot of work ahead, Jones said.
But she was glad to hear it won't be torn down.
"I think it's great that it's still here. I look at it when I go by and remember how our cars use to make immediate left or right turns there to say 'hi' to everyone," she said, adding that she still has the gold watch engraved "Chelsea's" she was given when she left the business. "It's a nice memory to have it there."
Diane Pekich, who owned Chelsea's for roughly 10 years, had an inkling about its history from a black-and-white photo she was given of the building when it was a Maid Rite.
"It was one of the few buildings out there at that time. The roads were still dirt around it," she said.
Pekich admitted she cried when she recently passed the building and saw the brick exterior she had never known was there.
It brought back a flood of feelings from the days when she joked and chatted up the old flock of patrons, she said.
Some memories still make her laugh, she added, like when a regular rode his horse into the bar to grab a drink.
"It was all OK," she said. "He just hung out on his horse for awhile."
The friendships forged at Chelsea's are still strong, she added.
"A lot of regulars came by. A lot of couples met and got married there," she said, adding that many in the group still go on annual camping trips together. "There were a lot of close ties, and those will never go away."
Pekich had considered taking a few of the bricks before she learned the building would remain standing, she said.
"It's like a preservation of memory," she said. "I'm sure it's how a lot of people feel about it."
•••
The memories will stay intact at least while Baker is the tenant.
The structure's original exposed beams, wood columns, cement floors and brick exterior are just the style he wanted for Pazzo's Italian Deli, he said.
"Back when we started talking about this Italian deli, we wanted something old-world style," Baker said. "I think it's just the history and the novelty of it (that appeals)."
It's hard to ignore the love the community has shown for the structure, Martin said.
"Good thing we didn't tear it down. That was a thought, until we started finding everything," the contractor said. "As people stopped by, it seemed it's something that still belongs here."
Recent Headlines
---