Time to plunder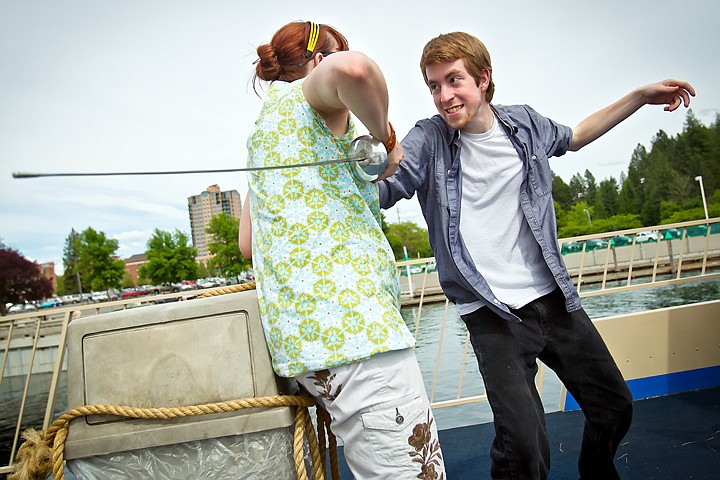 <p>Cory Williamson works through a scene with Brook Bassett during a rehearsal Tuesday for the upcoming themed cruise "Pirates of the Coeur d'Alene."</p>
by
Alecia Warren
|
June 10, 2010 9:00 PM
COEUR d'ALENE - One thing was apparent on Tuesday as the performers choreographed a dance number on the cruise ship deck.
Pirates dance rough.
"You're going to kick me in the head? I like it!" said actor Todd Jasmin as actress Brook Bassett swung a leg near his noggin.
She twirled, did a cartwheel move and directed him to nearly topple off the edge.
"And then I kick you again!" she said, faking a kick in the back.
"Awesome," he approved.
And they hadn't even gotten to the sword fight yet.
In the final weeks of rehearsal, performers are prepping to give audiences a full dose of swashbuckling, singing, dancing and comedy on Lake Coeur d'Alene Cruises' new themed cruise: Pirates of the Coeur d'Alene.
Including a scripted performance, interactive fight scenes and pirate-themed souvenirs, the 90-minute cruise on Lake Coeur d'Alene is the first of its kind, said Jasmin, also the show's fight choreographer.
"Obviously, it's geared toward kids. But there will be parents as well, and we'll probably get people who hear 'pirate cruise' and immediately want to come along," he said, watching actors fence on the ship decorated to look like a pirate vessel. "We're making a real conscious effort to make it entertaining for everyone."
Running twice a day, seven days a week in July and August, Pirates of the Coeur d'Alene will cost $19 for children ages 6-12, and $29 for adults. Kids 5 and younger are free.
It will be worth it, said Kelly VanDewerker, sales manager for Lake Coeur d'Alene Cruises.
Following the adventures of pirate Calico Jack and his pursuit of treasure, she said, the show will include myriad opportunities for guests to interact with the cast of pirates. Kids will also get fake pirate tattoos, bandanas and eye patches.
There will even be an attack from another ship, VanDewerker said, with a battle fraught with cannons and swordplay.
"Kids will get swords, so they can help in the sword fighting," she said. "It's just going to be action packed."
Jillian Kramer, the show's director, praised the work of the local actors, whose past work includes shows at North Idaho College and Lake City Playhouse.
"The show started with a small script, and then everyone brought their own ideas to their characters and to the singing and dancing," Kramer said. "A lot of the choreography has been contributed by various actors."
Craig Brosenne, general manager of the Hagadone Marine Group, said folks can also charter the boat for private pirate parties.
"It seems to be that themed cruises get people excited," Brosenne said. "It's going to be really big."
The themed cruises will run everyday from 1 to 2:30 p.m. and 3:30 to 5 p.m., starting July 1 and continuing through August.
Tickets can be purchased by calling The Coeur d'Alene Resort at: 765-4000, extension 21.
The main appeal of the cruise is that audiences are part of the show, Kramer said.
"It's not just a production. It's an experience," she said. "We're hoping it becomes a permanent fixture like the holiday cruises."
Jasmin was just excited to bring his 6-year-old daughter to one of his performances.
"She wants to see daddy sing the pirate song for real," he said. "She's tired of seeing me sing it in the car."
Recent Headlines
---