Model behavior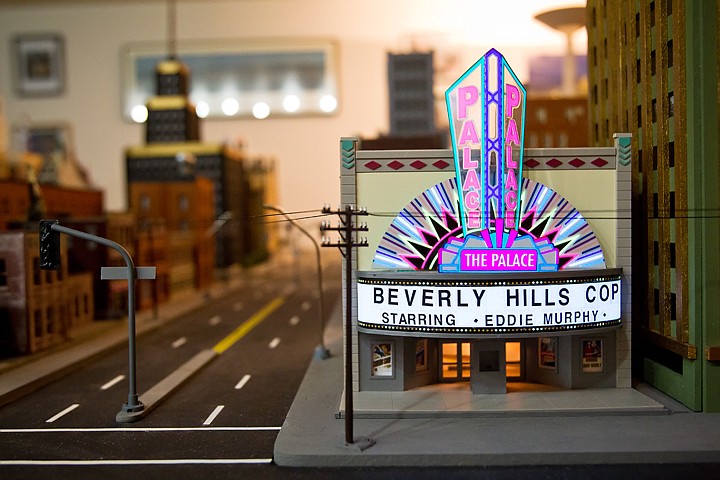 <p>SHAWN GUST A light-up movie theater, The Palace, is one of dozens of Los Angeles landmarks included in Larry Kmetz's model.</p>
by
Alecia Warren
|
June 10, 2010 9:00 PM
There are Broadway and Hill streets slicing through downtown Los Angeles, where Larry Kmetz rode jostling streetcars as a boy and sold newspapers at stations by the rails.
There's the glittering silver Bonaventure building, where he remembers selling Beatles records. There is the gliding Metro lightrail that he watched transform the city's transportation network decades ago.
The miniature neighborhoods on the 96 square feet of chipboard are as clean and polished as the retired businessman's memories of the '50s and '60s in Southern California.
And all spread out neatly in his Coeur d'Alene basement.
He has gone home again.
"In the '50s , there wasn't a lot of gang violence (in Los Angeles). It was simple. Simple enough that it was even pretty," Larry said, glancing over the expansive model city of wood, plastic and asphalt. "I was all over L.A. The main thing for me of why I'm doing this is going back in time."
Perhaps Larry, 67, can't buy a ticket back to the L.A. of his youth, before violence and escalating housing prices pushed him and his wife, Polly, to retire in Coeur d'Alene in 2002.
But he has done the next best thing, cobbling a sprawling Lilliput-sized version of the old L.A. with modeling sets and his own pieces built from scratch.
After working on the project off and on for the past eight years, all the while referring to his old photos of the city and a stack of architecture books, Larry can point to the buildings of the then-modest skyline, the iconic businesses now gone, and other backdrops of his youth.
Lack of space and an amateur knowledge of modeling has prevented him from dead-on accuracy, he admitted.
"Some buildings used to be in L.A., some are L.A.-type buildings," he explained, and pointed to an intricate church in a corner. "That's whatever church you want it to be."
Although born in Gary, Ind., Larry moved with his father to Los Angeles when he was 6 years old.
The tot was astonished at the sight of the crowds and the street cars bumping down the streets.
"It was a city on the run, and it inspired me," he said of the place where he would live for 50 years. "I was eager to get a job and be part of that."
Memories of life there in the '50s have long stayed with him, he added, because that was the setting of his introduction to Rock 'n' Roll when it first emerged.
He attended every concert he could as a teenager, and he joined friends with cars at drive-ins, where folks could listen to a D.J. or a live band as they savored burgers and malts.
"It was a cool time. It wasn't that anyone was going to beat you up. It was kind of carefree," he said. "A lot of the young kids - black, white, Latino - it didn't make any difference, they were there to see the entertainers."
Maybe a little of that could be captured in a model, he thought.
Larry, who had no modeling experience prior to this project, admitted that recreating the past has often proven frustrating.
He has found several buildings - some as high as a few feet tall - in stores. He fashioned other pieces himself with wood and paint, but the painstaking process of crafting tiny windows and tiny street lights and tiny rooftops can be oppressive.
"After I do it for a month, my brain is fried and I have to walk away," he said with a laugh.
Still, the streets - asphalted, because paint proved too expensive - are straight and perfect. The buildings' exteriors are elaborate. The street lights will be wired to light up, and the moving Metro lightrail is a tiny wonder.
Larry lacked dexterity to create the system of streetcars he rode as a child, he admitted.
"To embed the track and put in wire, I'm frankly not that good," he said.
His wife, Polly, pitches in with the minute touches - gluing on street sign names, sticking the lettering onto the raised sign of the Rosslyn Hotel.
She even glued on a Waste Management sticker onto a tiny trash can.
"Without tweezers I'd be lost," she said with a laugh.
Watching her husband work on the project is thrilling, said Polly, who also grew up in L.A.
"When I was in L.A., I felt I was so small and the buildings were so big," she said. "It's fascinating the way he is creating a big part of it. Looking at the level of the wood, you feel like you're walking down the street."
There's still more to go.
Even after spending between $5,000 and $6,000 on materials already, Larry has another 48 square feet blueprinted in his mind of L.A.'s old industrial area - which will include factories, trucks, and the oil field where he used to pedal his bike when he was young.
Perhaps the model is rousing some of his boyhood fantasies, as he hopes someone from California might use the finished product as a movie backdrop.
"They could probably use computers (to generate the background), but this looks better," he said. "Hollywood, they love stuff like this. Who wouldn't?"
Recent Headlines
---