A vision to help people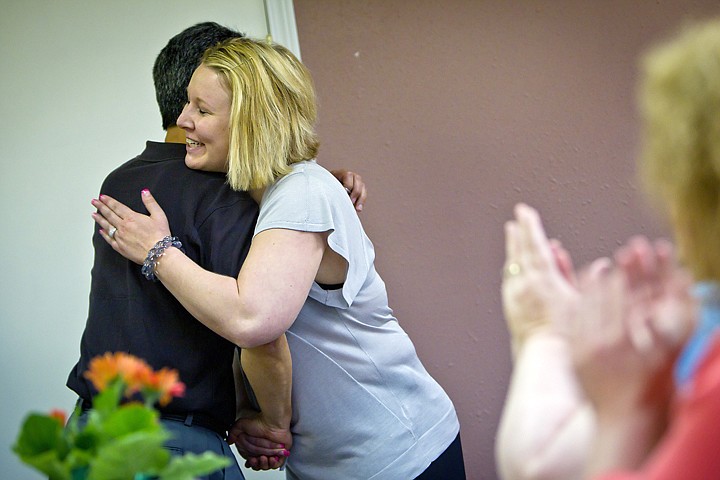 <p>Erin Yinger, executive director and co-owner of A New Hope Social Services, receives a hug from Bill Jhung, regional director of the Idaho Small Business Development Center, after Yinger was named the U.S. Small Business Administration</p>
by
Rick Thomas
|
June 10, 2010 9:00 PM
COEUR d'ALENE - In less than five years in business, Erin Yinger achieved something unprecedented.
On Wednesday, the executive director and co-owner of A New Hope Social Services was named U.S. Small Business Administration's 2010 Idaho Small Business Person of the Year.
"Five years ago a young lady walked into our facility and said she wanted to start a business," said Bill Jhung, regional director of the Idaho Small Business Development Center in Post Falls, who nominated Yinger. "Something about social work, helping the community. She had a vision to help people in our area."
With coaching from the center and loans from the SBA, Yinger expanded the office on Anton Avenue, where the award presentation was made, to 77 employees by 2009.
"From zero to 77 in 4 1/2 years takes incredible leadership," Jhung said. "She is an extraordinary leader. I am proud and privileged to work with her. She isn't selling products or services. She is changing people's lives."
A New Hope is based in Coeur d'Alene, with offices in Kellogg and Sandpoint, providing outpatient and community-based mental health services to both adults and children including counseling, psychosocial rehabilitation, service coordination, psychiatry and nursing services.
"SBA is proud to name Erin Yinger the Idaho Small Business Person of the Year," said Norman Proctor, Boise SBA District Director. "Erin's business is a good example of how vision, hard work, integrity, and compassion can lead to success. SBA is pleased to have assisted A New Hope Social Services with SBA loans and business development counseling through the Small Business Development Center in Post Falls."
Rodney Grzadzieleski, supervisory business development specialist for SBA's Boise office, made presentation of a plaque to Yinger.
"When I saw the application, I thought that must be a lot of headaches growing from one to 77," he said.
Yinger is the first SBDC client nominated to win, and competed with businesses in operation for 10 to 15 years, Grzadzieleski said.
"That's huge," he said. "This is one of the 50 best businesses in the country."
Even though her client base, now up to 350, is 95 percent Medicaid patients, and 25 percent cuts in funding over the past two years has made it a challenge, Yinger has managed to increase her employees to 84 and has never had to lay off any.
"More modest growth is less of a headache," she said.
Darci Furey, who has been office manager of A New Hope for four years, said Yinger is fantastic to work for.
"It has been an amazing ride," Furey said. "She does it for the community, and provides excellent wages, benefits, vacations and paid time off."
In May, Yinger visited Washington, D.C., for Small Business Week, which included a visit with President Obama.
"That was great," she said. "This is a great honor."
Recent Headlines
---