No gas needed on this boat A free ride on a sunny day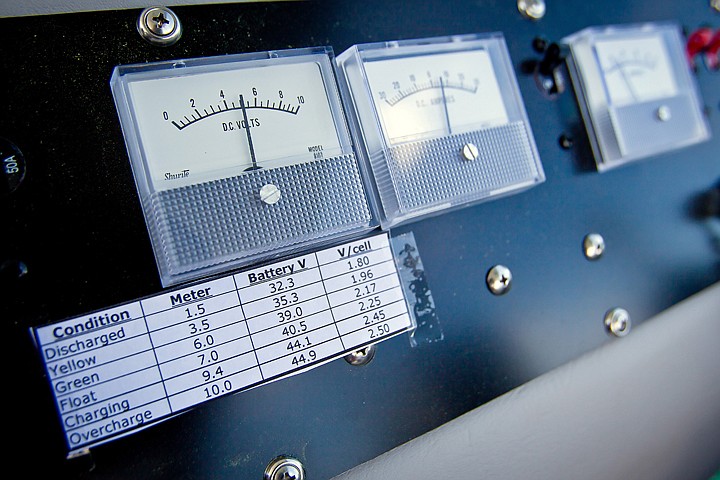 <p>Richard Trudell, a mathematician and physicist who worked in various engineering jobs, designed and built his solar-powered boat.</p>
by
Alecia Warren
|
June 9, 2010 9:00 PM
HAYDEN LAKE - Knotting his boat to the dock after a jaunt on Hayden Lake on Tuesday, Richard Trudell was quick to offer hopping back aboard to check his instruments.
About one and a quarter mile covered, he reported, powered by a half kilowatt from the gleaming solar panels above the boat.
Not bad.
"We might have used the batteries for a minute. The sun went behind a cloud," Trudell mused. "But they recharged immediately."
No gas tank to refill.
No extension chord to plug in.
Little maintenance is required for the Post Fall man's newest invention: A solar-and-electric powered pontoon boat.
Equipped with an 85-square-foot solar array, the aptly named Sundancer raises no worries about refueling, the hobby inventor assured.
"This is our third trip out. I've never had to plug it in for any reason," Trudell said.
The physicist and mathematician is negotiating with Metalite Industries Inc. in Spokane about having the boat manufactured for sale, he said, but the 71-year-old didn't design and build the craft for profit, or even for its lack of pollution.
"I first got the idea because I just wanted to have a quiet boat," said Trudell, an enthusiast of all water toys for the past 50 years.
And indeed the roughly 20-by-8 foot vessel pulls onto the water with nothing more than a faint hum from the two motors propelling the boat.
"We don't have to raise our voices when we converse," he said with a smile.
Trudell started designing the boat in winter of 2009, he said, and started building early this year.
The design is simple. The 1,000-watt array is perched above the pontoon boat, replacing the typical cloth canopy. The array powers the boat's two motors, and also charges the six batteries in hidden compartments, which act as reserve power if the sun disappears.
Steered with a joystick, the boat can only go a maximum of 5.5 miles per hour - low speeds require minimal energy - and has a cruise range of 50 miles per day at 4 and a half miles per hour.
"It can run 24/7, if you only want to go 3 miles per hour," he said with a smile.
On a day with no sun, the batteries can propel the craft up to 25 miles at a speed of 4 miles per hour, he said.
The boat produces almost no wake, he added.
"It's just a leisure boat or a party boat. You don't want to drag water skis behind it," he said.
Metalite Industries built the boat itself, but Trudell, who worked 35 years doing engineering work for McDonnell Douglas Aircraft and now is a consultant for Boeing, added the solar array himself and did all the wiring.
His wife, Nancy Morrison, laughs when she recalls how Trudell spent all winter immersed in charts and equations.
"My friends said, 'Aren't you getting excited?'" Morrison remembered. "I said, 'If it floats and steers, I'll be happy. But for now it's been a good hobby to keep him busy through the winter.'"
He has tinkered with inventions before, she said, including converting a car into an electric vehicle in the early '70s, which he rode to and from work during the oil crisis.
"Usually he finishes his projects," Morrison said. "He does follow through, and he's always a success. Not many boo boos."
Chris Newman, owner and president of Metalite Industries, said the company is working with Trudell on a few redesigns for a product line.
"There's some real uniqueness in what Dick has done in his design to give it better performance," Newman said, praising the vessel's shape and solar canopy. "It's a good combo of technology. He put together a real good package."
Newman added that there is national and international interest in personal water crafts that aren't gas or diesel-powered.
"I'm not sure where it all ends or what the end results will be, but one can anticipate the direction for these products will continue to grow and expand," he said.
Trudell spent about $20,000 constructing the boat, including $6,000 for the solar array.
He figured a manufactured boat would cost $30,000.
"The cost will never pencil out," he said. "The primary advantage is I don't have to worry about when to come to shore to recharge the batteries."
Morrison can always trust Trudell to look at things from new perspectives, she said.
"It's fun to be married to a man who thinks this way. There's always something new," she said. "I wonder what he'll think of next?"
Recent Headlines
---