Lumbermen slam Prairie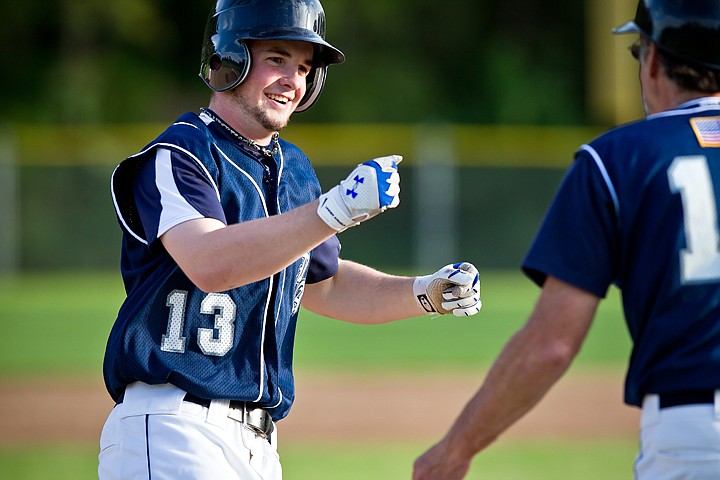 <p>Coeur d'Alene's Derek Priano celebrates as he rounds third base Tuesday after hitting the first of two grand slams by the Lumbermen in the sixth inning of game one of a doubleheader against the Prairie Cardinals at McEuen Field.</p>
by
JASON ELLIOTT
Sports Writer
|
June 9, 2010 9:00 PM
Priano, Burgess, Krapas hit grand slams in sweep
COEUR d'ALENE - The Coeur d'Alene Lumbermen came out swinging in their home opener Tuesday at McEuen Field, hitting three grand slams in their 13-2 and 18-1 wins over the Prairie Cardinals in a "AA" North Idaho American Legion doubleheader.
"We swung the bats pretty well tonight," Coeur d'Alene coach Lloyd Duman said.
Mitch Bevacqua hit a two-run home run in the fifth inning and Derek Priano and Julian Burgess followed with grand slams in the sixth for the Lumbermen.
"I was just hoping Julian was going to put the ball in play," Duman said. "I really didn't want to run Grant (Curtis) out there for the seventh inning because he was starting to get tired. We're a low-key team, but we play with focus."
Burgess, who played with Prairie last season, added the game also provided some friendly rivalry between him and former teammates.
"I was O-fer going into my last at-bat," Burgess said. "They had been giving me a bad time. It's fun to play against them."
Burgess ended the game with his home run with two out in the sixth.
"I usually don't hit home runs," Burgess said. "My biggest goal was to hit a triple - luckily it went over the fence."
Curtis had six strikeouts on the mound for Coeur d'Alene.
Priano and Burgess had four RBIs, Bevacqua three for Coeur d'Alene.
"I'm seeing the ball really well right now," Priano said. "I've been hitting a little extra each day because I want to make my swing as perfect as possible."
Priano, who improved to 10 for 11 on the season, added his high school season left him with some unfinished business.
"After not hitting that well during the spring, I wanted to fix it," Priano said. "It really motivated me to hit right now."
Darnell Metcalf had two hits for Prairie, which scored two unearned runs in the fourth inning of the opening game.
In the second game, Alex Krapas hit a grand slam in the Lumbermen's seven-run first inning.
Jason Pattis had three hits in the second game for Coeur d'Alene (6-2, 4-0 NIL), which travels to face the Spokane Northstars on Thursday.
"In the first game, I saw a lot of good things," Prairie coach Dustin Frank said. "If we can make plays, we can play with anyone. The second game it was tough to win when we couldn't throw strikes. We ran five to six kids out there to see what we've got. Coeur d'Alene had two great pitchers tonight, but we'll see them again."
Prairie (1-2, 1-2) travels to Lewis-Clark on Thursday.
FIRST GAME
Prairie 000 200 - 2 5 3
Coeur d'Alene 200 029 - 13 14 0
Game ended in sixth inning due to 10-run rule.
Tyler Shaffer, Daniel Whitesitt (5), Connor Peery (6) and Cody VanDuyne; Grant Curtis and Kaleb DeHaas. W - Curtis (2-0). L - Whitesitt (0-1).
HITS: Pra - Metcalf 2, Vandever, Greiser, Smith. Cd'A - Nyquist, DeHaas, Bevacqua 3, Pattis 2, Priano 3, Cade 2, Kiefer 2, Burgess. 2B - Smith, Nyquist, Priano. HR - Bevacqua (2), Priano (2), Burgess (1).
SECOND GAME
Prairie 100 00 - 1 2 4
Coeur d'Alene 732 6x - 18 11 0
Game ended in fifth inning due to 10-run rule.
Nick Berger, Tony Davidson (1), Bryson Smith (3), Daniel Whitesitt (4) and Cody VanDuyne; Pete Hoffman and Joe Roletto. W - Hoffman (3-0). L - Berger (0-1).
HITS: Pra - Smith, Leva. Cd'A - Bevacqua 2, Pattis 3, Krapas 2, Priano 2, Burgess, Nyquist. 2B - Bevacqua, Pattis. HR - Krapas (1).
Recent Headlines
---